In what seems like a blink of an eye, we have now reached the midpoint of this 100 Day Project. Occasionally I like to add a little something different to my process, and for a few blocks in this set I included some fussy cutting.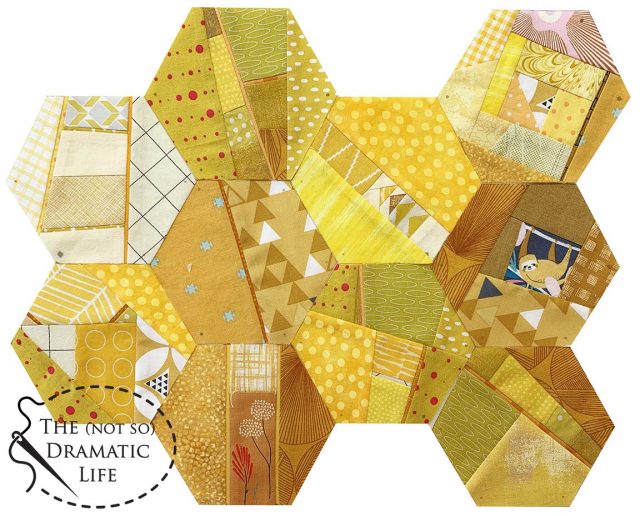 Fussy cutting is when you select a specific section of a printed fabric to highlight in the block. Novelty prints are particularly conducive to this style, but any fabric that has an area you want to feature can be used. For this project, I am tending to use one section of each fabric, but you can also combine multiple fussy cut sections of the same print for an amazing effect.
Since yellow is my featured color for these blocks, either the background or featured portion of the print needed to include a yellow as a significant part of the design.
In this fabric, the yellow sloths are the only yellow in the print, so I tried to minimize the use of the background in the piecing. I also included a print in the surround that incorporated a grey triangle. The grey sloth background becomes less jarring if grey appears elsewhere. This grey also appears in small amounts in prints throughout the design.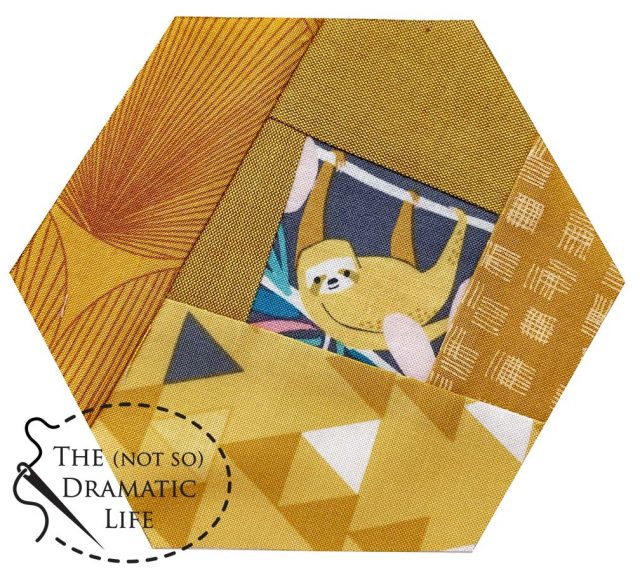 In my initial fabric pull, I went right to my stack of yellow fabrics, but for fussy cutting the search went deeper into my stash. I don't have a huge collection of novelty prints, and this Cotton and Steel jacks print was one of the first that I pulled out for the fussy cut portion of this project. I like that fussy cutting allows you to distill a multi-color print to a couple of key colors.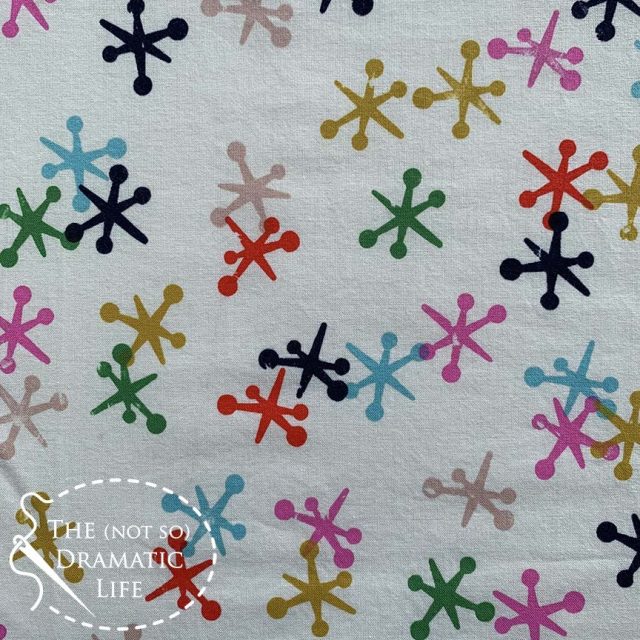 I allowed a little more of the cream background to appear in this block since cream and white appear frequently in the overall quilt design.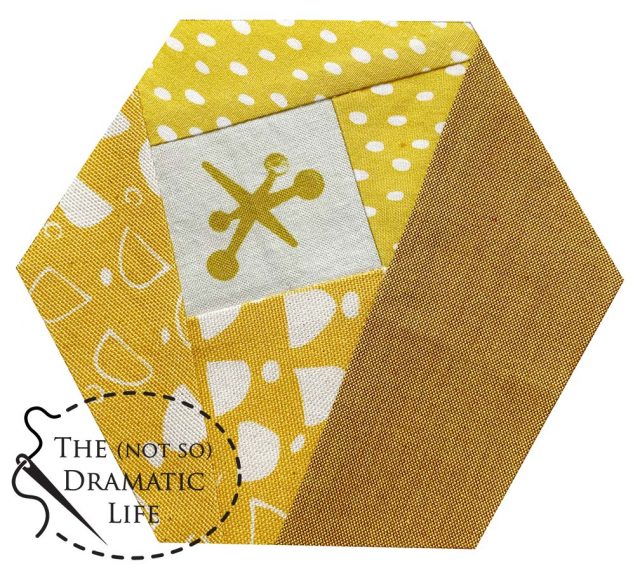 This flying geese fabric wasn't in my initial pull of novelty prints, but at some point in my search, the edge of this fabric ended up sticking out a bit from the surrounding fabrics. When I looked up at my stash from my sewing machine, a section of the print with two yellow triangles caught my eye. I couldn't wait to include them in my next hexagon.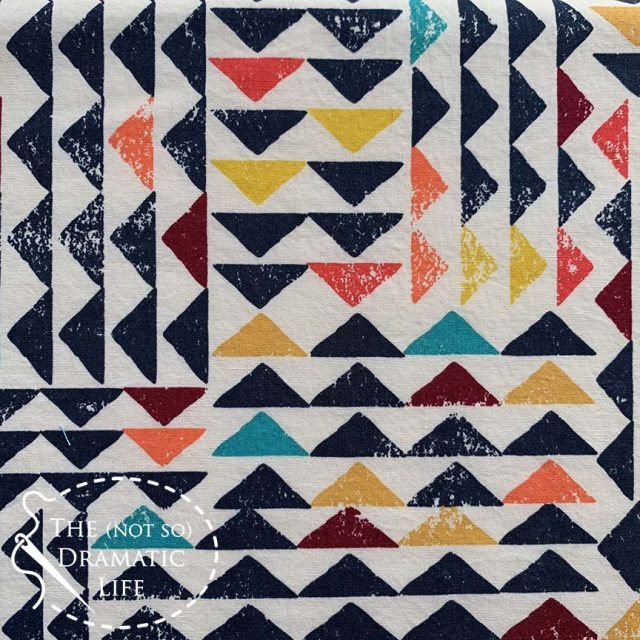 The flying geese are fairly small in this print, but I was excited to improv piece a couple more flying geese to go with the initial pair.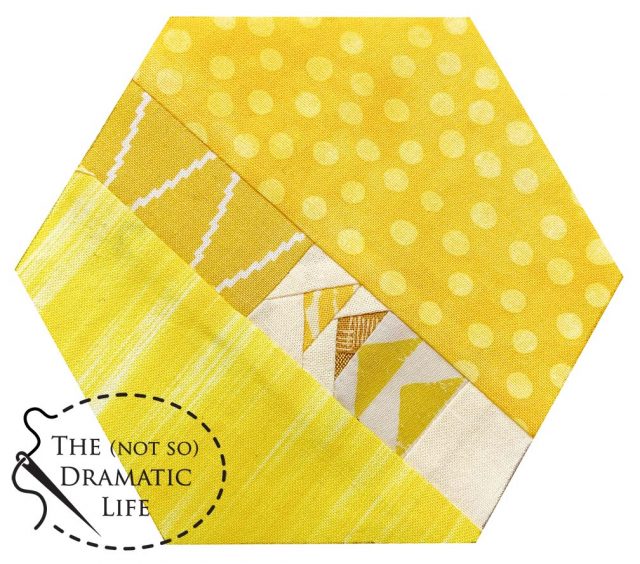 This floral print is one of the only prints in my collection that has a distinctive print and a yellow background.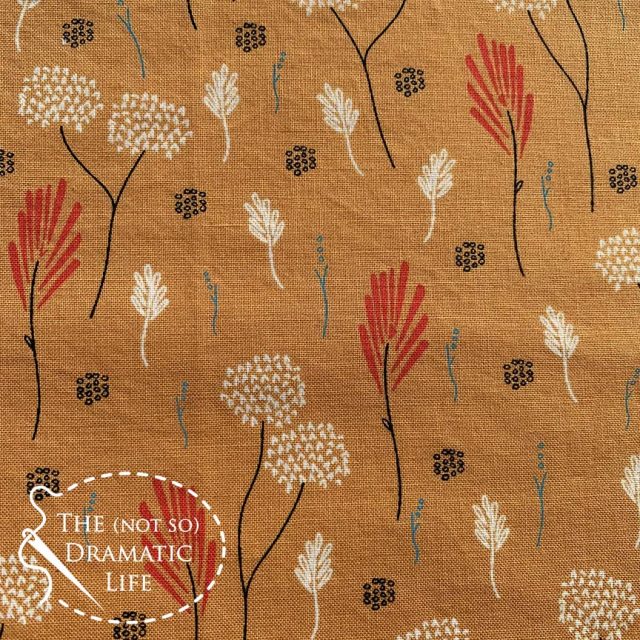 The coordinating background color allowed me to cut a larger section of the print to include in the fussy cut section.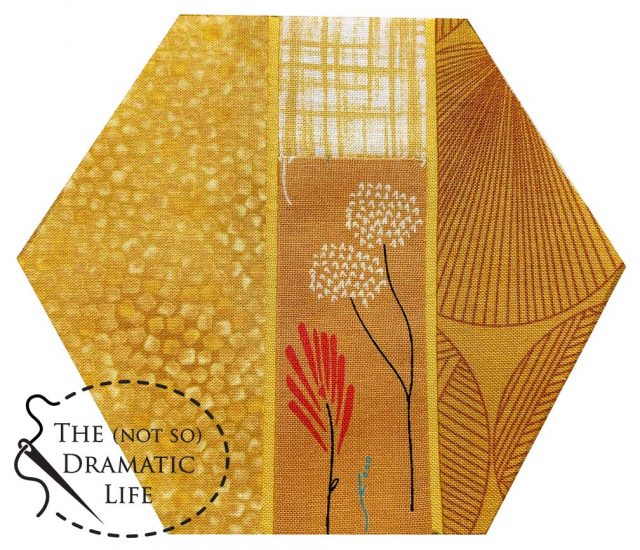 I'll probably be including more fussy cutting a I work through the second half of the hexagon blocks. It is sometimes helpful to break out of my natural piecing tendencies by having a distinct starting point.
Here is the view of the halfway point in the whole project.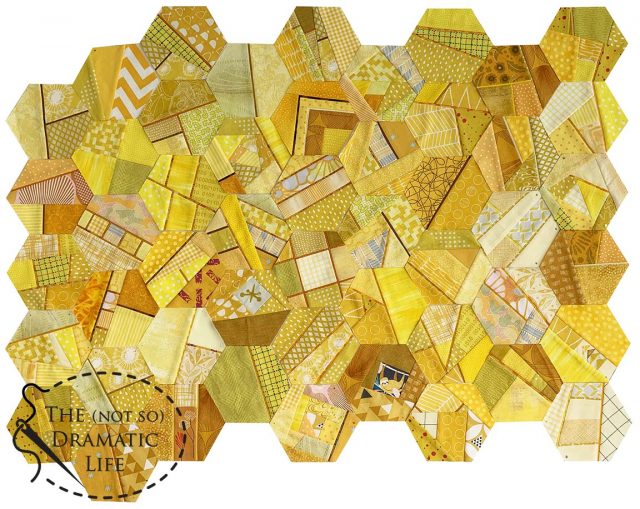 I hope you'll follow along with me as I construct these 100 blocks in 100 days! Here are the previous posts and some of what's coming up:
Foundation paper piecing hexagons
Using the elements of design in a monochrome palette
Maintaining Consistency