This mini quilt was designed a few months ago right after I received this package of fat quarters by Bonnie and Camille that I won in a giveaway from Cynthia at Quilting is More Fun Than Housework. The fabrics come from Bonnie and Camille's April Showers line of fabric, so I decided that April would be the perfect time to create and share this little quilt.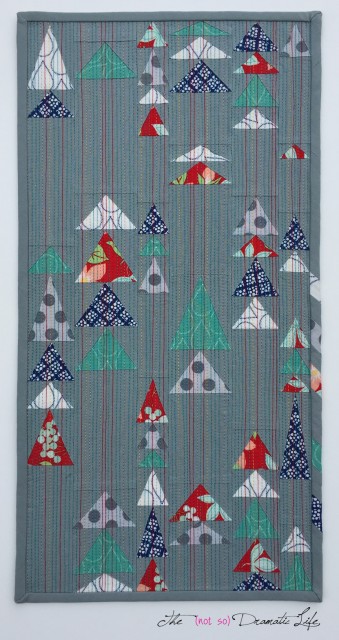 The abstract triangular raindrops in this quilt are foundation paper pieced in rows before being assembled into the quilt top.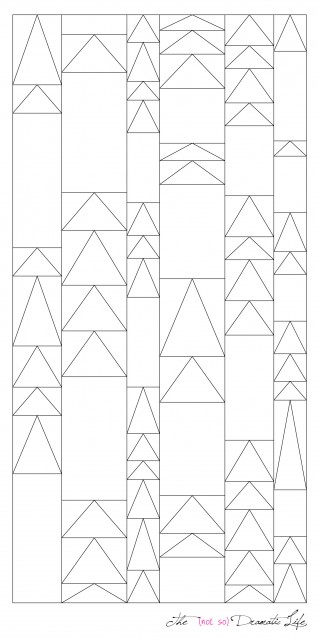 In deciding what fabric to pair with the April Showers Fabrics, I looked at several color options. I knew that I wanted to go with a solid background fabric in order to show off the cute prints in the fat quarter collection. White seemed a bit stark for this project, and the blues I had available were a little too cheerful. This mid-tone grey really captured the feel of a rainy day.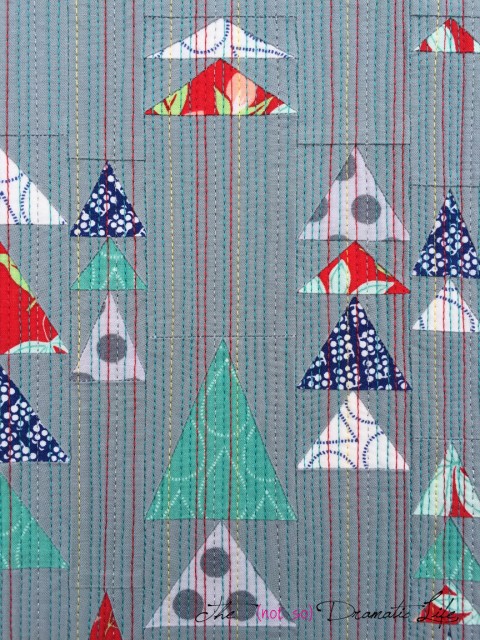 I kept the backing simple by using the same grey fabric. This really allowed the matchstick quilting to shine. Most of the quilting was done with a teal colored 50wt cotton thread by WonderFil. I had read good things about this thread in the last issue of Generation Q Magazine, so when I saw their booth at the American Quilter's Society show in Paducah last week, I knew I wanted to purchase a couple spools. It really worked out beautifully, and I used red and yellow thread that I already had on hand to add interest to the matchstick design. I wanted to add a little glitz to this quilt to emulate the shimmer of raindrops so I attempted to use silver metallic thread. In the past, I have not had the best experience with metallic thread, but this time it worked really well. The fantastic and helpful people in at the WonderFil vendor booth gave me a sample pack of thread which included a metallic silver thread with a rayon core. It is a really light, thin thread that went through my machine beautifully. There was no shredding or breaking of the thread, which was really exciting given my past experience with metallics. I was quite pleased with the life this small amount of shimmer the metallic thread adds to the design.
Rather than keeping the entire binding grey, I decided to add small pieces of the April Showers fabric along one side of the bias.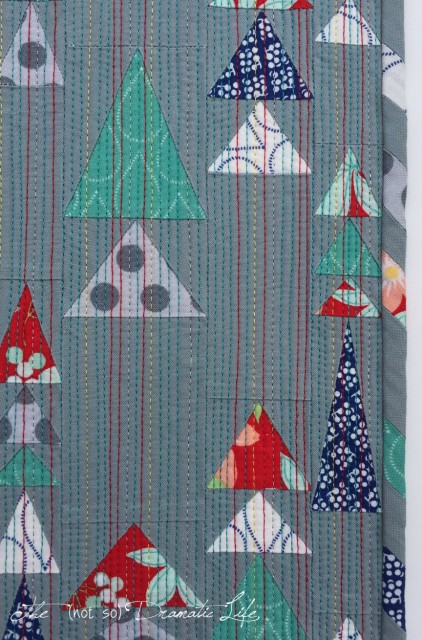 Quilt Stats
Title: April Showers
Size: 18.25″ x 9.25″
Techniques: Foundation Paper Piecing
Quilting: Matchstick quilting using four different threads
Fabrics: April Showers by Bonnie and Camille, mid-tone grey solid from my stash (I think it was a Kona cotton)
Batting: Warm and White
Thread: Pieced using Gutermann Mara 100 in white and grey, Quilted with 50wt Egyptian Cotton Konfetti color 607 by WonderFil, Silver Metallic Rayon core WonderFil, 50wt Red Cotton Essentials machine quilting thread by Connecting Threads, and 50wt Daffodil Yellow (1135) cotton Aurifil Thread
Binding: Grey bias with April Showers accents, cut 2″ wide, machine stitched to the front of the quilt, hand stitched to the back
What was new:
A new pattern
A new (and more successful) metallic thread
This week Darcy at Modern Cozy is starting a weekly link up for Mini Quilts called Mini Quilt Monday. I am really looking forward to having a link up available that is dedicated to the fabulous mini quilt! I am also linking up with Finish It Up Friday at Crazy Mom Quilts, Whoop Whoop Friday at Confessions of a Fabric Addict, Sew Cute Tuesday at Blossom Heart Quilts, and the Paper Piecing Party at Quilt Art Design. Please stop by to see the fantastic sewing being done!