Tools are the topic of the day! Fabric (deservedly!) gets most of the attention, but good quality tools can help make it even more fun to sew! Here, in no particular order, are some of the go-to tools that help my quilts come together.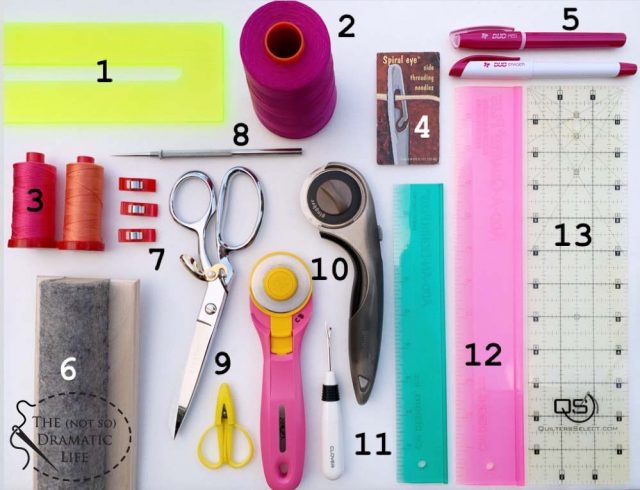 Straight Stitcher longarm quilting ruler: The groove down the center of the ruler gives you even more control while stitching, but my favorite part of this ruler is having measurements on both sides of the machine foot as you stitch.
50wt Aurifil: My go-to thread for the majority of my quilting and piecing!
12wt Aurifil: Great for hand stitching and machine quilting that you really want to pop!
Spiral Eye Needle: These are the best needles I have found for quickly burying thread tails
Duo marking pens: The marking pen gives an easy to see brown line, and the eraser pen takes out the mark easily and instantly.
Wool pressing bar: This is fabulous when you want to press a seam open or if you would like you seam lifted off the main pressing surface a bit. Its a great companion to a wool pressing mat which is another favorite of mine!
Clover Clips: I love these for binding and bag making!
Stiletto: The perfect tool to guide fussy piecing or thick layers found in bag making
Scissors: Spring loaded Gingher Shears are great to reduce hand fatigue when you are cutting a lot of fabric. These small snips are very inexpensive (about $3), sharp, and lightweight. I keep a pair with every machine and one in my purse.
Rotary cutters: A Gingher rotary cutter and an Olfa
Seam ripper: This one is sharp and has a fine blade. I try to replace my seam ripper every year.
Add a Quarter Plus and Add an Eighth Plus rulers: These are amazing for foundation paper piecing. I used to do without, but now I consider them must-haves!
Quilter's Select ruler: This brand of ruler has thin black lines that are easy to see and a coating on the back that makes them non-slip. My cutting, which was always pretty accurate, became much more accurate when I switched to this type of ruler. I have been gradually replacing my old rulers with these, and I currently have the 6″x24″, 3″x12″, 8.5″x8.5″, and 12.5″x12.5″.
What are your favorite tools? Did you discover any new notions this year that you wouldn't want to be without?
I am excited to be participating in this year's 31 Day Blog Writing Challenge hosted by Cheryl Sleboda of Muppin.com, and I hope you will have the chance to check out some of the other awesome blogs that are participating this month.