This year for the Central Ohio Modern Quilt Guild we did an end of the year gift swap with a mix of handcrafted and purchased items. We drew names at the November Meeting, and the person I chose had been eying the Road Trip Case by Noodlehead. My partner likes Autumnal colors and Alison Glass designs, so I selected a palette of her batiks and prints.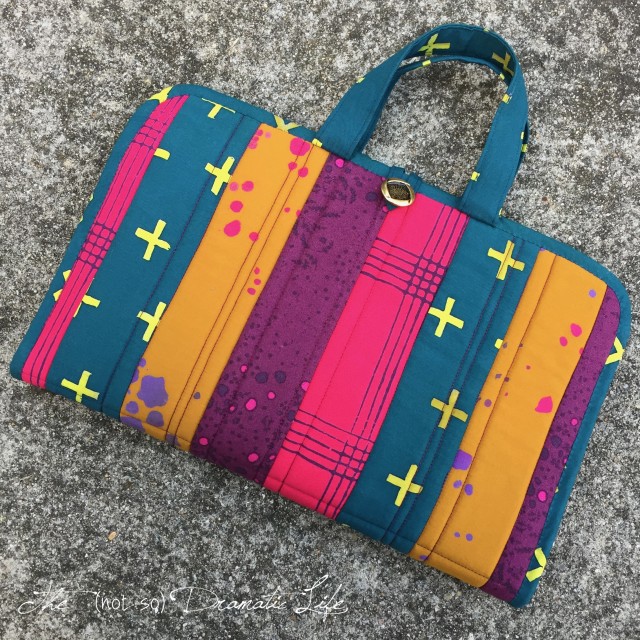 There are several different pockets and pieces of trim, so it was fun to choose where each fabric would go. The pattern suggests batting for the quilted case exterior, but I switched it out for Soft and Stable foam, and I'm really pleased with the result. I incorporated a few lines of walking foot quilting on the exterior using 28wt Aurifil.
There are two options for the fabric pockets in the bag; two long or four short. I wasn't sure which to go with, but I ended up choosing the shorter pockets since it will most likely be used for sewing notions. The pocket flaps with hook and loop tape (velcro) closures seemed useful to help contain smallish notions. I often don't care for hook and loop tape closers since the hook side can pick up so much fuzz. I briefly considered replacing the tape with magnetic snaps. Ultimately, I decided that the velcro allowed more leeway in where the pocket flap could close depending on how full the pocket was. Hopefully it will work for my partner!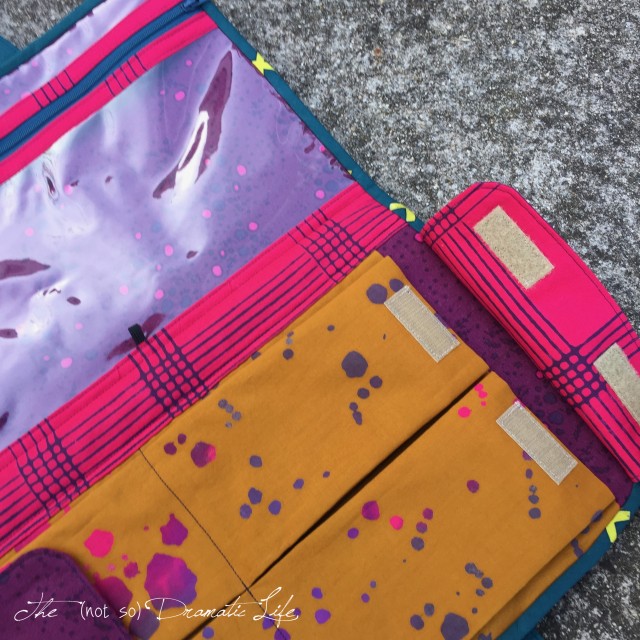 The case itself went together fairly easily, and I'm sure if I were to make more it would go quite quickly. Like most bags, I felt like it took as long to cut out and interface the pieces, as it did to do the actual construction. The vinyl pocket has the potential to be finicky, but I was pleased how well my machine handled this fabric especially since I don't have a teflon foot. I didn't even end up needing to lay tissue paper over the vinyl while sewing.
The Road Trip Case looks like a great bag for small sewing projects, and would be a fabulous art kit for kids. This would definitely make a fabulous holiday gift!