The Open-Out Box Pouch was the star of a recent sew-in I participated in. This adorable pattern is designed by Comfort Stitching. We came to the sew-in with the bag pieces pre-cut and interfacing pressed into place, so I was able to get two sewn in a few hours.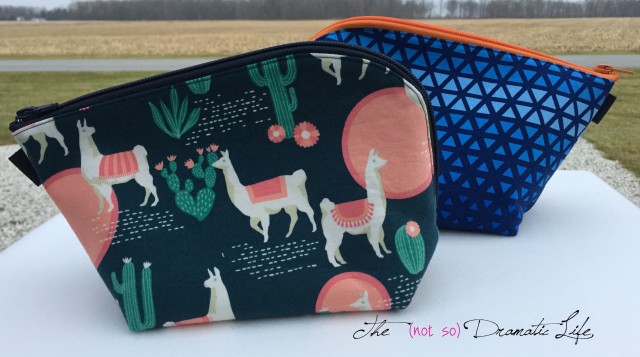 The pouch with the llamas is the one I was making for myself, so I did each step on it before working on the second pouch. That way I was hopefully making any mistakes on my own pouch instead of the one I was planning to gift. The matching zipper helped hide some of the first-time-making-a-pattern-awkwardness! For the folded tab, I chose cork for both bags.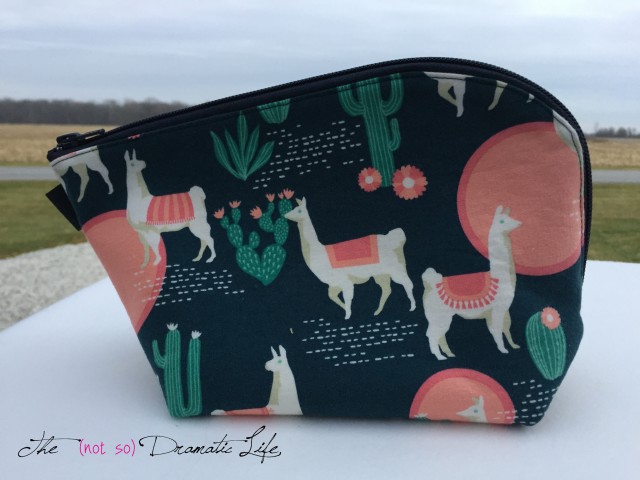 This bag looks similar to a lot of zippered pouches at first glance, but this one has a separating zipper that allows the bag to open into a boxed shape. It is great to be able to see everything in the bag, and it sits open without any effort. Inserting the gusset was a little tricky, but after trying one, the next went really smoothly.
For the second pouch I chose a triangle print in a blue ombre with green lining and orange zipper. Blue and orange is my favorite complementary color scheme! This pouch ultimately became part of the gift exchange at the holiday party for one of my guilds, and I think it went to a good home!