As I was wrapping gifts on Saturday it occurred to me that a reusable bag would make more sense for several of the items I was about to wrap. I don't usually purchase a large amount of any single fabric, but I did have some plain canvas on hand. Since the canvas has more body and substance to it than a standard quilting cotton, it didn't even require a full lining.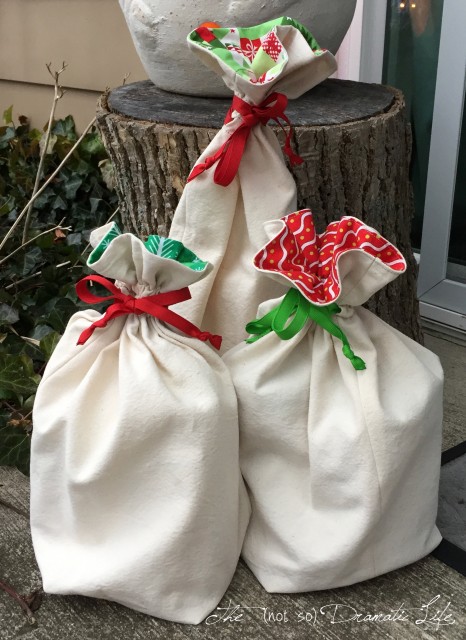 The Christmas-y fabrics I had on hand were also very limited, but I did have enough to use as a facing on the top of the bag to add a bit of color and create the drawstring casings. Awhile back I had ordered 3/8″ grosgrain ribbon in a variety of colors to have on hand for various projects, and it worked perfectly for this project. It was purchased from cheeptrims.com (not an affiliate) which has great prices, but does have a minimum order, so you may want to pool orders with a friend.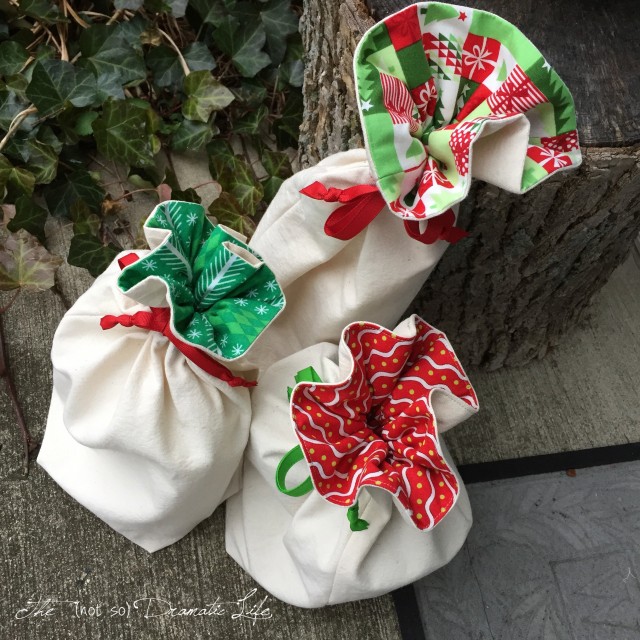 To calculate the size of each bag, I loosely wrapped a fabric measurement tape around the gift, leaving a few inches excess to allow for seam allowance and ease. Half of this measurement was the width of the bag. For the height I also wrapped the measuring tape around the gift vertically and divided the measurement in half. I made sure to add 7-8″ to each half to allow for the gathering at the top of the bag and for the ruffle at the top. The corners are also boxed out to give the bag a bit more dimension.
These bags work great, and I'll be making more to gift in future years!