November really flew by this year, particularly with the deadline for QuiltCon entries looming at the end of it! Here is an overview of the projects that have been happening in the last few weeks.
First, I want to thank everyone who visited during the Blogger's Quilt Festival hosted by Amy from Amy's Creative Side. (Thank you for all of your work in hosting this fantastic event!) It is so exciting to have the opportunity to see so much wonderful work gathered in one spot. Each time I discover even more talented people to follow. This time around I was ecstatic to receive the prize for the Mini Quilt Category. (My quilt actually came in second, but the first place winner had already received a larger prize, so the quilty love was spread around.)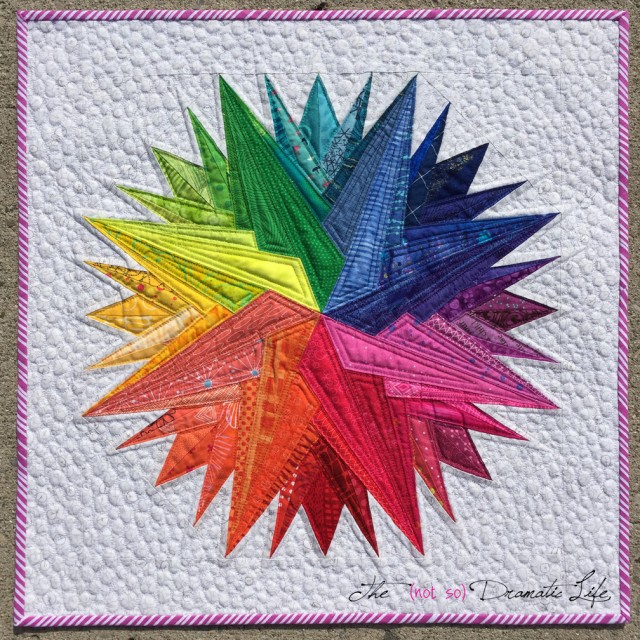 Moda sponsored this category and they really outdid my wildest expectations with this box!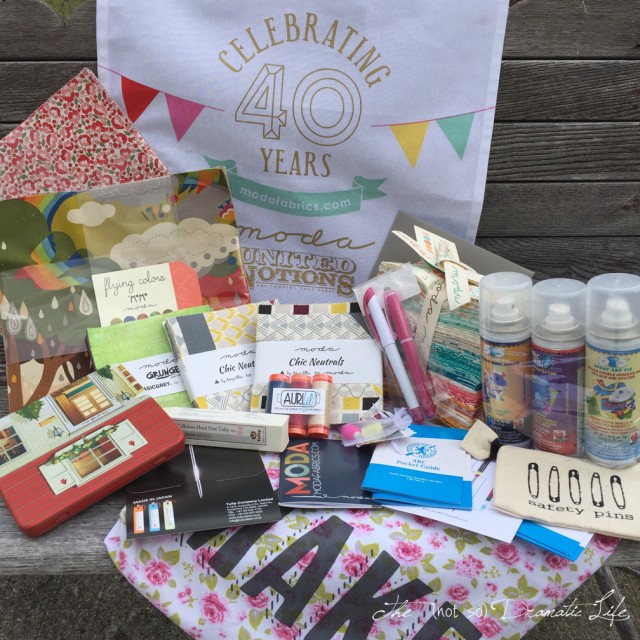 Inside the box was a tote bag filled with a large fat eighth bundle, two layer cakes, three charm packs, a tin of more fabric, Aurifil thread, spray baste, pins & needles, and lots of other notions. I am so excited to start creating with all of these amazing products. (Actually I have already used some of the fabric!) Thank you, Moda!
The past week held deadlines for entries to both the Modern Quilt Guild's (MQG) QuiltCon and the American Quilter's Society (AQS) show in Paducah. My entries were similar to both shows, and I will be writing more in depth posts about each quilt in the coming weeks.
Two of my QuiltCon entries were made specifically for challenges. The first is the Michael Miller Challenge quilt. It is hand appliquéd and free-motion quilted on the longarm.
The other challenge quilt was for the EZ Quilting triangle challenge. The entire top is English Paper Pieced triangles and is longarm quilted with ruler work and free-motion techniques. I also entered this quilt in the AQS show in the category: Small Wall Quilt, Longarm Quilted.
My third QuiltCon entry was based on a mini quilt that I made earlier this year. It was machine pieced and matchstick quilted on my domestic machine. This was also entered into the AQS show in the Large Wall Quilt, Modern category.
This quilt was a fairly last minute addition to my entries. It is a block based, machine pieced quilt finished with an edge to edge computerized quilt design that I designed using AutoCad. For AQS I entered this in the category: Small Wall Quilt, Pictorial. This is definitely a representation of an object, but it is also well outside the box for the types of quilts typically entered in this division.
The final entry for QuiltCon is one of my favorite mini quilts and it went into the small quilt category. It is also entered into the miniature quilt category for AQS.
I have also (finally) set up a business Facebook page. I hope you will like and follow along with me there, too. The link is also available toward the top right of this page.
I hope you have had a wonderful November and are enjoying the rest of the upcoming holidays! I am looking forward to checking more projects off my WIP list this month and catching up on blog reading as well!