This year Dabble and Stitch, a fantastic local quilt shop in Columbus, Ohio asked me to design their row for the Row by Row Experience. It was their first time participating in this event, and it was my first time designing for it. I am really excited by the results, and I hope lots of people get to make up this fun block. During the Row by Row Experience the patterns are available for free in their "home" shop, but can only be distributed by picking them up in person. Kits for this row are available for $20. Later this year the pattern will go up for sale and can be sent to you if you can't make it to the shop.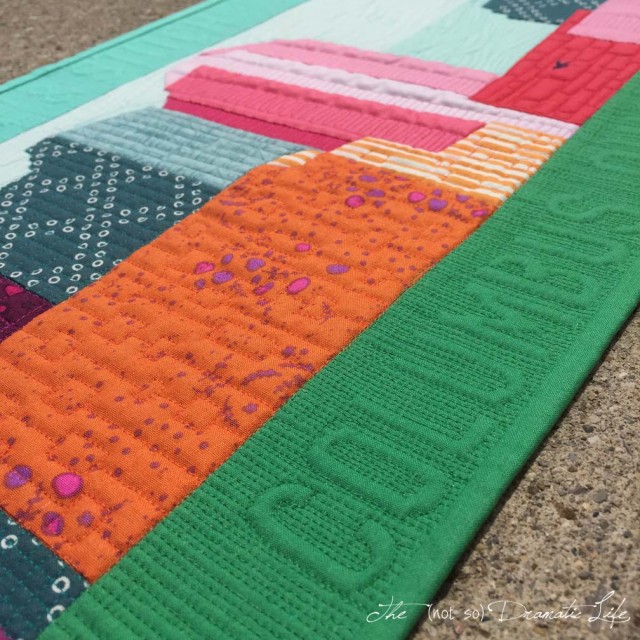 The theme for this year is "Home Sweet Home," and we thought it would be great to create a row featuring the Columbus skyline. This view of the city is taken from a bridge in Bicentennial Park.

I was standing right next to this guy as I snapped the photos!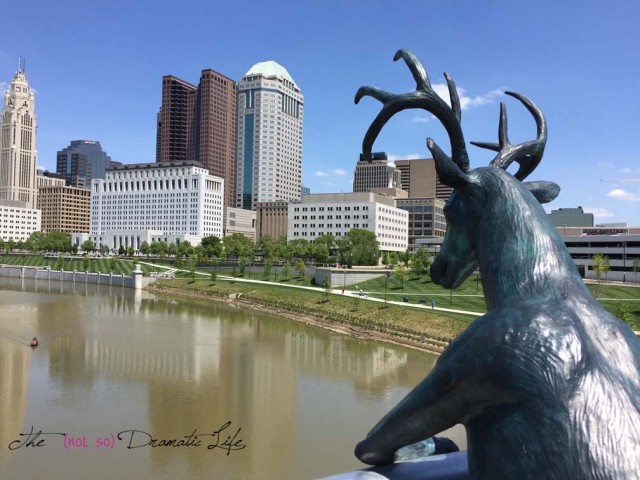 Using the photos I took, I designed and rendered the skyline using AutoCad and Photoshop.

The block is constructed using needle turn appliqué, but you can also do raw edge appliqué using this pattern since I included lines on the templates that show the finished sizes of each piece. This is what the row looks like finished and ready to incorporate with other rows.

For the shop, I made the row into a mini quilt by adding borders. The quilting changes from building to building, and for added fun, I quilted the shop name and city into the borders. I think this looks great as a mini, and I am hoping to make one up as a long pillow for a sofa or bed.

I love mixing up my quilting thread colors to match the fabrics on the front of the quilt. I went with a white fabric on the back to show off all of that quilting.

If you are traveling through Columbus this summer, I hope you stop in to pick up a pattern!
Quilt Stats
Title: Columbus Skyline
Size: Row itself finishes at 9″x36″ With borders the mini finishes at approximately 14.5″x41.5″
Techniques: Needle-turn Appliqué, Pieced borders
Quilting: Free motion longarm machine quilted with an A-1 Elite
Fabric: Assorted 100% Cotton Prints
Batting: Hobbs 80/20
Thread: Appliquéd using Gutermann Mara 100, Quilted with eight colors of 50wt cotton Aurifil
Binding: Straight grain binding assembled to match the borders of the mini, cut 2″ wide, machine stitched to the front, hand stitched to the back.