I am honored to be an Aurifil Artisan for the second year, and I am particularly excited to participate in a series of challenges that showcase the way their thread is used. The first challenge is to use our welcome pack of thread to create something new. (We were actually asked to try a different thread weight, but I have already used them all on previous projects!) I decided to create a mini quilt that is mounted on an artist's canvas. I have been wanting to try something like this for awhile, and this was the perfect opportunity for some experimentation.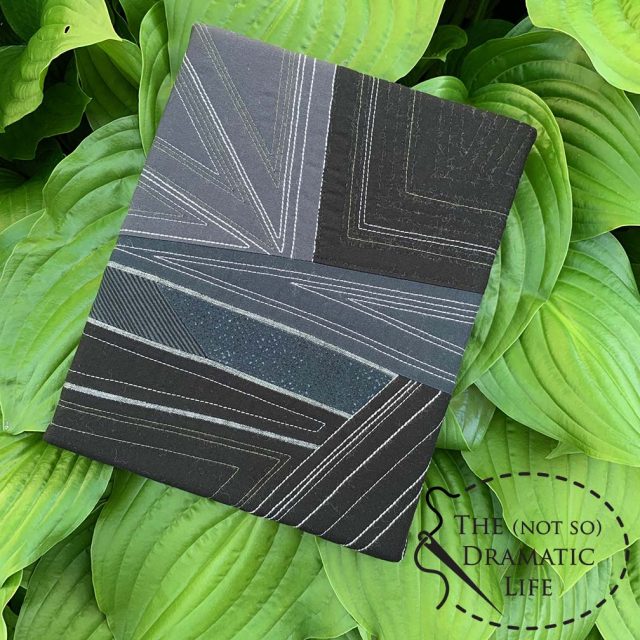 My thread choices tend to fall into two categories: bold and colorful, or a perfect match. The fabrics for this composition were subtle and mostly dark in value. Three narrow slivers of metallic linen were the lightest fabrics were the lightest values in the piecing. The deep values provided the perfect canvas to experiment with very subtle shifts of color and thread weight. The thread colors I selected were 2600 in 12wt, 2905 in 40wt, and 2605 and 2510 in 28wt. I also added a black 50wt for piecing that I had in my thread stock.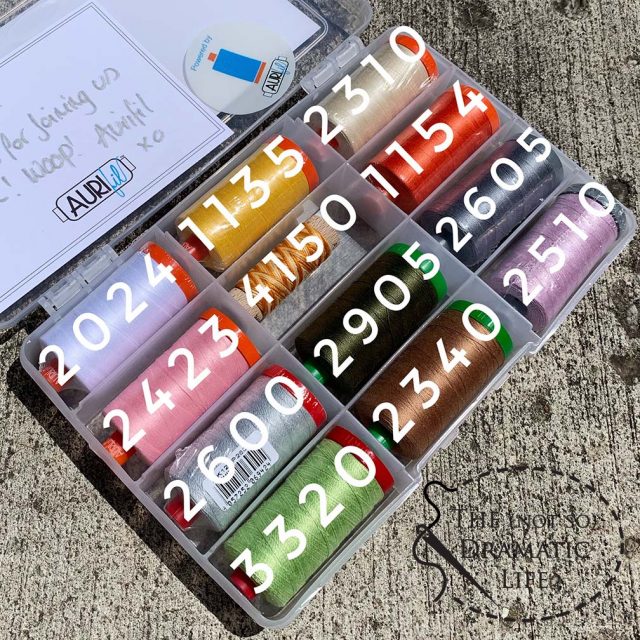 12 and 28 weight threads are particular favorites for bold quilting, and they worked well in this piece too. I particularly liked how they played with the green 40wt thread which blended the most value-wise to the main fabrics. My only regret is not using a different batting for the project. I made the mistake of grabbing an unidentified scrap, and I wish that I had used a black batting to prevent bearding on the dark fabric. At least I'll remember to pay more attention next time!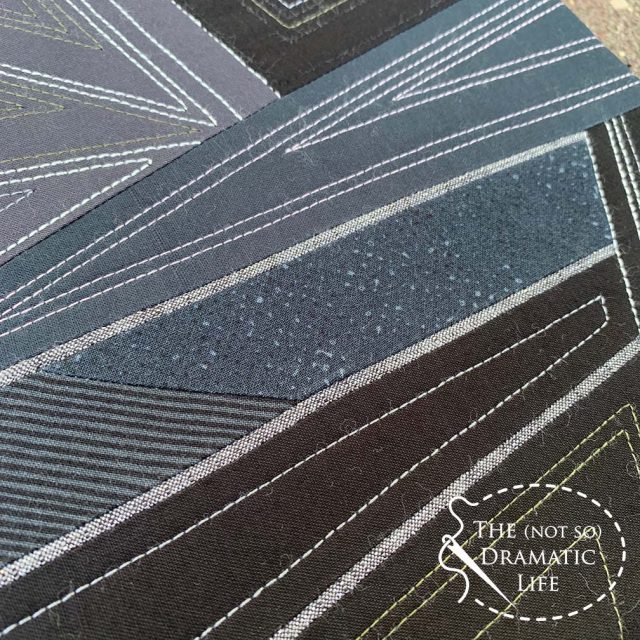 Quilt Stats
Title: Composition 1
Size: 8″ x 10″
Techniques: Machine Piecing
Quilting: Walking foot quilting on a Bernina 1008
Fabric: Cotton solids and tone on tone prints
Batting: Unidentified scrap- big mistake!
Thread: Aurifil in 50wt, 40wt, 28wt and 12wt
Binding: None! The quilt is mounted to an artist's canvas frame.