There has been so much happening in my quilt-y world lately, but not everything needs its own post, so I'm combining a bunch of cool stuff into a single post!
Quilt Shows
I had a wonderful time at QuiltCon and it was just as exciting to have my quilt returned to me the following week.
Next up in quilt shows: I have THREE quilts heading to the American Quilter's Society Show in Paducah this Spring! I was stunned and thrilled to receive three positive notifications, and I am eagerly awaiting the show.
The Whole is Greater Than the Sum of Its Parts will continue its show tour in the Large Wall Quilt: Modern category, and will be joined by both Can You See (m)E Now? in the Small Wall Quilt: Pictorial category and Rainbow Rotary in the Miniature category. Even more exciting than having my quilts in the show is seeing that these, as well as several other quilts in the modern aesthetic are being accepted into the show in categories stretching well beyond the modern category. It is fabulous to see wonderful, long established shows, embrace the differences in the quilt world.
The Collection Quilt Class
The Collection Quilt block of the month classes I have been teaching at Sew to Speak in Columbus, Ohio have been going well, and it is so much fun to work through this delightful quilt with such a wonderful group of women. I have been making a version of this quilt that is perfect for a princess loving little girl. The first month's block features this cute frog print.
Block two is especially fun due to the opportunities to incorporate lots of fussy cutting!
If you are in the Columbus area, and would like to join the class, we would love to have you! There is still plenty of time to learn the technique and come out of the class with a fantastic quilt. Please contact Sew to Speak to get signed up!
Quilting Bee
I am in my first block bee this year with The Columbus Modern Quilters. I signed up for the six month version since this is my first time, and I never know exactly where or how busy I'll be in a year.
In January our queen selected the Wanta Fanta block, and I was thrilled by how quickly it went together.
This month we are making the same block for another queen, and I am even more excited to see how both of these quilts go together.
February was my month, and everyone made a filmstrip block that I will be incorporating into a border of a medallion quilt. I just love the blocks that everyone brought- Aren't they awesome?! I have the free pattern available on Craftsy if you are interested in making some filmstrip blocks of your own.
A Win
Have you been participating in One Monthly Goal hosted by Red Letter Quilts? It is great for me to be able to set a single goal for the month, because my quarterly lists are ridiculous- they help me keep an overview of large goals, but all of those goals are never getting finished in a single quarter 😉
My February goal came with an added bonus: when names were drawn from the completion link-up, mine was selected!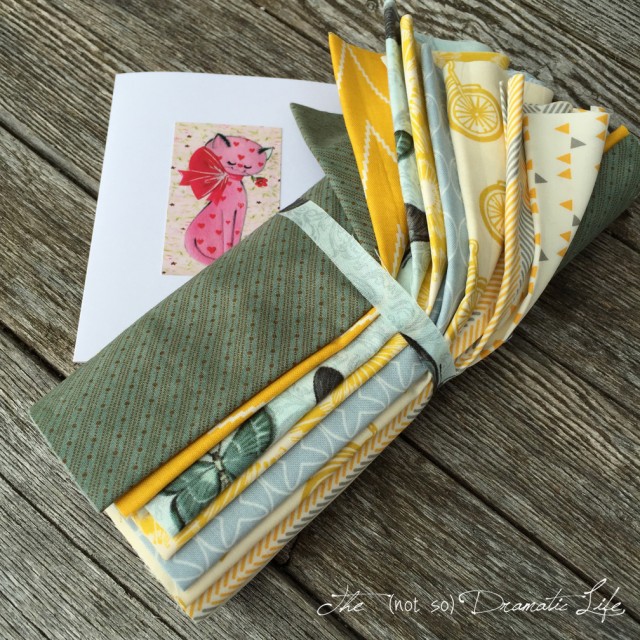 This lovely bundle of fabric arrived a few days ago, and I can't thank Heidi of Red Letter Quilts enough for hosting this event every month and supplying lovely fabric for a prize!
Block Hop
Last year I had a great time participating in the New Blogger's Block Hop, so when the opportunity arose to participate in another New Block Blog Hop, I jumped at the chance. Paintbrush Studios sent out fabric to each blogger in the Ocean Sunrise Palette which was curated by our wonderful hosts.

You'll want to mark your calendars for March 28-30 to stop by and see all of the wonderful new block patterns that are being given to you by more than three dozen bloggers! What makes this project even better is that all of the blocks created for this blog hop are collected by our hosts to make into some gorgeous charity quilts.
Publication
For the first time I have a quilt design making an appearance in the pattern section of a magazine. If you're interested in making this Italicized Hashtag Quilt, make sure you check it out in Generation Q. I'll be writing more about this quilt soon!