This week, I set out to create a snow inspired wintery-beyond-belief mini quilt. That did not happen. There were unexpected technical difficulties that I have not been able to resolve yet. I still have a couple options to explore to make this work, but I need to track down some supplies. This quilt is not eliminated (although the original design may end up altered), so I will share those challenges when I write about the finished mini quilt.
If I can't play in the (fabric) snow this week, I decided to celebrate the beach!
The Fibonacci spiral has long been inspiring to me as a designer. I am fascinated that art can be derived from mathematics, but since I am definitely not a mathematician, I will not be going into any specific details about how it works! The Fibonacci spiral is based in a grid which starts with a square which is duplicated. Then those two squares together determine the length of the sides of the next square. Now the size of all of these squares determine the side length for the next square. This can continue on forever if you want it to! This gridded image shows the basis for the spiral.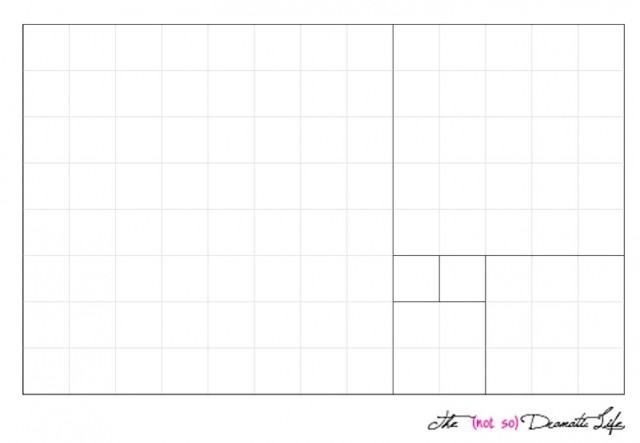 To get the spiral, you draw a quarter circle in each square.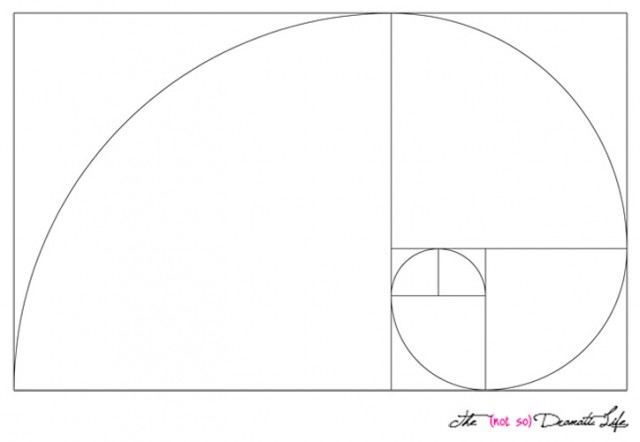 For my mini quilt I started with two 1″ square blocks, and added 2″, 3″, 5″, and 8″ blocks. Each block is essentially like sewing a Drunkard's Path block, but the illusion created due to the size shifts is like a seashell.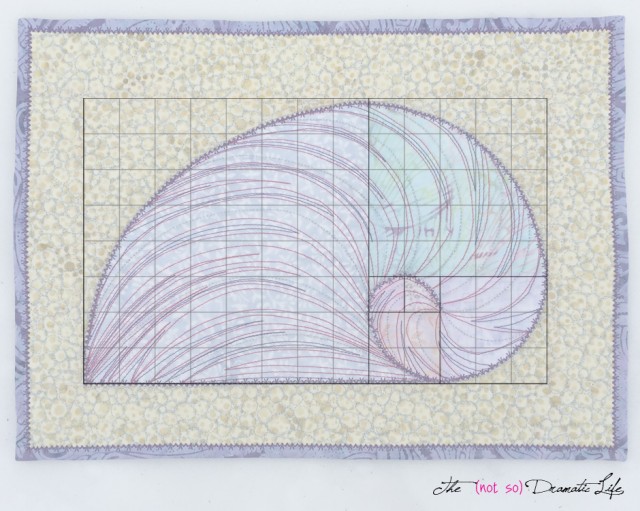 I selected subtly colored batiks with the thought of having the quilting thread inject a bold moment of color to the shell. There are six different blue, pink and lavender batiks used to create the "Shell" and the "Sand is created with one batik which is both incorporated into three of the blocks as well as the border strips.
I quilted the "shell" first using a silver metallic thread as well as bright pink and purple. This was done using the walking foot, but I shifted to free motion quilting to create "pebbles" in the sand. My free motion quilting is definitely a work in progress, but this is a vast improvement over past attempts.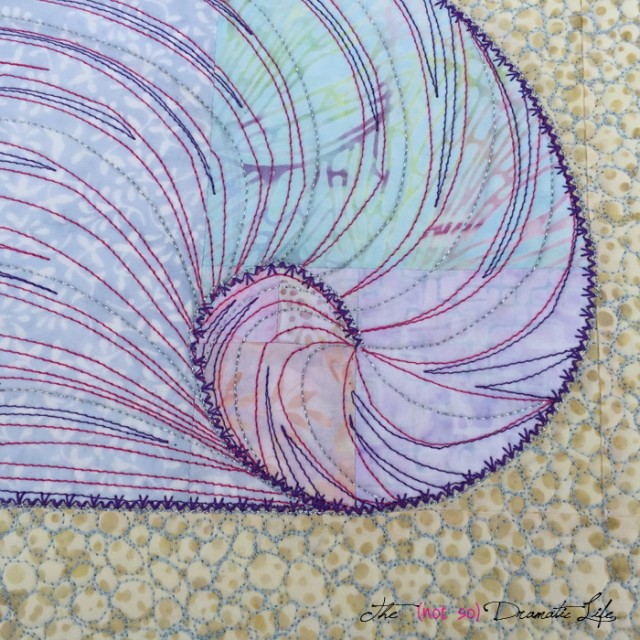 The back of this quilt is another batik print that I selected to incorporate both the yellow of the sand and the blue tones of the shell (as well as implying water). I think the quilting on this piece makes the back as interesting as the front, although in hindsight, I wish I had used a batik with a less rigid pattern.
The binding is another purple batik that I selected to: (1) Draw the purple used in the center of the quilt out to the edge, and (2) play off the yellow of the sand fabric- I seriously love using complementary colors. To create a greater sense of definition in this quilt, I used a decorative stitch to secure the binding and enhance the spiral shape. I liked using this technique of finishing the binding, and now I wish a had a few more options on my wonderful little mechanical machine!
Quilt Stats
Title: Fibonacci on the Seashore
Size: 12″x16.5″
Techniques: Curved Machine Piecing
Quilting: Outline and curved quilting using a walking foot, and free motion pebbles in the background. All quilting was done on a Bernina 1008
Fabrics: Batiks (I have never done an all batik quilt before!)
Batting: Warm and White cotton batting
Thread: Pieced with Gutermann Mara 100 in white. Quilted with Light Blue cotton machine quilting thread, Gutermann Silver Metallic thread, and Mettler cotton quilting threads in Magenta and Purple
Binding: Blue and Purple batik- cut in 2″ strips, machine straight stitched to the front, top stitched to the back, and accented with purple decorative stitches.
What was new:
An entirely batik quilt
Using bright quilting threads on a pastel background
Trying out metallic thread for machine quilting (I need to explore other thread and needle options for use in the future- Does anyone have suggestions?)
Decorative stitching for quilting and securing binding
This post is linked with Sew Cute Tuesday at Blossom Heart Quilts. Please stop in to see all of the wonderful creations that have been shared!