Did you know that a whole cloth quilt used to be a sign of wealth? If you could afford to purchase an entire piece of fabric for your quilt rather than piecing together scraps you must be rich! I think this quilt is too small to demonstrate wealth (hah!), but it is the perfect size to help me work on my free motion quilting.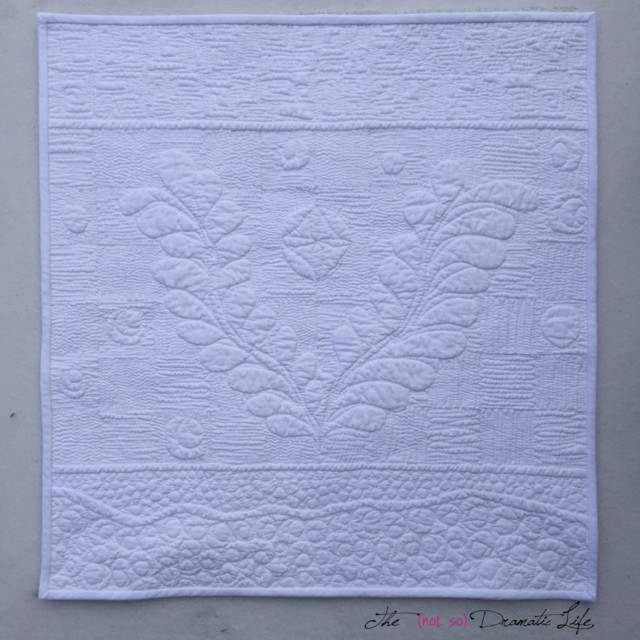 One of my big goals for 2015 is to improve my free-motion quilting. As we close in on the halfway point of the first quarter (yikes!), I decided to move forward with this goal by doing a free motion quilted whole cloth mini.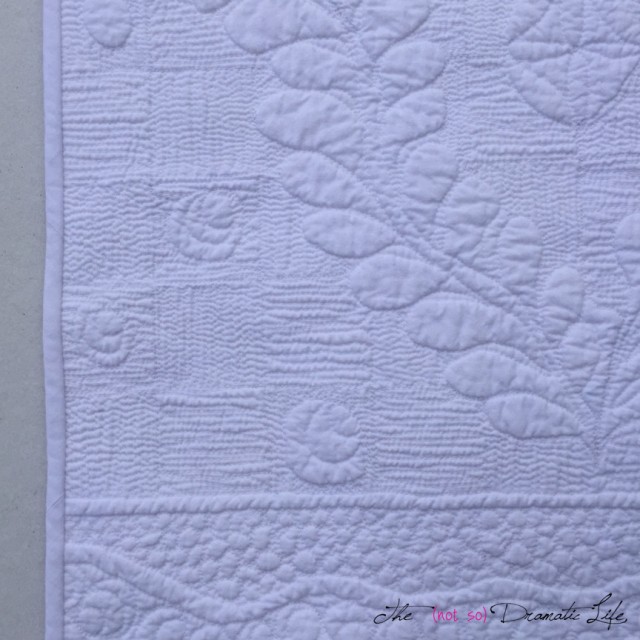 I drew a 2″ grid on the upper layer of fabric and sketched in the "stems" of the feathers. I started with the feathers and then began filling the surrounding areas with different quilting designs. My goal was to get some more practice with a variety of patterns, so I used different designs in various areas of the quilt. For this project I decided I would work with whatever happened- no ripping out stitches!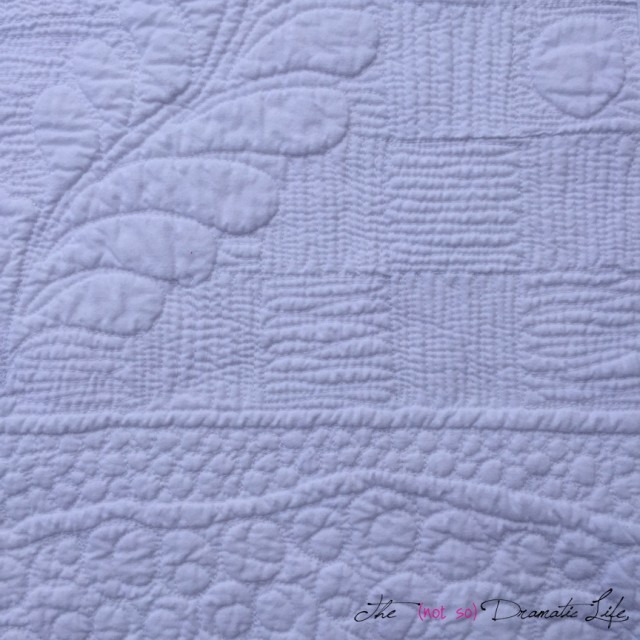 Since my free motion quilting skills are still a work in progress, I stuck with white thread on a white background, but I do hope to try contrasting stitching at some point. For the first time, I used a double layer of batting. The bottom layer is Warm and White and the top layer is Hobbs Heirloom Cotton batting. I really like the feel and dimension that the double layer of batting provides. The Warm and White feels very stable and the Hobbs cotton batting is lighter and "poof-ier" which really seems to help the design pop.
Quilt Stats
Title: Whole Cloth Sampler One
Size: 19″x20″ after washing
Techniques: Whole cloth quilting
Quilting: Feathers, Pebbles, Double Pebbles, Circles, Angular Swirls, Waves
Fabrics: Front, Back, and Binding of White Kona Cotton
Batting: Warm and White Cotton Batting and Hobbs Heirloom Bleached Cotton Batting
Thread: White Signature Cotton Machine Quilting Thread
Binding: Continuous 2″ wide bias of white Kona Cotton, machine stitched to the front, hand stitched to the back
What was New:
Whole cloth quilting
Using a double layer of batting
I'm linking up with Finish It Up Friday at Crazy Mom Quilts, Whoop Whoop Friday at Confessions of a Fabric Addict, and Show Off Saturday at Sew Can She. Please stop by to see all of the wonderful work being created!