Several months ago when the Modern Quilt Guild announced a challenge using these fabulous fabrics from Amanda Herring's Cottage Garden line, I knew that I had to participate. I am really excited to share this finished lap quilt today.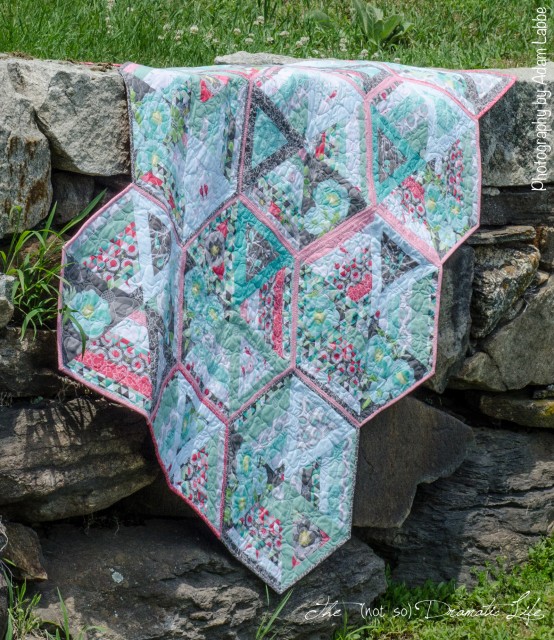 These prints are Gorgeous!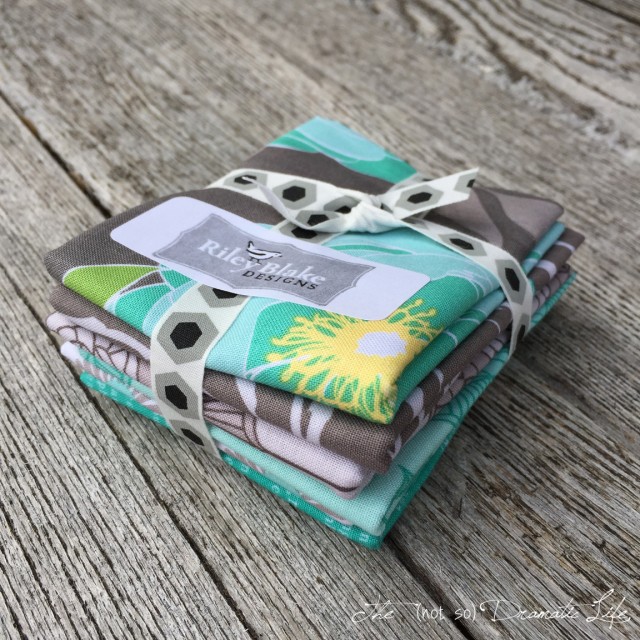 The Rules are pretty straight forward for this challenge:
Make something fantastic that is quilted
Make something you have never done before
Challenge yourself to learn something new
Use only Riley Blake Cottage Garden fabrics and coordinating Riley Blake basics and solids
I was really excited to discover that this line of fabrics also had a pink color way. With this information I knew that I wanted to do something reversible. I have been fascinated by potholder quilts lately. I love the idea of making mini quilts, another current obsession, come together to make a larger piece. Potholder quilts almost always are constructed from square blocks, but on this project I thought it would be fun to try using hexagonal blocks. Since each section is bound separately, the binding would highlight the hexagon construction from both sides of the quilt.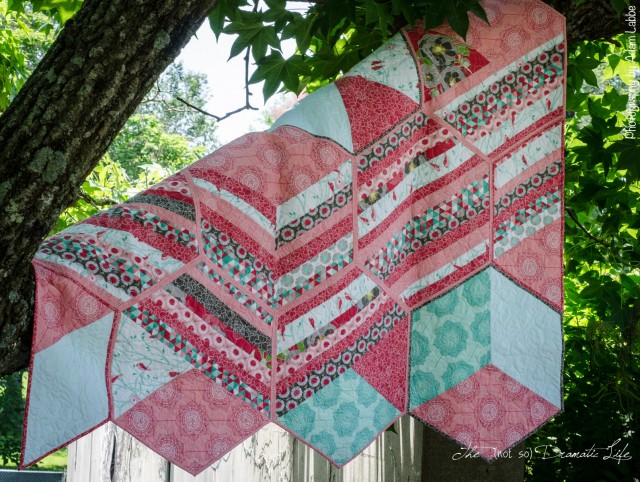 The front section focuses on the teal and grey fabrics in the collection and is made with six equilateral triangles per hexagon. Some triangles are a mix of fabrics which were strip pieced together, others were a larger piece which was fussy cut with or without an added border.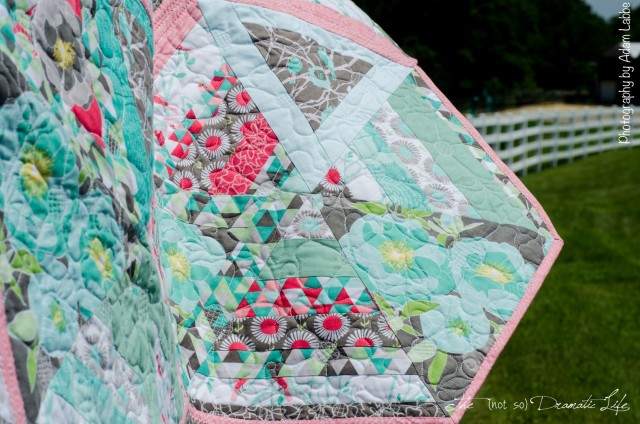 The back of the quilt highlights the pink fabrics in the collection, and on this side I decided to attempt a directional pattern to draw your eye across this side of the quilt. For this I did strip piecing like I had used on the front of the quilt. This time, instead of cutting the strip pieced sections only into triangles, I also created full, half, and third hexagon shapes.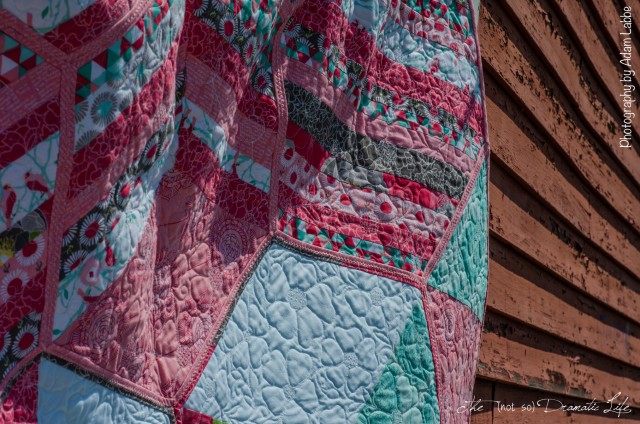 For all of the hexagons, I pieced them to be larger than I ultimately wanted them to end up. By doing this I was able to quilt each block and trim it to size before binding them. The most challenging part was getting the centers to align properly, but with careful pinning and a lot of patience it worked out.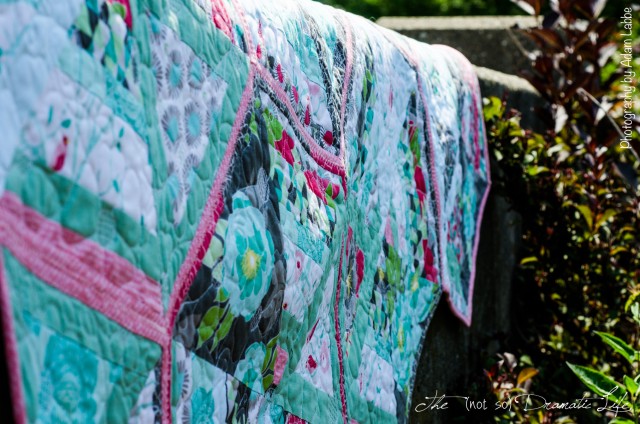 The quilting is an all over floral pattern which echoes one of the Cottage Garden prints. This was the first time I dared to quilt a larger piece using free motion quilting. It helped that I was quilting smaller pieces rather maneuvering a large quilt through a small machine. The tricky part for me was maintaining size continuity in the quilting design throughout the quilt.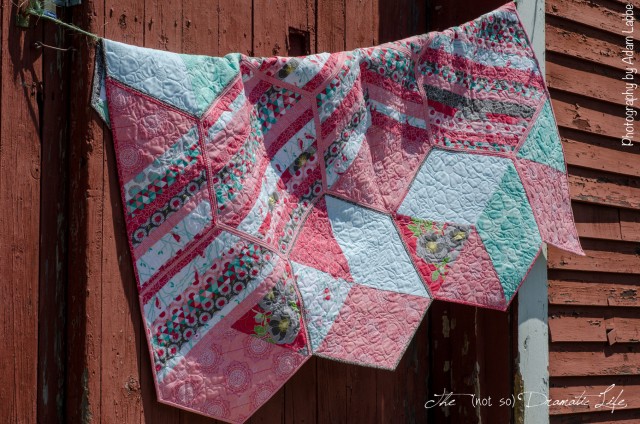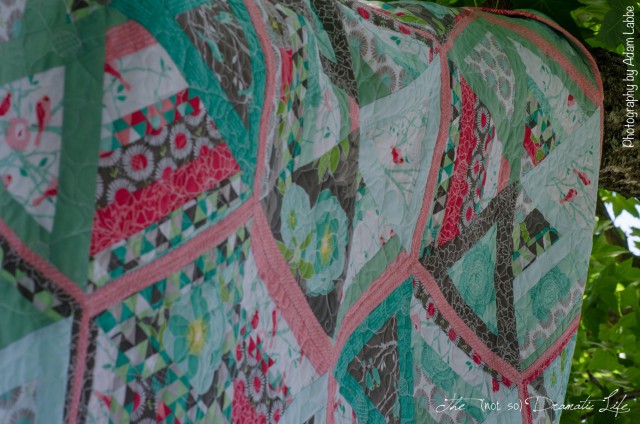 The blocks were each bound in pink and/or grey bias that I made using leftover sections of fabric. The pink text fabric is the dominant binding so I selected a matching thread to join the hexagons. For this process I used a triple zig zag on the sewing machine and laid the blocks flat beside one another to stitch their edges together.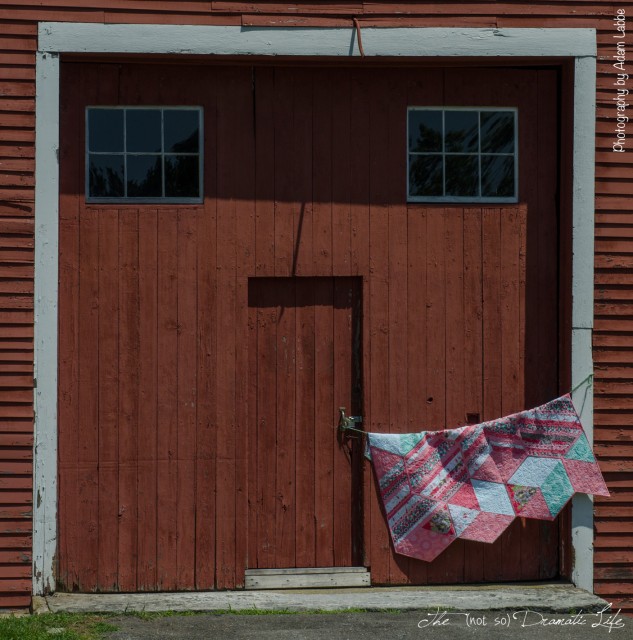 Quilt Stats
Title: In the Garden
Size: 50″x 61.5″
Techniques: Machine piecing, potholder style quilt
Quilting: Free motion, all over floral motif which reflects the print in one of the fabric designs
Fabrics: Cottage Garden fabrics by Amanda Herring of The Quilted Fish for Riley Blake and Riley Blake solids
Batting: Warm and White cotton batting
Thread: Pieced using white Gutermann Mara 100, Quilted with white machine quilting thread, and assembled with pink Gutermann Mara thread
Binding: Bias strips of leftover Cottage Garden fabrics, cut in 2″ widths, machine stitched to one side, hand stitched to the other
What was new?
Hexagonal blocks assembled into a potholder quilt
Using free motion quilting on a larger project
Using only one collection of one designer to create a reversible quilt