Negative space is one of my favorite tools to use in my modern quilt designs, and I was ecstatic when Sylvia Schaefer released her book, The Quilter's Negative Space Handbook. In this book, Sylvia takes the concept of Negative Space and breaks it down into eight manageable sections for the reader to explore. These sections can be used on their own or mixed and matched to develop your own unique designs. While there is a project to illustrate each type of negative space, the reader is actively encouraged to apply each approach to their own original designs. This combination makes the book perfect for all levels of quilters. At the end of this post, you'll have an opportunity to win a digital copy of The Quilter's Negative Space Handbook, so I hope you'll keep reading!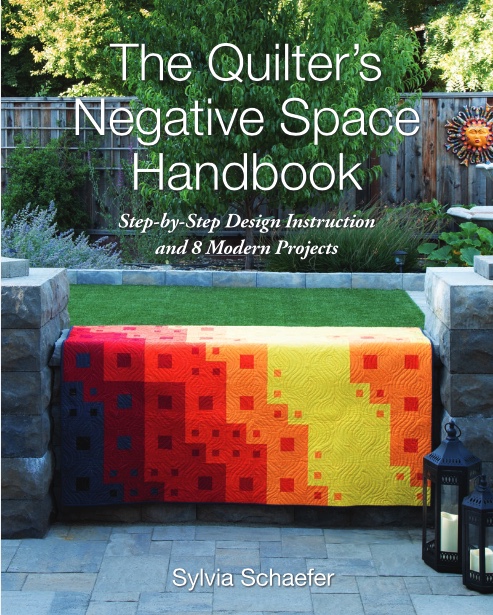 Sylvia has a great eye for negative space, and I have been a fan of her work ever since I saw her quilt, The Disintegration of the Persistence of Artichokes at an American Quilter's Society show in Paducah one year.
A couple of years later we had our quilts (both using lots of negative space!) hanging side by side in the winner's section of the Modern category at another AQS Paducah show. This time it was Meeting of the Geese that I was admiring.
Most recently, I was honored to quilt Northern Lights for the book. The edge to edge motif is a digital download by Anita Shackelford.
The eight approaches to negative space design in the handbook are:
Removing Elements
Standing Alone
Oversized Simple Blocks and Inverting
Setting Rows
Scattering
Disintegration
Making Shapes
Extending Lines
I am looking forward to further exploring each of these approaches to negative space, but the one I couldn't wait to try was scattering. I have made several plaid quilts, and I thought some of Sylvia's suggestions would be fun to try in creating a new design. (Please check out this post about Infused Plaid to see how my typical design process differs from what I am doing here!) In the book, Sylvia mentions using a random number generator to determine block placement. This really caught my attention, and before I even went to the next page of the book, I googled "random number generator" and started sketching.
For this design, I started by setting a few parameters. The grid is 34 units by 34 units, and I decided to place 34 colorful squares into that space. I used a random number generator for each of the horizontal and vertical coordinates, then rolled a game die to determine the color of the square. Since the linear matchstick quilting that creates the plaid effect will extend through the squares, each row and column was assigned a color for all future squares that were placed in them.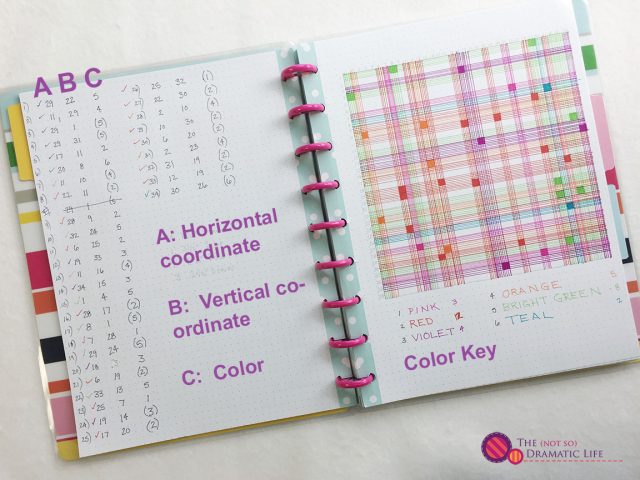 Once the main pieced section was developed, I decided that extra negative space would really set off the design. Considering the concept of breathing space that is introduced in the "Standing Alone" chapter, I decided that the top and right sides of the main section would be about half the width as the borders on the bottom and left sides. Here is the quilt top, complete with borders. I always make these plaid quilt tops a few inches larger than the desired finished size. This allows me to block the quilt and trim it to the size that looks best.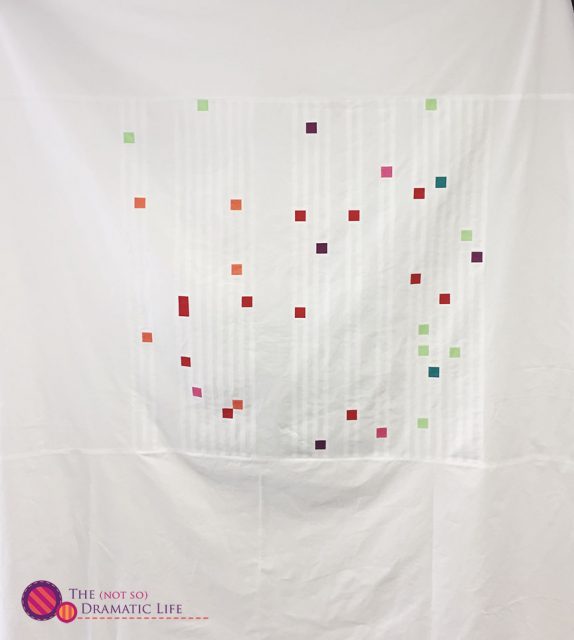 When I add the quilting to this piece, I will be incorporating a third type of negative space usage to the quilt, extending lines. I love to allow colorful quilting thread to take on a staring role, and this should be a an interesting way to infuse color into the surrounding space. Hopefully, I will be sharing the final quilt with you soon!
Here's the exciting part! If you would like to win a digital copy of The Quilter's Negative Space Handbook, just leave a comment on this post. Any comment counts, but if you are looking for inspiration, tell us about your favorite quilt using negative space. It can be a quilt you made, or a quilt created by someone else. One entry per person, please.
One week from today, Monday, March 25, 2019, I will use a random number generator to select a winner of a digital copy of the book.
You can also order a copy directly from the author!
There is lots of inspiration at the other stops on the blog tour, so I hope you check out these other negative space inspired posts!
March 11 – C&T Publishing – blog tour kickoff
March 12 – Nicole Neblett – Mama Love Quilts
March 13 – Christa Watson – Christa Quilts
March 14 – Jessica Caldwell – Desert Bloom Quilting
March 15 – Sheri Cifaldi-Morrill – Whole Circle Studio
March 18 – Cassandra Ireland Beaver – The (Not So) Dramatic Life
March 19 – Yvonne Fuchs – Quilting Jetgirl
March 20 – Sarah Ruiz – Saroy
March 21 – Sarah Goer – Sarah Goer Quilts
March 22 – Sylvia Schaefer – Flying Parrot Quilts – tour wrap-up