Happy π Day! Best wishes for peace, hope, and joy during the glorious season of pi day- Who can't get behind a holiday that requires the consumption of pie! There are so many kinds of pie you could celebrate with . . . fruit pie, cream pie, ice cream pie, chocolate pie . . . Or a savory pie . . . pot pie, shepherd's pie, pizza pie, quiche . . . Okay now I'm hungry. I thought that the best way to celebrate such a wonderful day would be to make a mini quilt that could serve as a pie plate mat.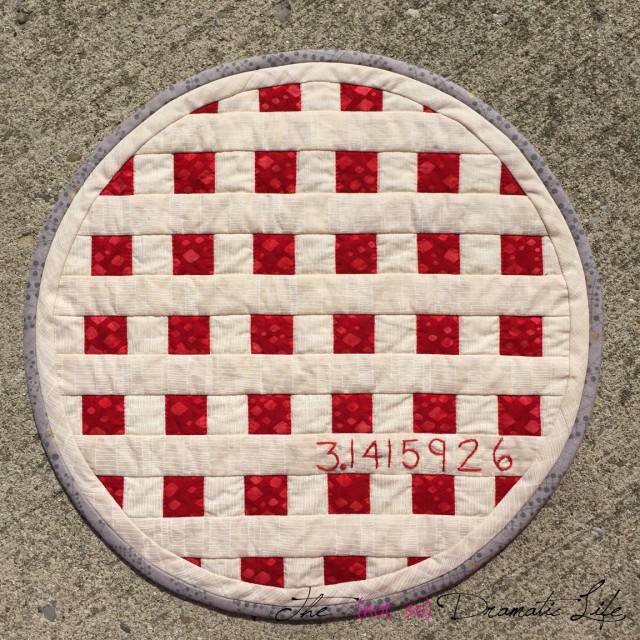 I knew I wanted to do a circular mini quilt, and a pie motif seemed too perfect to pass up. I pieced a "lattice" top and then used a bias cut strip of fabric to create the outer edge of the "crust." I had never attempted curving a bias strip around the edge of a full circle, but this worked out well (a great deal of steam was involved).
Today is a particularly special π Day since twice today we will have seven digits past the decimal point align with the date and time. 3.1415926 translates to March (month 3) Day (14th) Year ('15) and Time (9:26 am & pm). To commemorate this once in a lifetime event I decided to embroider these numbers to my mini quilt.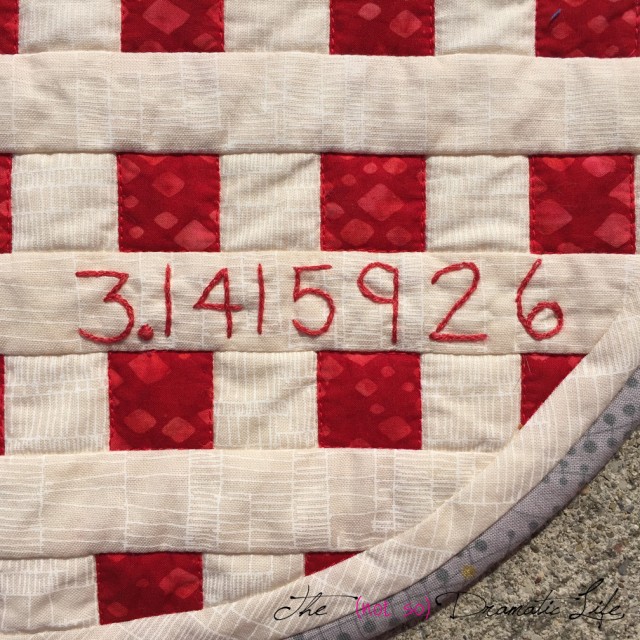 The backing and binding fabric is a grey print- think tin pie plate. For the quilting I decided to keep it simple by stitching around the edge of each red square in the lattice work. Of course "simple" involved a whole lot of thread tails to bury- maybe I should have thought that through a bit more! But since I like the result, we'll say it was worth it!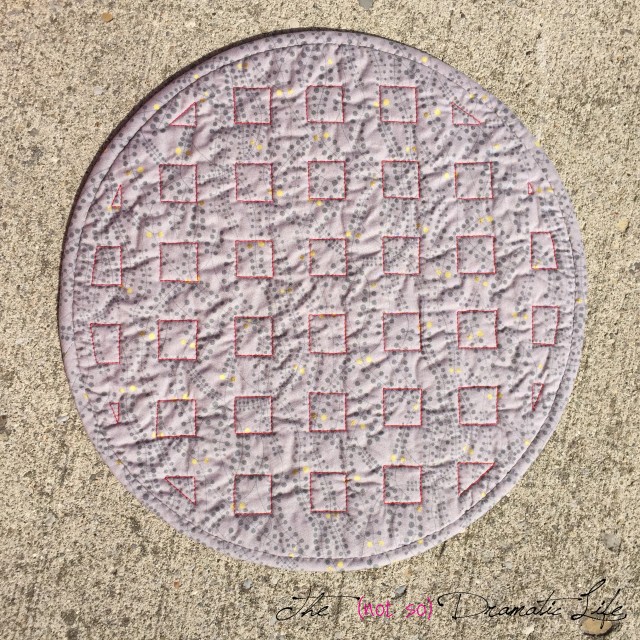 Now to see the pie mat in action:
Coconut Pie with Meringue Topping- I adore Meringue.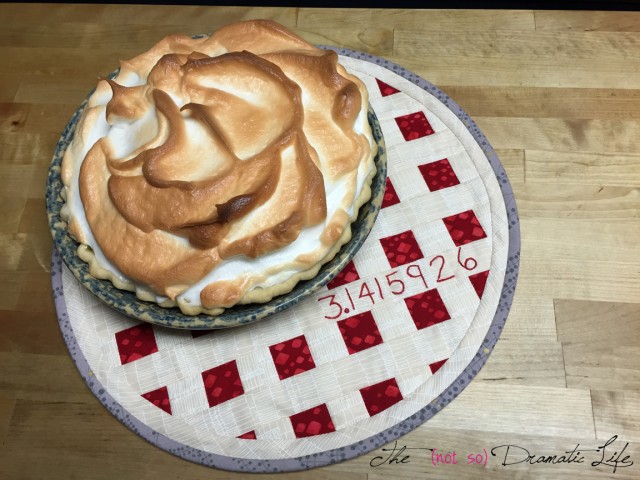 Cherry Pie.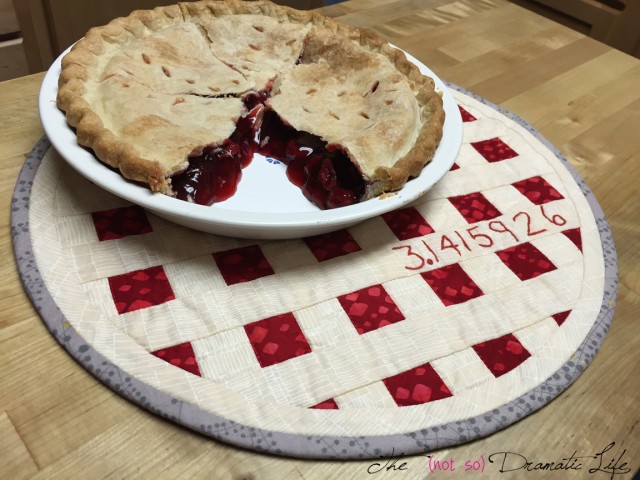 Quilt Stats
Title: π, pi, PIE!
Size: 14″ Diameter. 3.1415926 x 14″ = 43.98229″ Circumference
Techniques: Machine Piecing
Quilting: Machine quilting- stitching in the ditch
Fabrics: Red: Batik, Tan: Print from Carolyn Friedlander's "Doe" line, Grey: Lonni Rossi print from Andover Fabrics
Batting: Hobbs Heirloom Bleached Cotton Batting
Thread: Pieced with white Gutermann Mara 100, Quilted using Mettler cotton quilting thread in red
Binding: Bias in coordinating grey fabric, cut in 2″ strips, machine stitched to the front, hand stitched to the back
What was new:
Adding a strip of bias around a circle and pressing it flat (other than bias binding)
I'm linking up with Show Off Saturday at Sew Can She, Let's Bee Social at Sew Fresh Quilts, and Needle and Thread Thursday at My Quilt Infatuation. Please stop in to see all of the fantastic work being done!