The last few weeks I have done mini quilts that were (for the most part) carefully planned before I ever started cutting fabric. This week I thought it would be a fun change of pace to do a small improvisational mini with fabric pulled entirely from my scrap bin.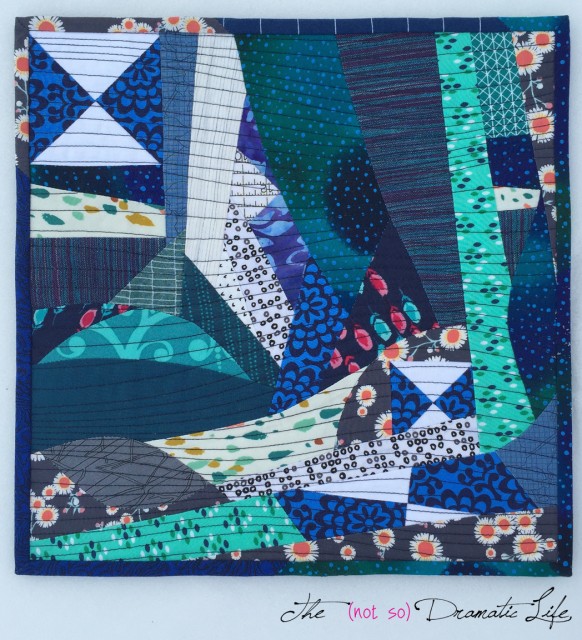 I started with two left over half square triangle blocks which a sewed together to form three sections including this larger hourglass block.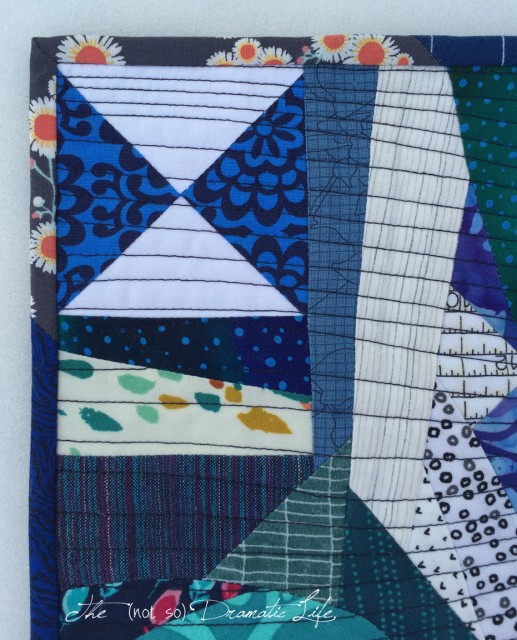 This smaller hourglass block and oblong shape also came from the original block.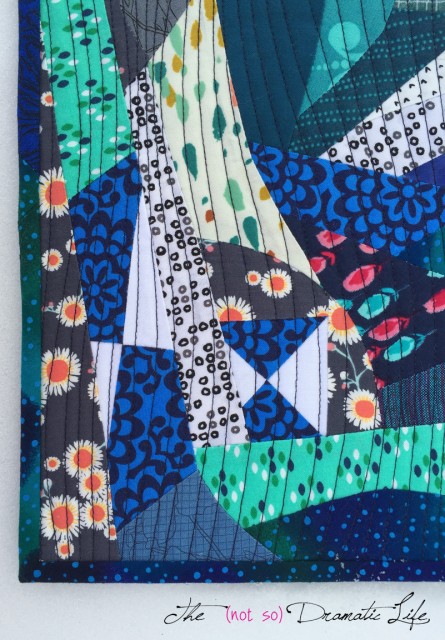 The rest of the mini was formed by adding pieces from the scrap bin, trimming, and adding more pieces. Even the backing and binding were created by piecing together scraps. For the quilting, I continued the improvisational theme with wavy lines moving across the quilt.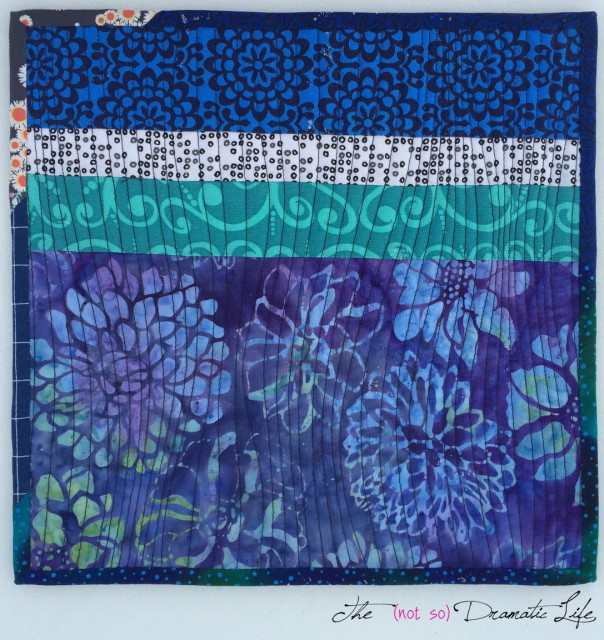 Quilt Stats
Title: Blue Improvisation
Size: 12″x12″
Techniques: Improvisational piecing
Quilting: Improvised curvilinear lines using a walking foot on a Bernina 1008
Fabrics: 100% cotton prints, solids, and batiks: All pulled from my scrap bin
Batting: White and Natural cotton batting
Thread: Pieced with white Gutermann Mara 100. Quilted with navy cotton machine quilting thread.
Binding: 2″ wide binding scraps, mostly cut on the bias. Machine stitched to the quilt front and hand stitched to the back
What was new:
Using fabrics entirely from the scrap bin
Starting a project with an extra quilt block
I am linking this quilt up with Oh Scrap! at Quilting is More Fun Than Housework, Finish it Up Friday at Crazy Mom Quilts, Whoop Whoop Friday at Confessions of a Fabric Addict, Scraptastic Tuesday at She Can Quilt, Sew Cute Tuesday at Blossom Heart Quilts, Let's Bee Social at Sew Fresh Quilts, Needle and Thread Thursday at My Quilt Infatuation, and Show off Saturday at Sew Can She.