This week, I looked back over the mini quilts I have made so far for Mini Quilt Mania, and I realized that one thing I haven't done yet is a block based mini quilt.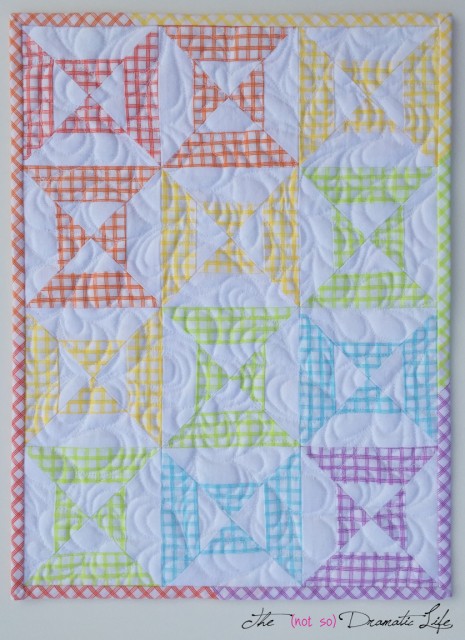 Earlier this year I was lucky to win the Citrus Tattersall fabrics featured in this quilt from Judy at Quilt Paradigm. The colors in the fabric are bold, but softened by the amount of white surrounding them. I liked the idea of using these fabrics in a diagonal spectrum to create a quiet rainbow of color across the piece.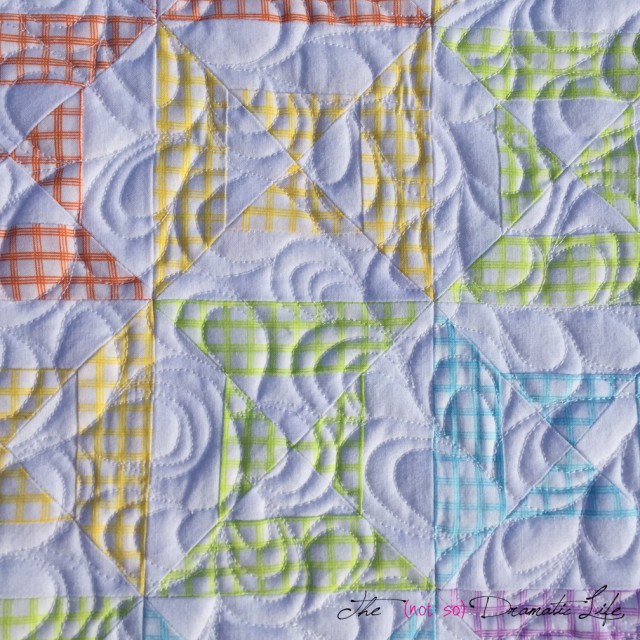 I started out creating these simple little blocks by sewing a strip of Citrus fabric to a strip of white Kona cotton. I then cut the strip at 45 degree angles resulting in triangles, half of which have the larger piece white, and the other half have the larger portion Citrus.

When turned together, these triangles create a block with alternating colors. I'm sure that someone, somewhere, has made this block before, but I couldn't find it referenced, so I'm going to call it a Topsy Turvy block.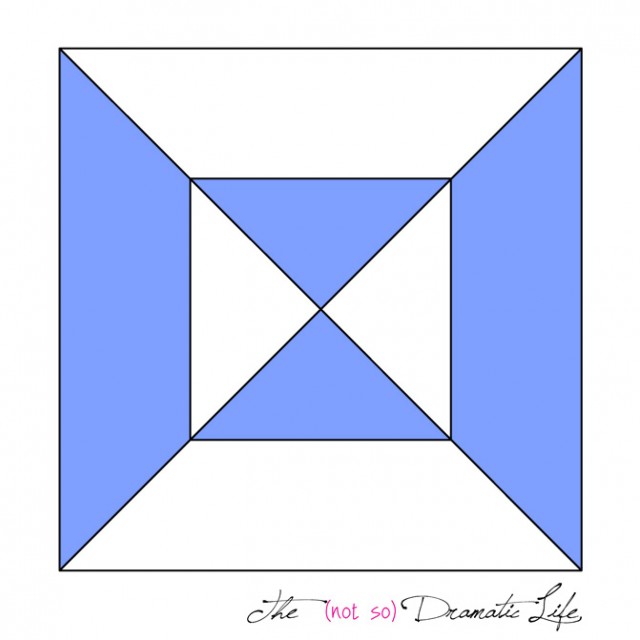 Edge to edge quilting is not something I have much experience with, but I tend to like it when I see it used on other peoples quilts. I thought that this project would be a good time to try out an all over clam shell quilting pattern. I am so glad I gave it a try because I love it! I received a set of batting samples from Hobbs batting at a quilt show and this mini was the first chance I had to try out one of the battings. Since this quilt is mostly white, I knew I needed to go with one of the bleached battings. I decided to try out the 80/20 batting, and I was quite pleased with the result. When I first touched the batting, I thought that it felt sort of rough (I'm assuming that is the 20% polyester), but it quilted up beautifully and the quilt has just the right amount of poof! I think I will be buying more of this batting to use on bigger projects.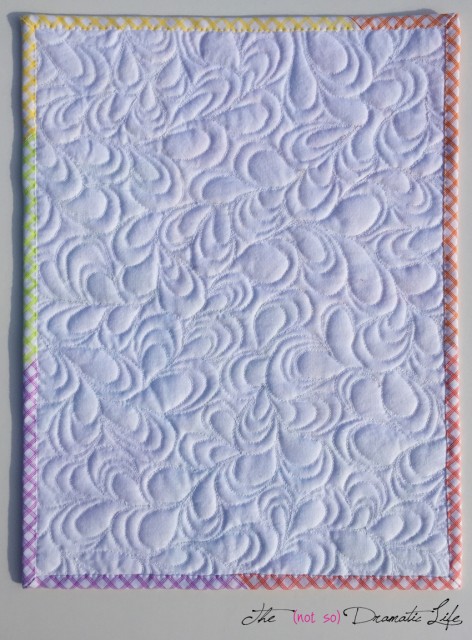 The binding is bias cut pieces of several of the Citrus fabrics. I just love plaids and stripes cut on the bias!
Quilt Stats
Title: Topsy Turvy Spectrum
Size: 10″x14.5″
Techniques: Machine Piecing
Quilting: Free motion clam shells done on a Bernina 1008
Fabric: Citrus Tattersall by Another Point of View for Windham Fabrics and white Kona Cotton
Batting: Hobbs Heirloom 80/20 Bleached Cotton
Thread: Pieced using white Gutermann Mara 100, quilted with white cotton machine quilting thread
Binding: Citrus Tattersall fabrics, cut on the bias in 2″ wide strips, machine stitched to the front, hand stitched to the back
What was New:
A block based mini
Hobbs 80/20 batting
I'm linking this post up with Finish It Up Friday at Crazy Mom Quilts and Mini Quilt Monday at Modern Cozy. Please drop by to see all of the awesome work being created!