This is my travel week for my summer job, and I'm sure you all know how stressful packing, moving, and traveling can be. I have arrived in Connecticut and spent almost all day cleaning- yuck. Now I need to unpack. I feel like packing for two months can (almost) be worse than a full move because it is difficult to anticipate exactly what will be needed during that time. This year the preparation for leaving also involved planning and/or prepping tops for my Mini Quilt Mania series. In all of the shuffle, I nearly forgot about this week's quilt! So I decided to stick with something simple, cute, and quickly executed- enter the Cotton and Steel selvage mug rug!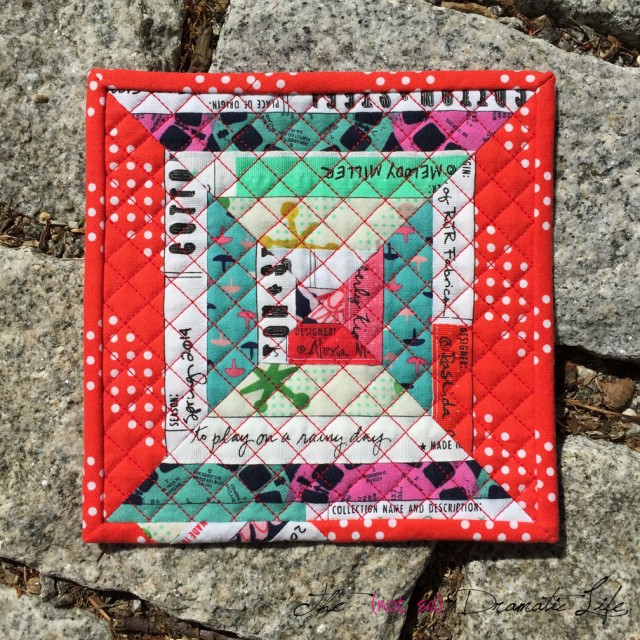 I really like the selvage quilts that so many people have been making recently, but I tend to use every last bit of printed fabric in my projects without thinking about saving the printed edge first. The one exception to this is Cotton and Steel fabrics. I love the selvage designs on these prints. The graphics are great, the fonts are varied and interesting, the colors reflect the print, and the text even tells a bit of a story. I can't through these selvages away!
For this mini, I topstitched several selvage strips together overlapping the raw edges with a finished ones. Then I cut 45 degree triangle pieces from the larger strip, similar to how I made last week's Topsy Turvy Mini Quilt. I turned them together to form a square, and here we are!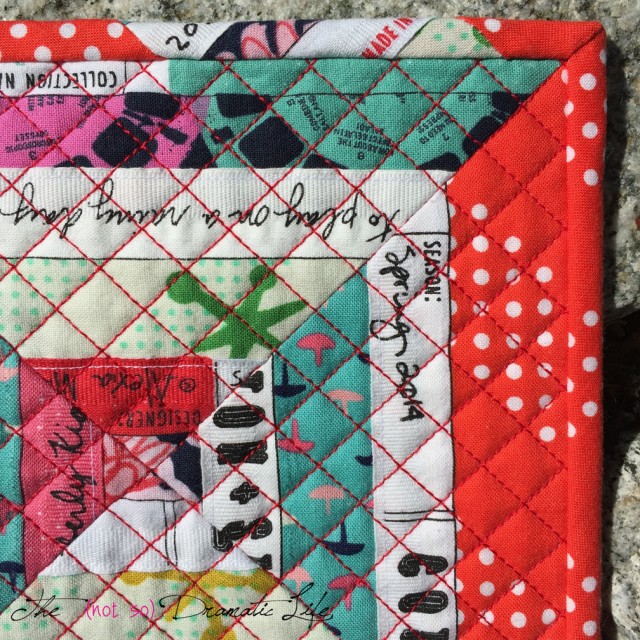 I kept the quilting simple with a half inch diagonal grid, and the binding is mostly red with a bit of the scrap selvage strips included.
This little quilt is going to be on my work table this summer- I can have water bottle condensation dripping on all that pretty garment fabric! This was my first attempt at a selvage quilt, and I like it even more than I thought I would. Now I might need to start saving all of the selvages. . .
Thank you so much to everyone who has been visiting and commenting on my posts! I have been reading all of your wonderful comments, and I will be catching up on responses in the next few days now that I will be back in a routine. I really appreciate your thoughts and feedback!
Quilt Stats
Title: End of Our Rope (uh-fabric): A Cotton and Steel Selvage Mug Rug
Size: 7″x7″
Techniques: Topstitched construction with finished edges overlapping raw edges
Quilting: 1/2″ diagonal grid in red, done with a walking foot on a Bernina 1008
Fabric: Cotton and Steel fabrics from assorted designers
Batting: Warm and White cotton batting
Thread: Pieced using white Gutermann Mara 100, Quilted with Mettler cotton quilting thread in red
Binding: Cotton and Steel Essentials fabric and scraps of selvage, cut on the bias, machine stitched to the front and hand stitched to the back
What was new?
Using Selvages!