How can I take a single piece of fabric and create an entirely new, pieced, quilt top design? Water, Land, and Sky does just that through cutting, dying, cutting some more, piecing, cutting one more time, piecing again, quilting, facing, and finishing.
This quilt started with four yards of Moda Bella Solids PFD (prepared for dying) fabric that I cut into eight half yard segments. My main goal in dying my own fabrics was to create an intense free form texture that evokes feelings of moving water. To achieve this, I used a low water immersion dye technique where each fabric spent over a day soaking in its dye mixture in repurposed peanut butter and mayo jars.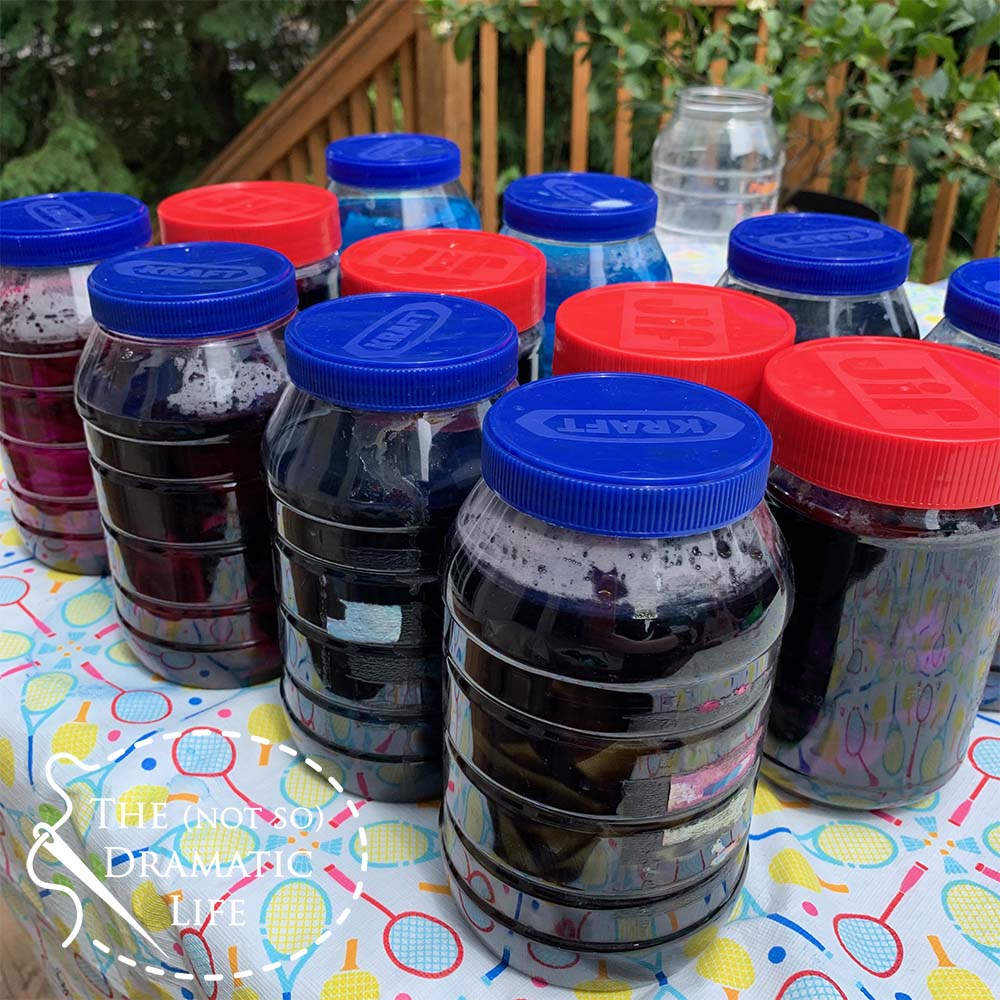 The results were exactly what I was hoping for! Because the fabrics were undisturbed, dye settled into some sections of the fabric more than others creating an organic texture.
With my newly finished palette in hand, I split the fabrics into two piles and created a panel with each set.
[As a side note, I did most of the construction for this quilt top in a hotel room with mediocre lighting, so the process photos don't show color well.]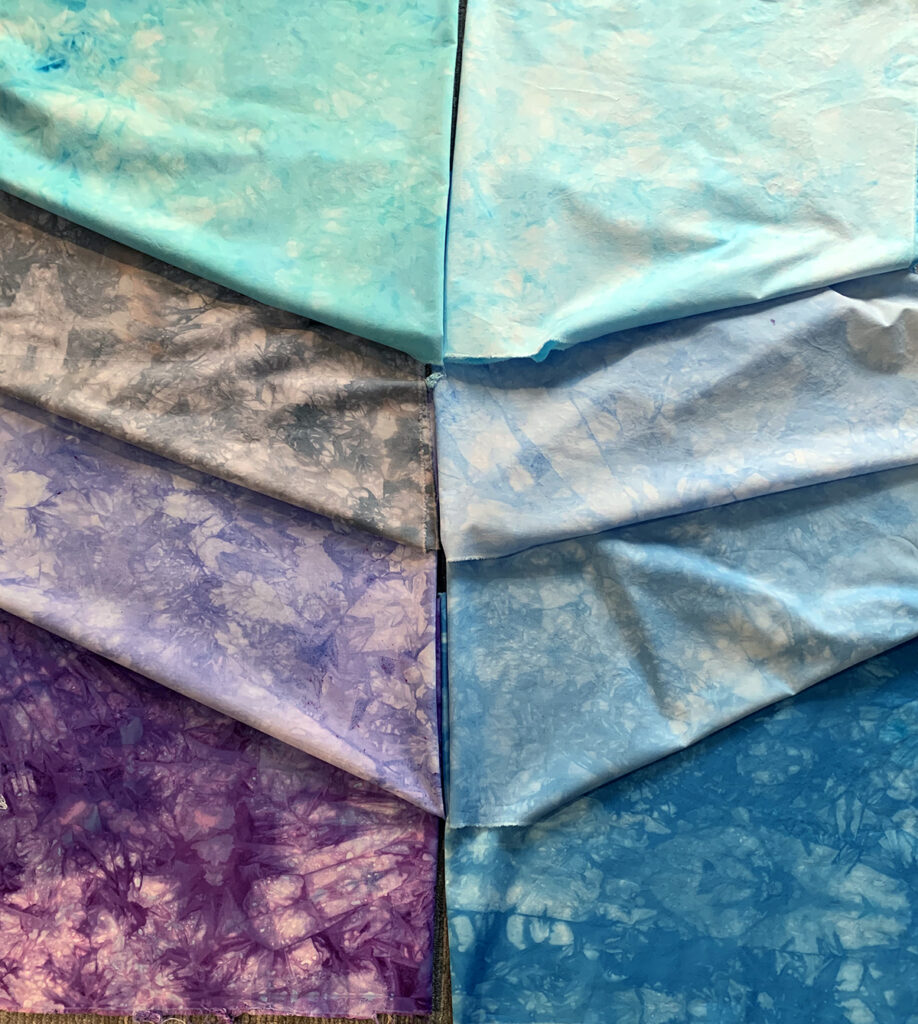 Each panel was pieced with improvised angles going in opposite directions from each other.
I then sliced these separate panels into 1-1/2″ wide strips, alternated the strips in order from top to bottom, and stitched them together to create the final quilt top.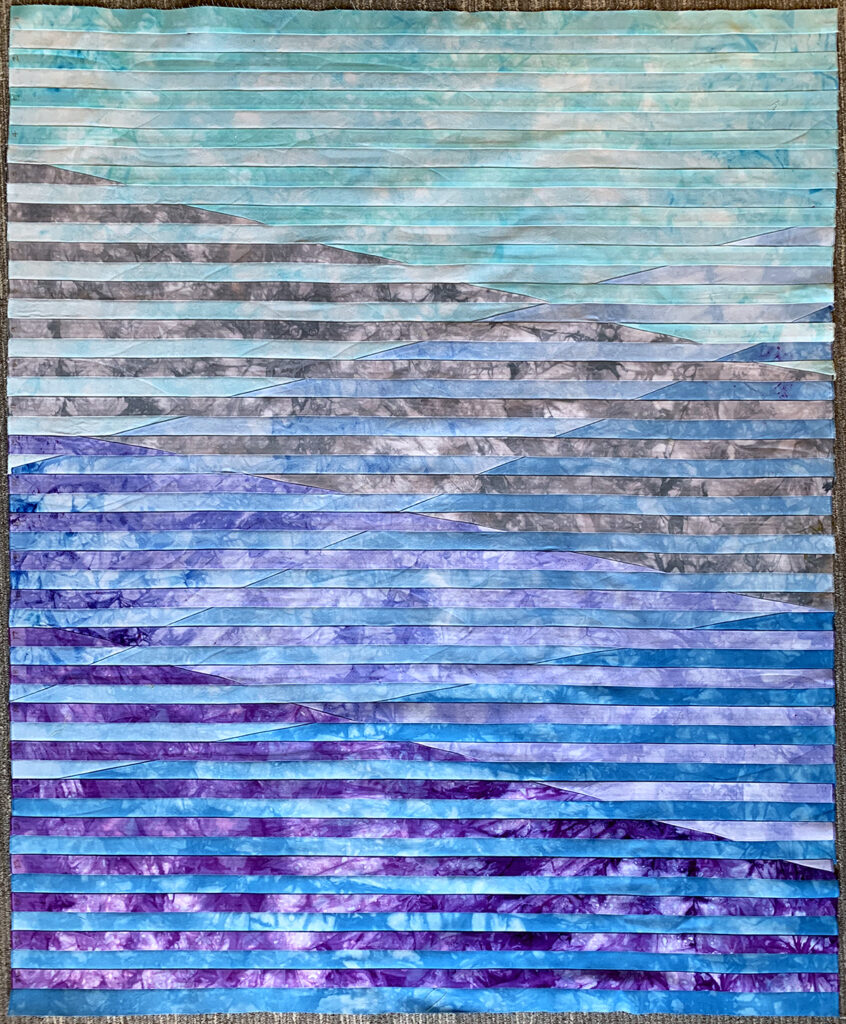 The horizontal lines created the landscape feel that I was hoping for, and I used matchstick quilting to further enhance this effect. I selected four colors of Aurifil 50 weight thread to help pull the fabric colors throughout the quilt.
While the original intention was focus on a water-like effect, I was thrilled that the ultimate result resembles an abstract landscape with water, earth, and sky represented. While these forms exist in the quilt, the design creates movement that doesn't specifically define any element, allowing them to flow together.
Here is the show entry description for the final quilt:
A single piece of fabric divided, dyed, and reassembled into two panels started the design of this quilt. These panels were each slashed into strips of equal width, alternated, and reassembled as a new, unified arrangement.

The dominant use of horizontal lines evokes the feeling of an abstract landscape and allows the viewer to experience the convergence of water, land, and sky in a way that that is implied but not defined in the composition.
Quilt Stats
Title: Water, Land, and Sky
Size: 39″x 49″
Techniques: Machine Piecing, Interleaving
Quilting: Matchstick quilting with rulers on an A-1 Longarm
Fabric: A single piece of Moda Bella Solid PFD fabric, cut and hand dyed for the front. Ruby Star Society Speckled wide back for the back
Batting: Hobbs Heirloom 80/20 Cotton/Poly blend
Thread: Pieced and Quilted with four colors of 50wt Aurifil
Edge Finish: Faced with the same Ruby Star Society fabric as the backing