Quilters love a good quilting related gift, and this year's list is the most extensive yet, with more than 100 ideas for Quilters!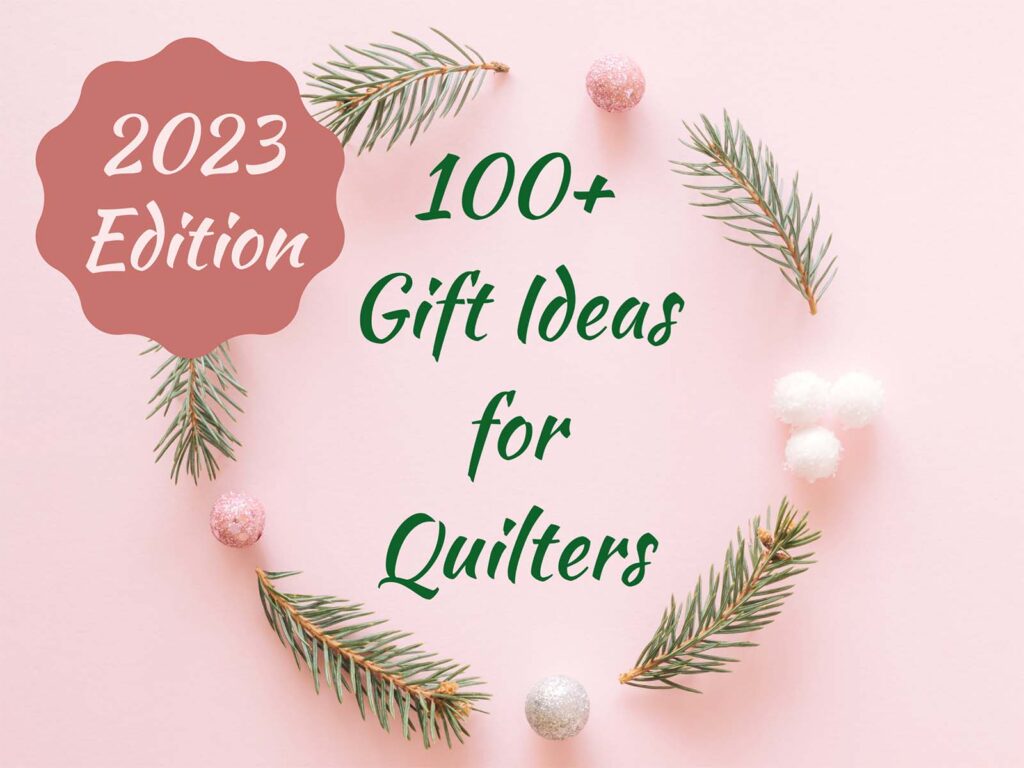 About the List
A survey
You helped to compile the biggest list of gift ideas this blog has ever had! I sent out a survey, and nearly 350 of you responded.
A few key takeaways from the respondents:
When asked if they hoped to receive a quilting related gift this year, 64% said yes, and over 25% said maybe
Over 66% hope to receive small practical gifts
New-to-them notions are the most hoped for gift at over 68%
Many respondents said they don't care for knick knack type items, but over 38% would enjoy a fun quilting T-shirt
Nearly 54% would like to receive upgraded versions of basic, frequently used tools like rulers
The single specific most hoped for gift is rotary cutter blades
How I used this info (and you can too!)
To start with, we know that most quilters enjoy receiving quilting related gifts, and most quilters want those gifts to be items that are useful to them in their day-to-day quilting activities.
This list focuses on quilting tool and notions, with some other fun items mixed in. Knowing that most quilters want practical gifts, even the fun items on the list often serve a functional purpose.
I looked for fun, new notions to mix with the tried and true notions that quilters love. I also looked toward upgraded basic items that make quilting processes easier.
The List
Items on this list vary in price and start under $5, but a few go into the hundreds. I have done my best to provide active links to in stock items. A few items are so new, they may not be in stock at the time this post goes live, but they are expected soon.
Make sure you read to the bottom of the post to see the most requested item!
This post contains affiliate links. That means if you click on an affiliate link and end up making a purchase at that site, I will receive a small percentage of the sale that doesn't cost you anything. Funds received through affiliate links help pay the costs associated with this website/blog and the weekly newsletter.
Fun and Practical Quilt-Themed Gifts
Wearables
Getting Organized
Around the House
Gifts for Quilters that Design
Cutting Tools
There is an old superstition that you can never gift any type of blade, lest you cut the relationship, so make sure you tape a penny to the gift for the recipient to pay you with!

Pressing Gifts for Quilters
Most quilters agree that pressing is just as important as stitching to achieve accurate blocks, but if you are like me, you'll do almost anything to keep from ironing your clothes!
The Tula Pink Auto Lift ProPlus Oliso is the brightest in their lineup yet!
A Mini Oliso Iron is perfect for keeping next to your sewing machine for all of those small pressing jobs.
Wool pressing mats are a joy to press on and help give you super flat seams. The bigger the better when it comes to a pressing mat- try not to go under 13″ square.
When wool pressing bars first came out, I was one of the first to line up. I use mine every time I press a seam open, then it doubles as a clapper!
Speaking of clappers, you can get beautiful artisan clappers to spruce up your sewing space in a functional way.
Best Press is an awesome way to make your fabric behave, and a gallon lasts a long time, even for heavy users.
Pair that gallon of Best Press with a Spray Misting Bottle. You'll get an even mist and the Best Press will last even longer.
Notions for All Quilters
We think about our fabrics, threads, and battings, but what about our needles? This Schmetz Collector Tin Bundle has an assortment of needles, so you'll be sure to have what you need.
Every quilter I know could use more bobbins– just make sure you know which machine they have to get the correct size.
Do you want to know the stocking stuffer I bought for myself this Christmas? The Tula Pink Limited Edition Neon Thread from Aurifil. It's stunning. I'm in love!
If neon isn't your style, try this Necessities Aurifil House Collection with four large spools of basic colors. One of these will work for practically any project.
I often make my quilt binding when I need a break from another step, so these Stitch Supply Co. Binding Spools are great to keep things contained until the end of a project.
Never will I ever have too many Wonder Clips, and this set will always be appreciated.
For all of those times when you drop pins on the floor, this MagnaFingers Pick-Up Release tool will pick it up the mess and then release it exactly where you want it.
Are you looking for the pointiest of pointy tweezers? These Precision Tweezers fit the bill.
Sew Fine Thread Gloss is my must-have for hand sewing. It decreases tangling and it smells so good!
How useful is this Needle Sorting Pin Cushion?
Do you ever wonder where you put your needle when you took a break for just a minute? This Pin Holder from Sew Tites can help with that!
This Thread Holder from Superior Threads lets you sew with any type of thread spool, cone, or even bobbins.
My favorite method for marking straight lines for quilting is Masking Tape. My favorite widths are 1″, 3/4″, and 1/2″
Zirkel Pincushions move the pins so the heads point out towards the edges, making it way easier to grab the correct end.
Quilting
Appliqué
English Paper Piecing
One of the best new notions of the year are these precision glue tips. This adapter attaches to a standard glue stick, tapers the glue to a 1/4″ wide line, and the original glue stick cap pops onto the adapter for storage.
Accuquilt has die sets for English Paper Piecing to cut both the papers and the fabric!
Sew Tite Dots are the perfect size and shape for some EPP
Foundation Paper Piecing

Sewing Space Organization
Containers for Creative Gift Wrapping
Books/Magazines/Software
Books
Magazines
Software
EQ8 is the most used quilt design software, and on a lot of quilter wish-lists
With or without EQ8, Blockbase contains thousands of block designs and pairs beautifully with The Encyclopedia of Pieced Quilt Blocks.
Experiences and Memberships
Plan a trip to a quilt show. Favorites include QuiltCon, AQS Paducah, and International Quilt Festival.
Many quilter's love a retreat, and would love a weekend (or longer) away to sew with friends, new and old
Visit a Quilt Museum like the National Quilt Museum, International Quilt Museum, New England Quilt Museum or some of the other amazing institutions around the country. Perhaps a road trip?
Give the gift of a class at a local quilt shop– most will have gift certificates available
If you don't have a local shop or can't find the class you want there, online classes are a great option and are offered by guilds as well as individual teachers.
And the most requested item is…
Gift cards were the most requested item in the survey, so head to your favorite quilter's favorite local or online quilt shop to pick up a gift card!