The international shop hop, Row by Row, starts tomorrow! This is the third year I have designed the row for one of my local quilt shops, Dabble and Stitch, which is located in Columbus, Ohio. The patterns for all blocks in the Row by Row are available for free at participating shops, and kits are for sale if you would like to use the same fabrics as the sample blocks. This year's theme is "Sew Musical."

The official state song for Ohio is "Beautiful Ohio," and this song is the starting point for the row. I located the sheet music for the song, and placed a circle over each note for the signature phrase. When these notes are connected they formed the shape of the rolling hills of central Ohio.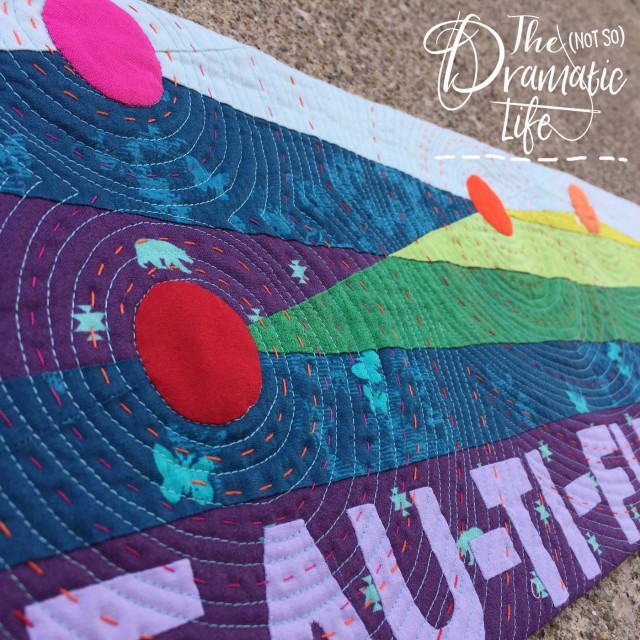 Simple foundation paper piecing is used to construct the main portion of the block, and the circles and wording are added with applique. I chose to use needle turn applique, but I included additional lines on the templates for raw edge applique, so each person can choose which process to use.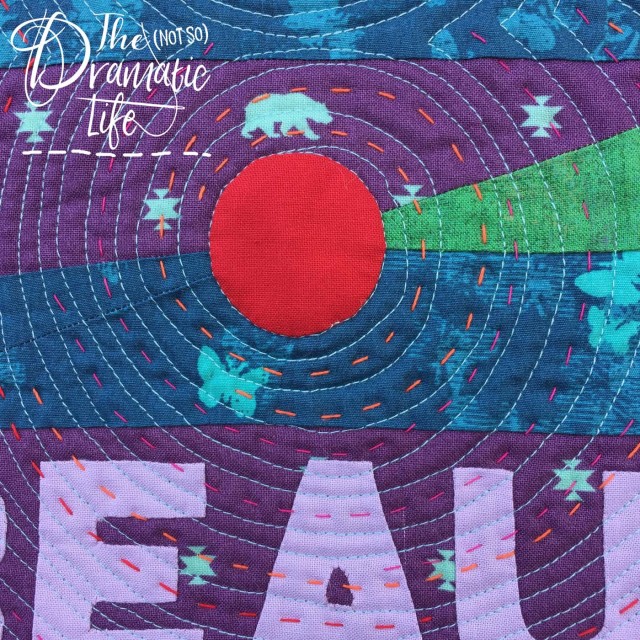 "Sew Musical" was a particularly challenging theme since music is experienced mostly through your sense of hearing and quilting is a visual and tactile medium. The quilting stitches provided an opportunity to add much needed movement to the block. A spiral of quilting emanates from each circle, and once the spirals intersect, echo stitching completes the machine quilting. To add a different rhythmic feel to the piece, large stitch hand quilting is added between lines of machine stitching. Several colors of thread in 12wt and 28wt were used to complete the project.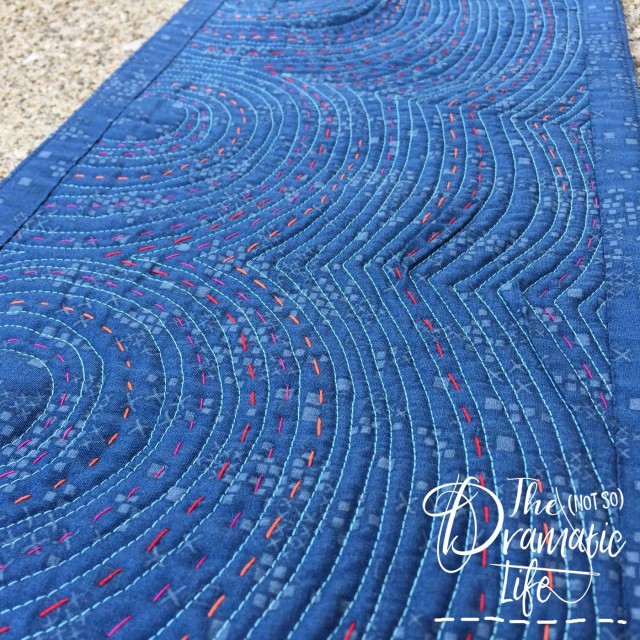 Facings finish the edges of the sample block. Since this block captures just a single phrase of the song, I wanted to allow the lines of the design to continue without a visual frame.

Quilt Stats
Title: Beautiful Ohio
Size: 9″ x 36″
Techniques: Foundation Paper Piecing, Needle Turn Applique
Quilting: Machine echo quilting using a walking foot on a Bernina 1008 domestic and large stitch hand quilting
Fabric: Assorted cotton prints and solids
Batting: Hobbs Tuscany Wool
Thread: Quilted with 50wt, 28wt, and 12wt cotton Aurifil in multiple colors
Binding: Faced with print matching the quilt backing
Bonus!
Here are the blocks I have designed in previous in previous years. Both patterns are still available through Dabble and Stitch.
2016 Theme: Home Sweet Home

2017 Theme: On the Go!
Lane Avenue Bridge