Every year the Modern Quilt Guild issues a Charity Quilt Challenge and the results are displayed in the hallways of QuiltCon. The MQG gives a theme and color palette, and any guild or small group of members is invited to participate. This is the second year the Central Ohio MQG has participated in this challenge.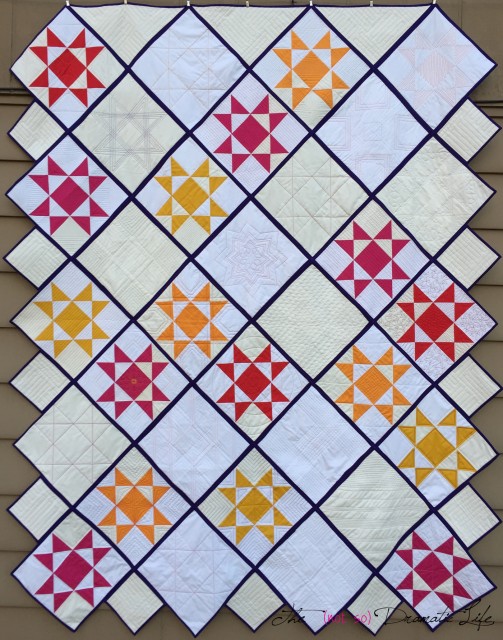 This year the theme was Modern Traditionalism and this is the palette.

When our guild does a group quilt, we gather design submissions and vote to determine which one we will make. The design for this quilt was a collaboration between Lissa of Lovingly Lissa and me. This project is a potholder style quilt, which was a popular method for charity quilts made in New England during the Civil War era. Each contributor would piece, quilt and bind a block. When the volunteers would gather, all they would have to do to finish the quilt is whip stitch the blocks together. (If you would like to see some other potholder quilts, check out these posts: Modern Log Cabin, Petals in the Wind, and In the Garden.)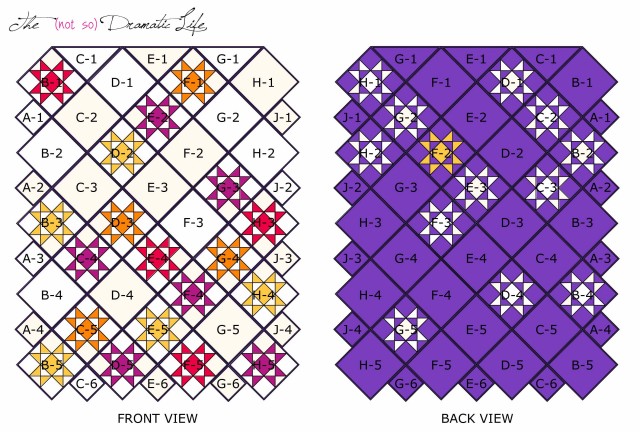 For our updated version of a potholder quilt, we used Ohio Star blocks. This is the block that I contributed to the quilt.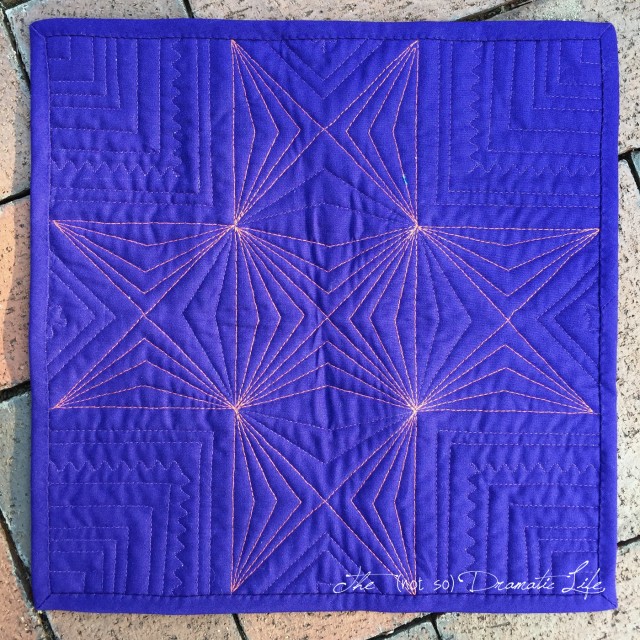 Each block is constructed so that the pieced block is visible on either the front or the back of the quilt. This also creates a fully reversible quilt. The blocks are joined with a triple zigzag stitch done on my mechanical sewing machine.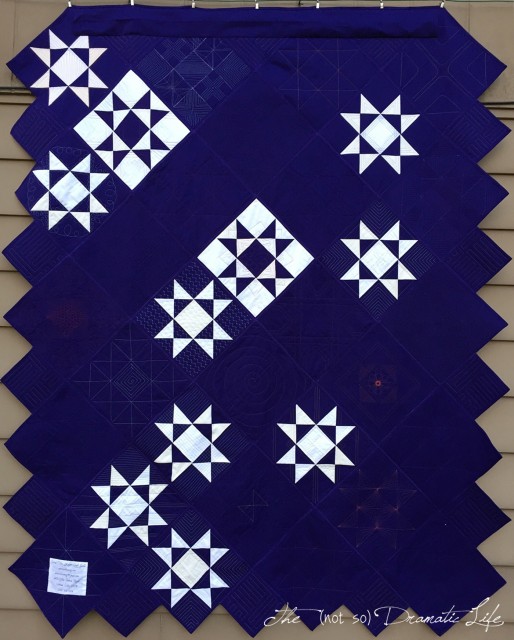 The first side of the quilt incorporates the entire color palette and has more of a "daytime" feel.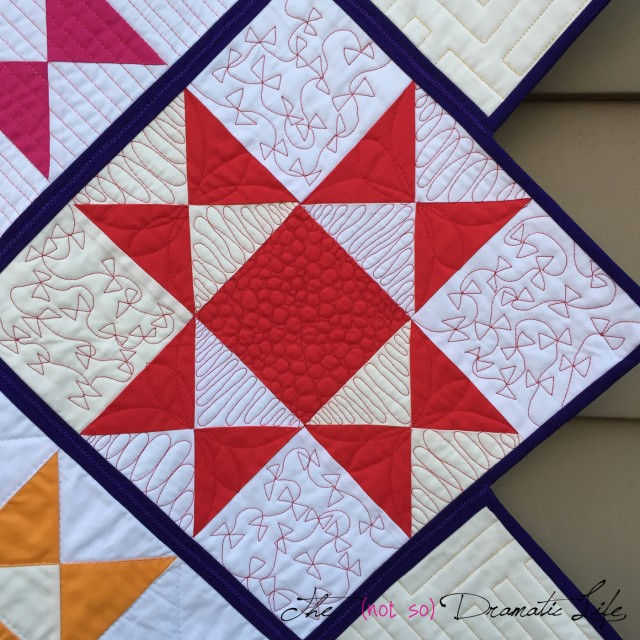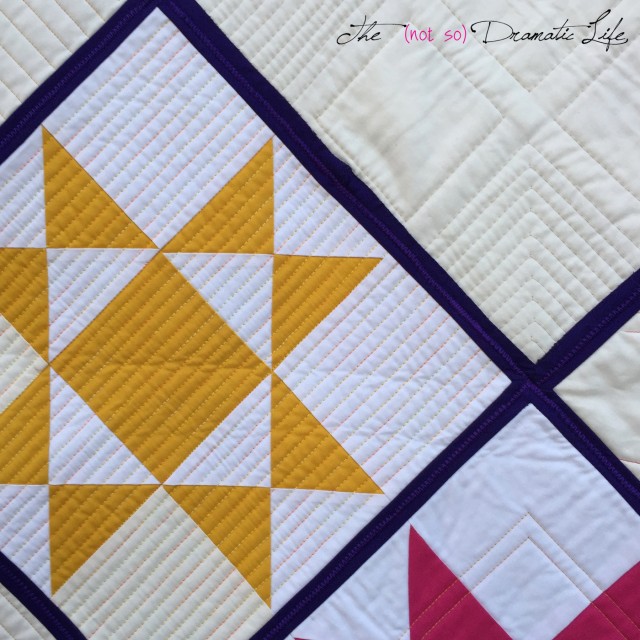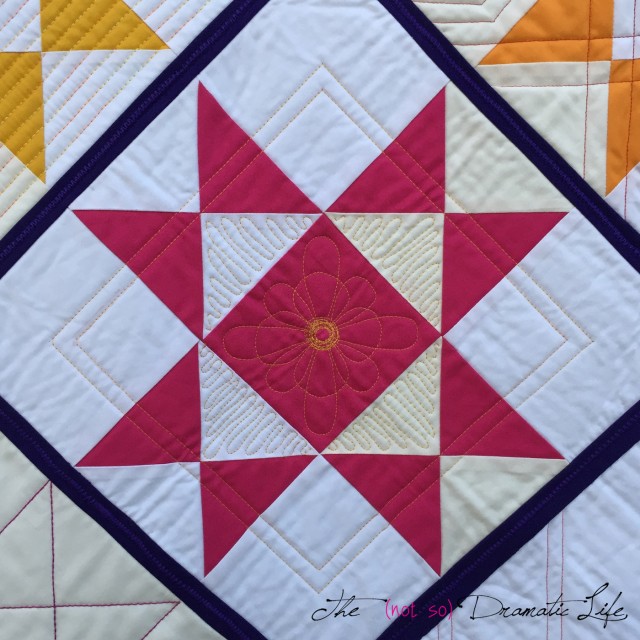 The reverse side of the quilt is intended to appear more like the nighttime sky.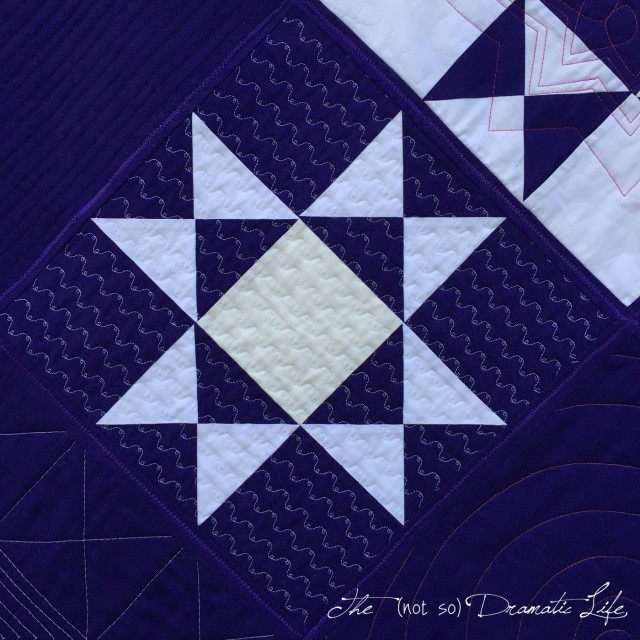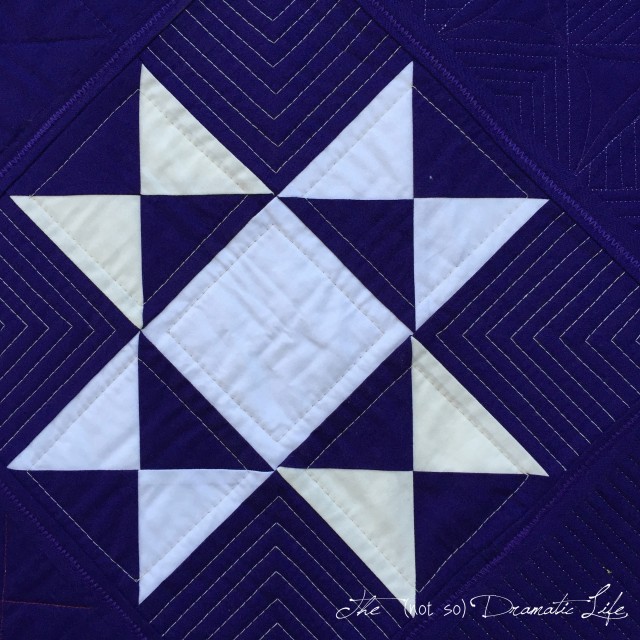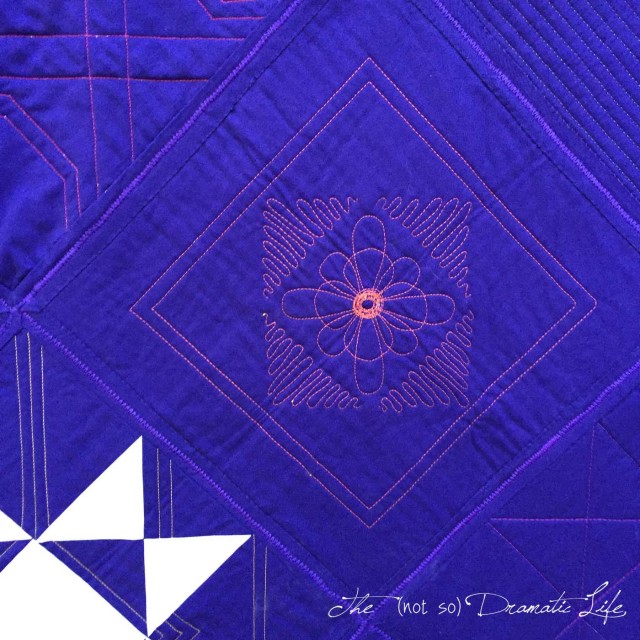 My favorite part of this quilt is that we have so many different people contributing their personal quilting style to the project. It has a mix of straight line and free motion quilting, several thread colors and weights, and various quilting densities. It really became a beautiful representation of our guild.
The quilt gets shipped off to QuiltCon this week! We are all very excited to have it displayed with all of the challenge quilts from around the world. We don't have any members who are able to attend this year, so we are hoping to have some photos come our way!
Quilt Stats:
Title: Two Sides of the Same Star
Size: 71″ x 89″
Techniques: Potholder style, machine pieced, block machine zigzagged together
Quilting: Free motion and walking foot quilted
Fabric: Kona Cottons
Batting: Warm and White
Thread: Pieced and quilted with a variety of thread brands, colors, and weights
Binding: Blocks were individually bound with Kona cotton bias binding, cut 2″ wide, machine stitched to the front of each block, and hand stitched to the back.