For the second year, one of the sewing groups I belong to did a swap. This swap has a twist: Each person brings a fat quarter of a favorite fabric from their stash to put in a bag. Then, we all take turns pulling out a piece of fabric and guess who it belongs to. We are a small group, so we are typically pretty successful in guessing the owner of the fabric. We each take the fabric away and come back a couple meetings later with an item made from the fabric we pulled from the bag to give back to the original person.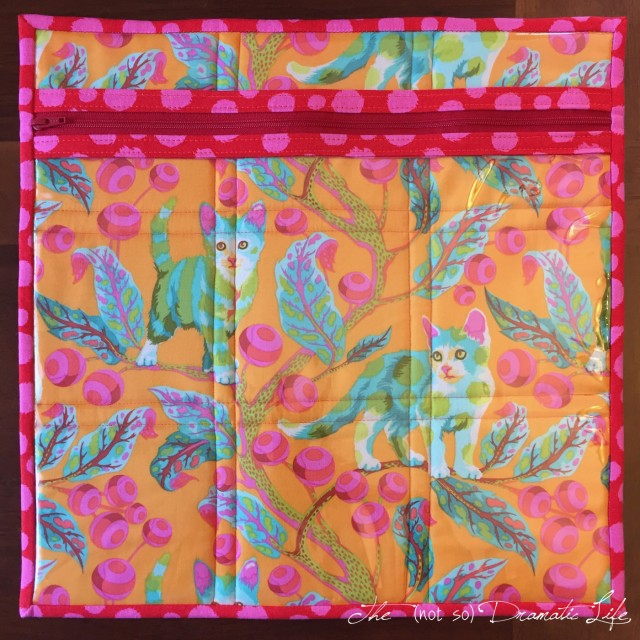 I pulled this cute Tula Pink cat print from the bag of fat quarters. It happened to be a fabric that I love enough to own, too! The person who brought the fabric enjoys hand applique and embroidery, so I thought she may like a bag that will keep all of her pieces flat and visible until it is their turn to be secured to the block.
I used a fairly heavy, clear vinyl for the front of the pouch. The primary fabric is the cat print, and for the back of the pouch, I chose to make a nine patch from a charm pack from the same Tula Pink fabric line. I sandwiched and quilted the fabric layers with a piece of soft and stable to make sure the pouch would lay flat while maintaining flexibility.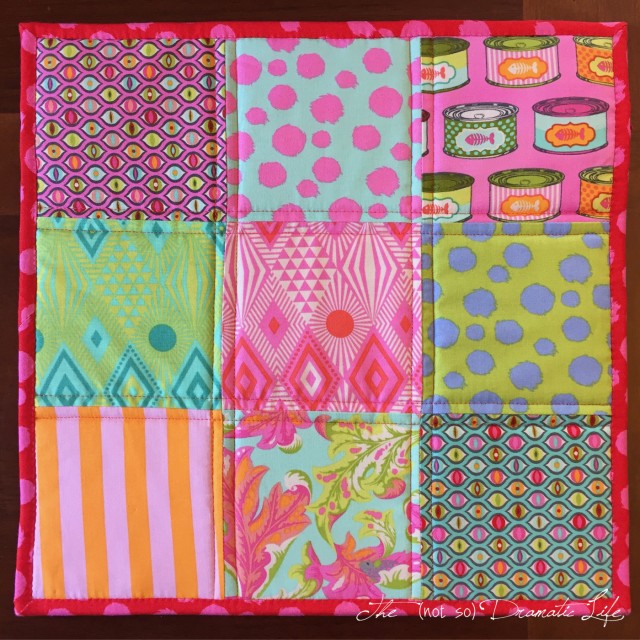 The binding is also from that same line of prints. I machine stitched it to the front and folded it around to the back for hand stitching. This allowed for hand finishing on the fabric portion of the pouch. The bag finishes a bit over 13″ square, so a lot of quilt blocks could actually lay flat in the pouch. I wish I had made one for myself when I was in a couple of bees- it would have been perfect to transport blocks!