This quilt continues the color series I have been working on within Mini Quilt Mania. While other quilts in this series have the color distributed across the piece, the violet circle in this quilt creates a single focal point. Having a central focus gives this quilt a sense of calm and serenity.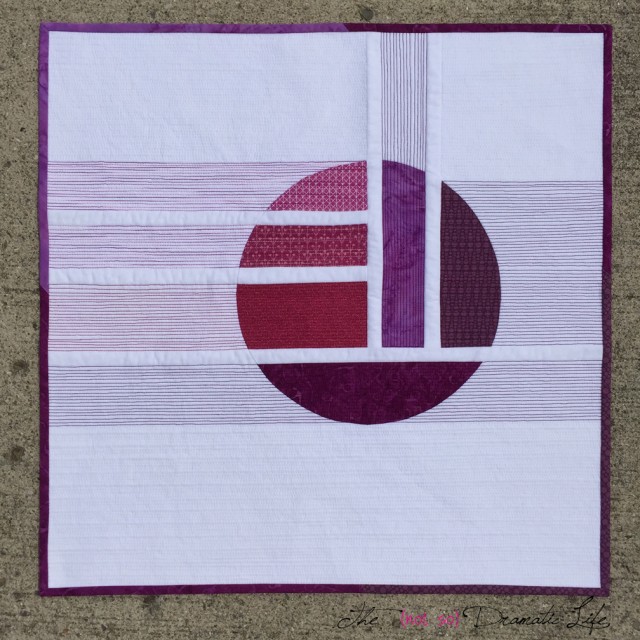 For the violet circle, I first pieced together several violet fabrics spaced with white strips into a roughly square shape. From this section I cut a circle. Then I cut a circle with a 1/2″ smaller radius from the white background fabric. The smaller opening provided the seam allowance necessary to piece the violet circle into place.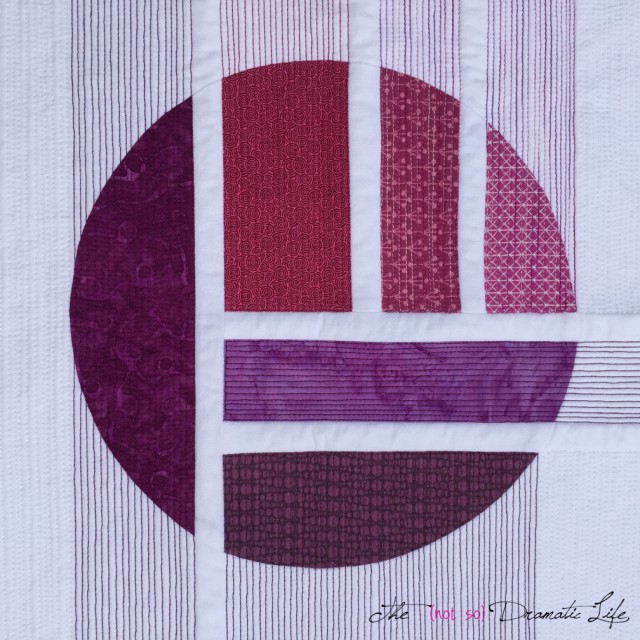 I struggled to determine the quilting pattern for this project. There are so many possibilities! Ultimately, I landed on juxtaposing the circular focal shape with straight line matchstick quilting. The white bars within the focal shape remain un-quilted and extend to the edges of the piece. The quilting lines going through the violet areas of the quilt are shades of violet and magenta that most closely match the fabric they intersect. One section of violet stitching runs perpendicular to the rest of the stitching to break up the overall pattern.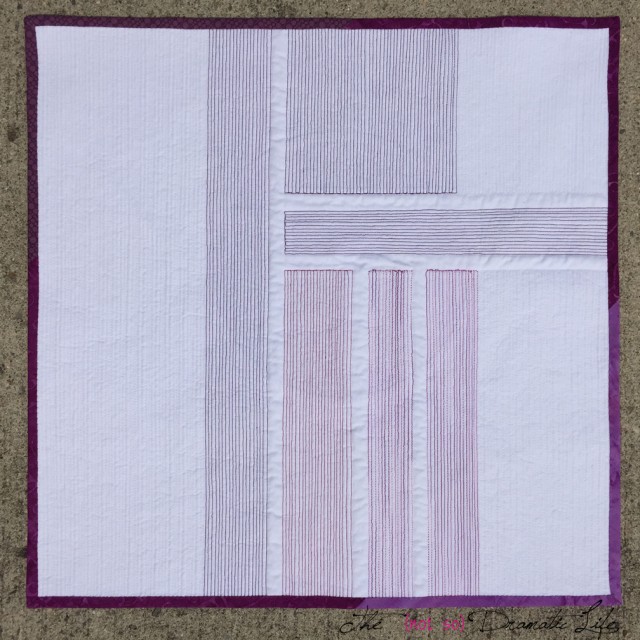 The binding for this quilt is created using a variety of scraps from the fabrics used to create the violet circle.
Quilt Stats
Title: Violet Calm
Size: 20″x20″
Techniques: Machine Piecing
Quilting: Matchstick quilting done with a walking foot on a Bernina 1008
Fabric: Assorted Violet Prints and Batiks, White Kona Cotton
Batting: Warm and White Cotton Batting
Thread: Pieced with white Gutermann Mara 100. Quilted with Connecting Threads 50wt Essential Cotton in Magenta and Grape, Variegated violet 50wt Wonderfil Cotton Quilting Thread, white cotton machine quilting thread
Binding: Scrappy binding using fabrics pieced into the quilt top
What was new?
Machine piecing a circle into a solid background fabric