Purchase the Festive Baubles Pattern Here!
Learn more about the 2020 Quilt Along Here!
I made a Christmas quilt this year, and I only missed finishing it for Christmas by two days! Maybe I'll just consider it 364 days early for next year!  Festive Baubles is a reinterpretation of the Baubles quilt I made a few years ago.  A lot of people really loved this quilt, and wanted a pattern for it.  The initial version had areas of the construction that were too challenging for the result, so I set out to create a design that has a similar aesthetic with a more user friendly construction.  The pattern isn't complete yet, but I'm hoping to do a Christmas in July sew along in 2020!  UPDATE: The pattern is now available through Dabble and Stitch, and we are doing a quilt along starting October 5, 2020! UPDATE: The pattern is now available exclusively as a PDF. You can purchase the Festive Baubles Pattern here.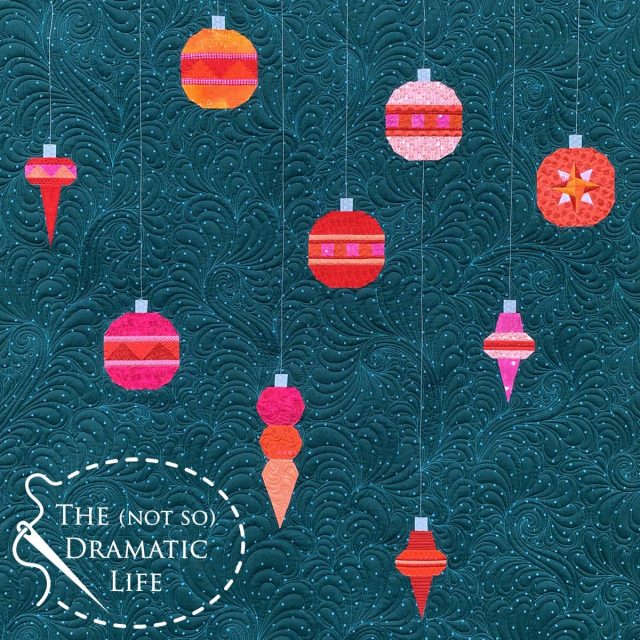 There are six different foundation paper pieced blocks in the design.  Three of these designs have two color versions in the finished quilt, which gives us nine blocks total.
Block one has two color versions with a classic "round" shape and a center design of squares.  Foundation paper piecing is a great way to create the illusion of curves while only stitching straight lines!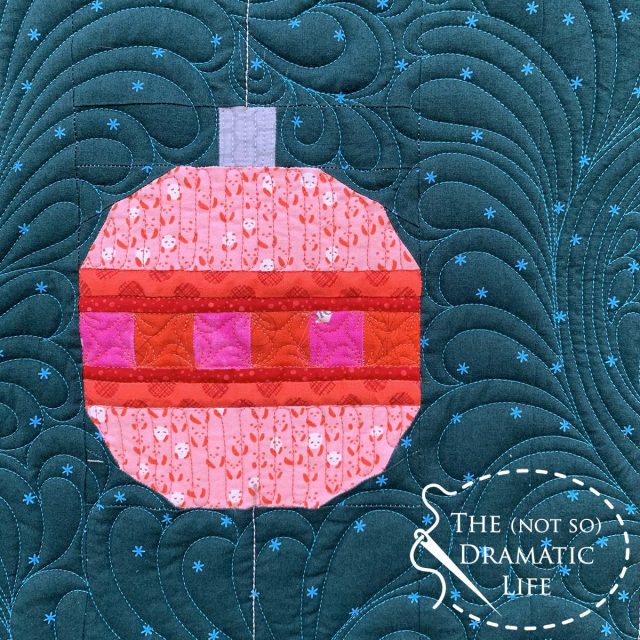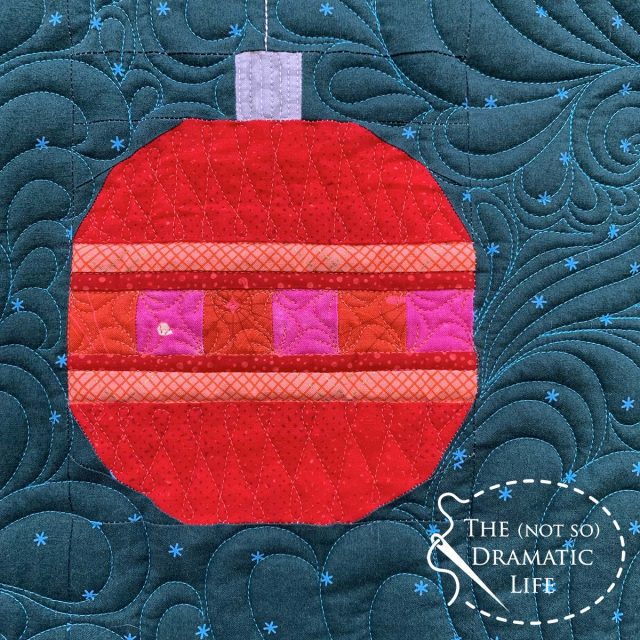 Block two also has two color versions, and the central design is created with triangles.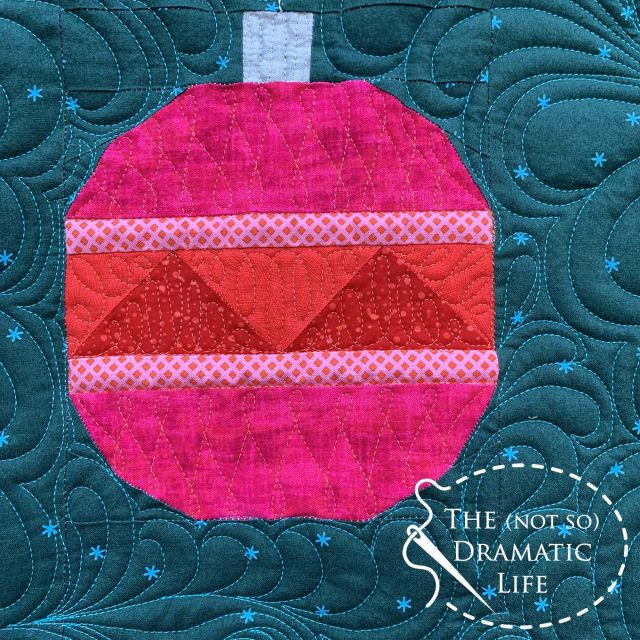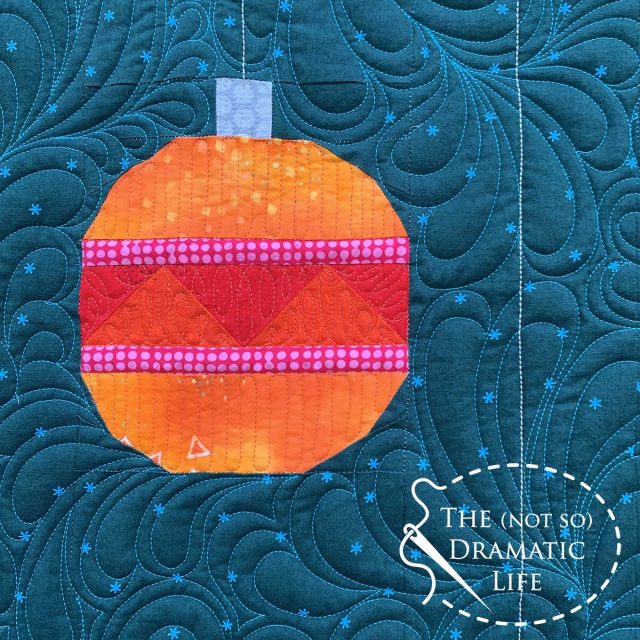 Block three moves away from the round shape to create an elongated ornament.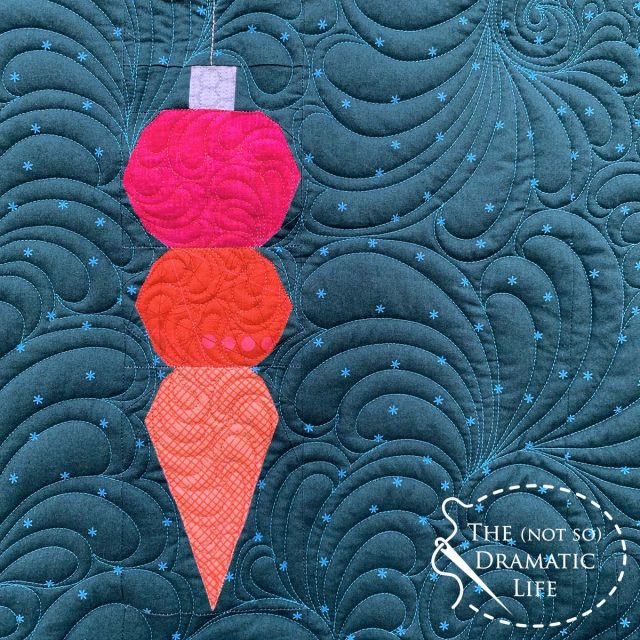 Block four is the final block with two color versions.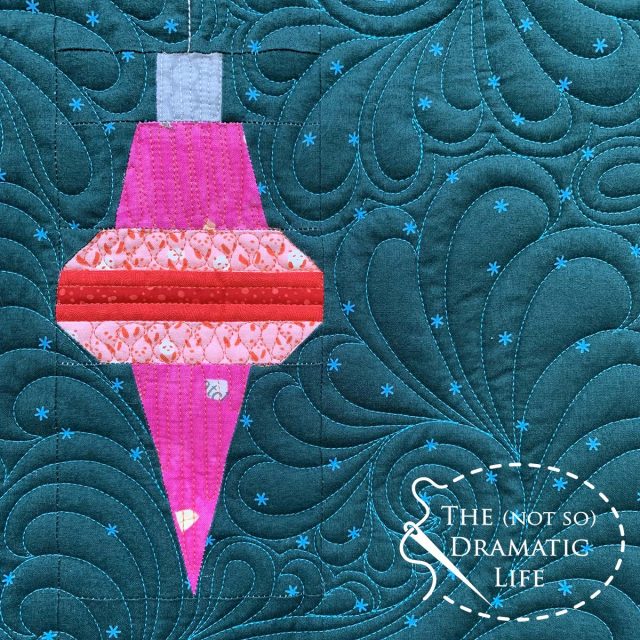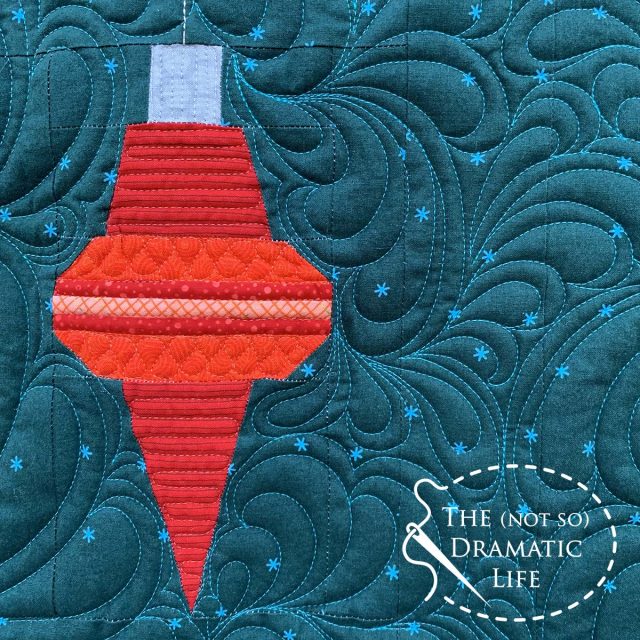 Block five is the last elongated block design.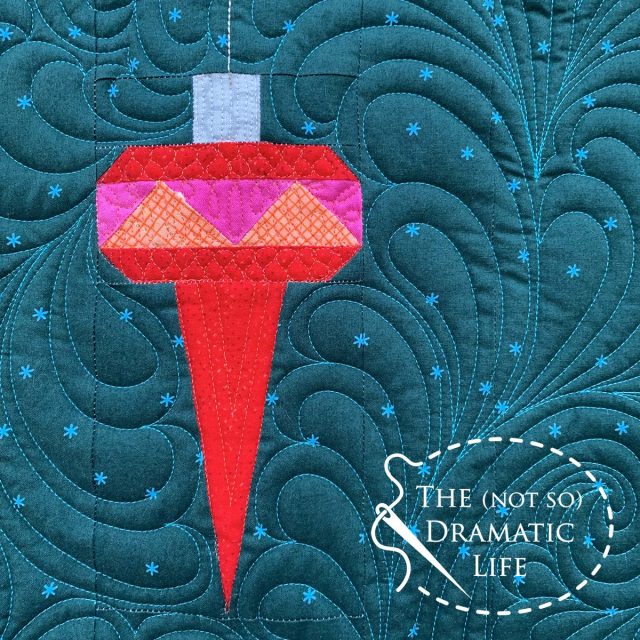 The final block also has the most detail with a star formed in the center of the bauble.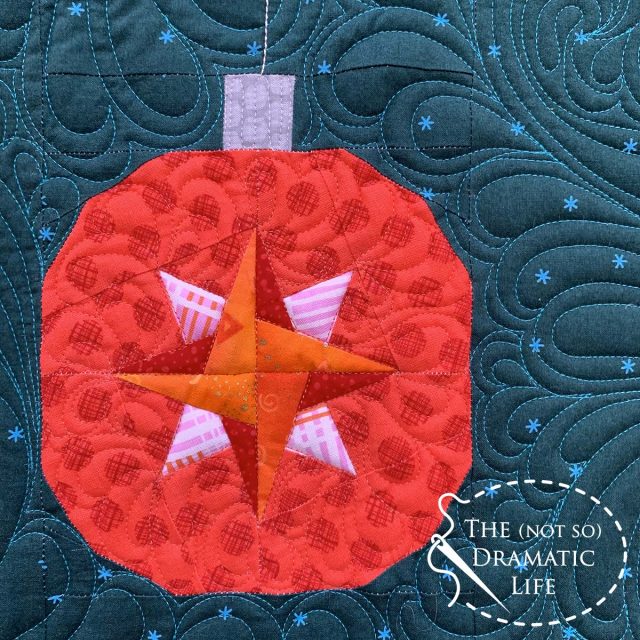 For the quilting, I decided to use organic feather motifs.  I like the juxtaposition of bright, shiny ornaments against the natural shape of a tree, and I thought that organic quilting would set off these baubles nicely.  The background fabric is a Ruby Star print that is mostly green with turquoise starbursts.  For the background quilting I selected 50wt Aurifil 2810 (Turquoise) to coordinate with the turquoise part of the print.
The ornaments are quilted with 50wt Aurifil 2225 (Salmon), and the "strings" the ornaments appear to hang from are quilted lines of Aurifil 2600 (Dove) with 12wt on the top and 50wt in the bobbin.  This line of quilting was the last thing added to the quilt prior to trimming and binding the edges.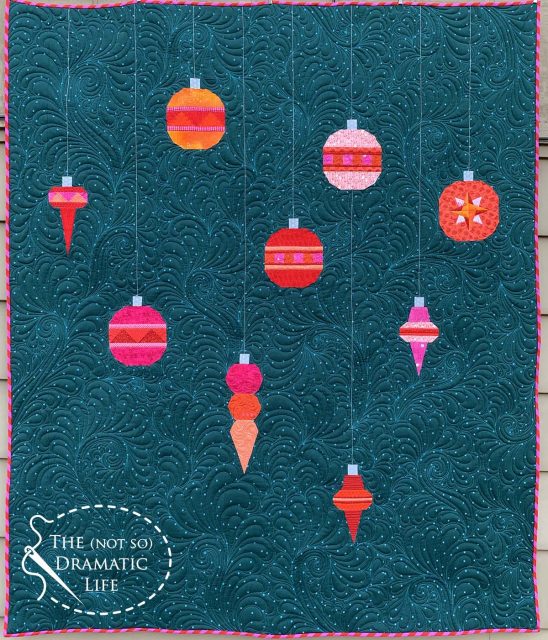 Quilt Stats
Title:  Festive Baubles
Size: 53″x 62.5″
Techniques:  Foundation Paper Piecing, traditional piecing
Quilting:  Free Motion quilting on an A-1 longarm
Fabric:  Background print is Ruby Star Society, other assorted prints from my fabric stash
Batting:  Hobbs Tuscany Wool and Hobbs 80/20 Cotton/Poly blend
Thread: Quilted with 50wt Aurifil in three colors, and 12 wt Aurifil in Dove
Binding:  Bias binding made with Tula Pink stripe, machine stitched to the front, hand finished on the back
I am excited to be participating in this year's 31 Day Blog Writing Challenge hosted by Cheryl Sleboda of Muppin.com, and I hope you will have the chance to check out some of the other awesome blogs that are participating this month.