Happy Halloween! I have been eager to try out metallic threads with the longarm, and this Halloween-appropriate mini quilt was a great opportunity to experiment.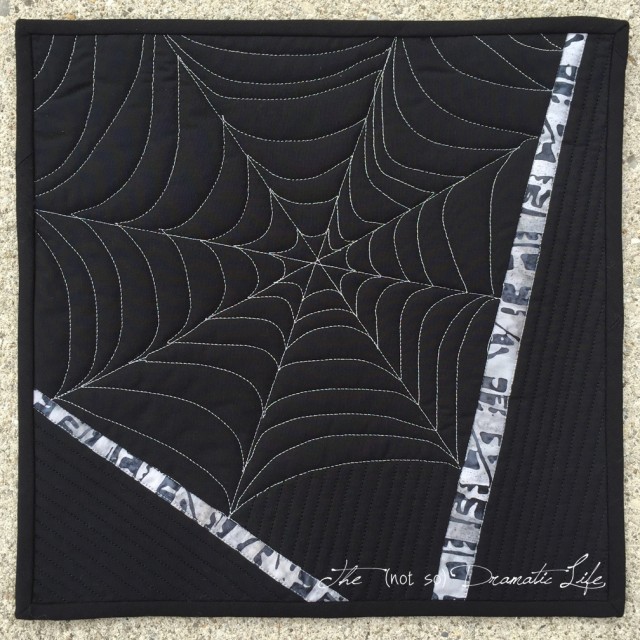 The piecing on this quilt top is very simple with only five pieces. I cut a 12.5″ square out of solid black fabric and then slashed it in two places where I wanted to indicate abstract tree branches. The fabric for the trees is a batik that is actually printed to look like trees, but I cut it on the cross-grain to create a Birch tree-esque effect on a slightly larger scale. The resulting quilt top gave me a great space to play with the metallic thread.
Now for the fun part! I was a bit nervous about trying metallic thread since I hadn't yet ordered any specialty needles for the longarm. The metallic thread I chose was a silver WonderFil with a rayon core. I loaded a medium grey cotton quilting thread in the bobbin, and decided to give it a try. It was awesome! One of the nice features of the A-1 machine is a small pad that the top thread feeds through which holds a few drops of liquid thread conditioner. It really does help decrease thread breakage. I practiced some ruler work with the main lines of the web, defining the tree branches, and some background work with black cotton thread. The curved areas of the web are free motion.
The backing and binding is made from the same black fabric used in in the quilt top. The batting is Hobbs 80/20 in black which I pulled from a sample pack I received earlier this year. It was so nice to not have to worry about white batting working its way through the fabric of the quilt. My cat adds enough white fluff to my dark quilts without having the batting contribute!
Quilt Stats
Title: Web We Weave
Size: 12″ x 12″
Techniques: Machine Piecing
Quilting: Ruler work and free motion quilting on an A-1 Elite longarm machine
Fabric: American Made Brand black cotton and a batik print from my stash
Batting: Hobbs 80/20 Batting in black
Thread: Pieced with black Gutermann Mara 100, Quilted with silver metallic WonderFil thread with a rayon core (with medium grey Signature cotton thread in the bobbin), black cotton quilting thread
Binding: Matching bias binding, cut in 2″ wide strips, machine stitched to the front, hand stitched on the back
What was new?
Metallic thread on a longarm