The QuiltCon show entry deadline was earlier this week, and, as always, it seemed to sneak up on me. This year I decided to aim for five entries, which is the maximum number of quilts that one person can have accepted to the show. I managed to get four entered in October, but one (there is always one) didn't get entered until the last day.
My first entry is the only quilt that I have ever re-submitted. Resonance was rejected from QuiltCon 2019, but I love this quilt, so I thought I would give it one more chance. It is entered in the Applique category.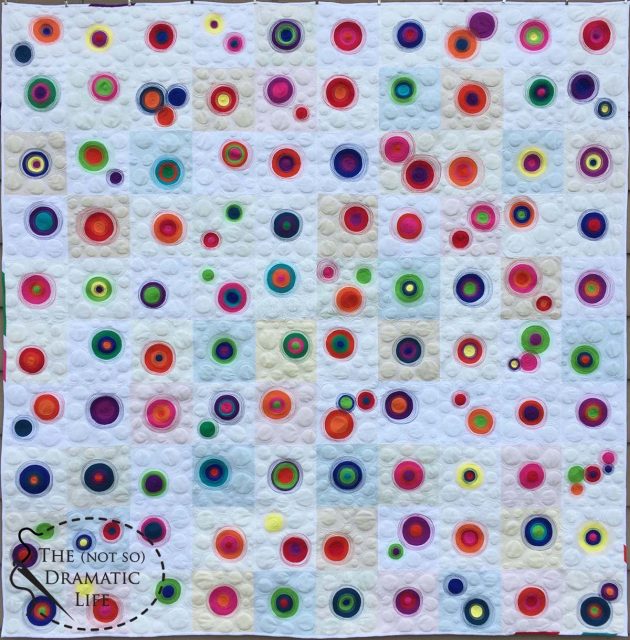 This year we had 450 characters for the description of each quilt. This is the description I submitted with Resonance:
Resonance uses colorful quilting thread to create a sense of outward movement and reverberation from central points.Thread that coordinates with each fabric creates a blending sensation as the quilting merges the appliquéd circles with each other and the background.This quilt was my first 100 day project that ran from New Year's Day 2018 to my birthday, which fell on the 100th day of the year.
You can read more about Resonance here.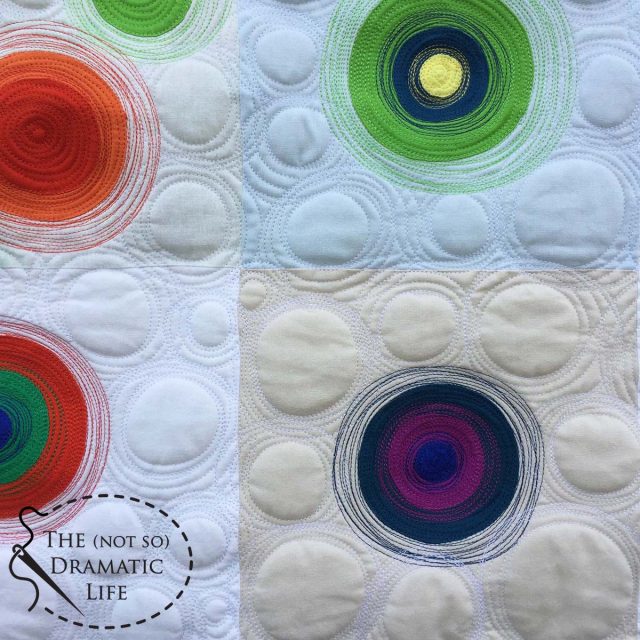 This year, the special challenge category was stripes. All of my remaining entries could arguably be entered in this category, but I like to spread my entries out in different areas. Stripe Club is the quilt I selected to enter in the American Patchwork and Quilting Stripes Quilt Challenge, and this was also the quilt that got submitted on the final day!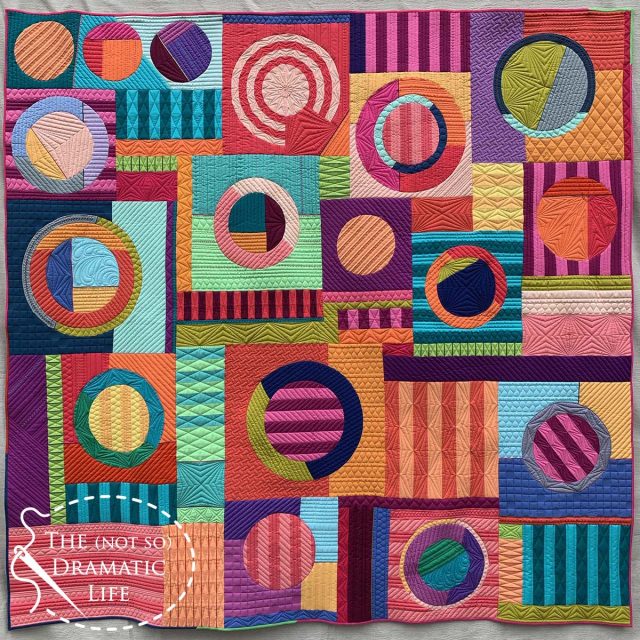 Submitted description:
All solid fabrics are cut and pieced into the stripes forming the basis for this semi-improvisational design.Stripes of various widths, and as small as 1/8 inch, were stitched together to create a piece of fabric before being cut and assembled into the blocks that make up the quilt top.The circular blocks were devised as stand alone units and placed on a design wall to develop the overall composition with the addition of more striped units.
You can read more about Stripe Club here.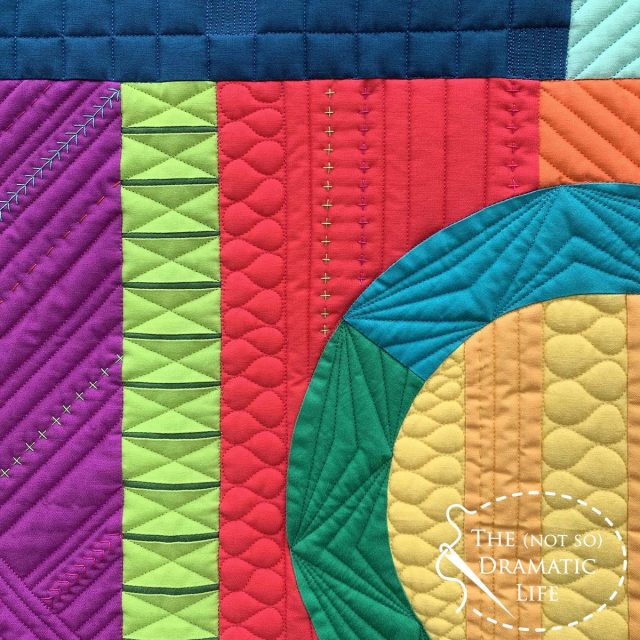 34x34x34 is entered in the Negative Space category.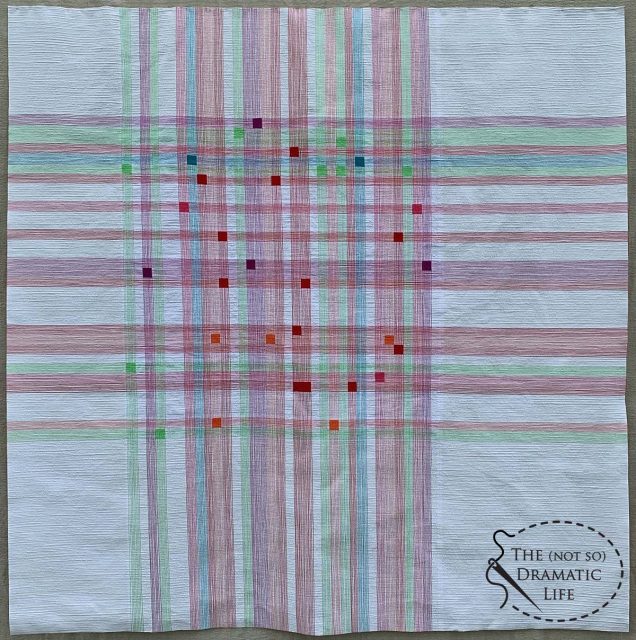 Submitted description:
This quilt is an exploration of randomness in the design process.An arbitrary line drawn on a sheet of graph paper was 34 squares long, and that determined the repeating numbers for the quilt.On a 34 x 34 square grid, I placed 34 colorful squares.The placement was determined by using a random number generator to decide the coordinates.Six colors were each assigned a number and a game die was rolled to select the colors for each square.
You can read more about 34x34x34 here.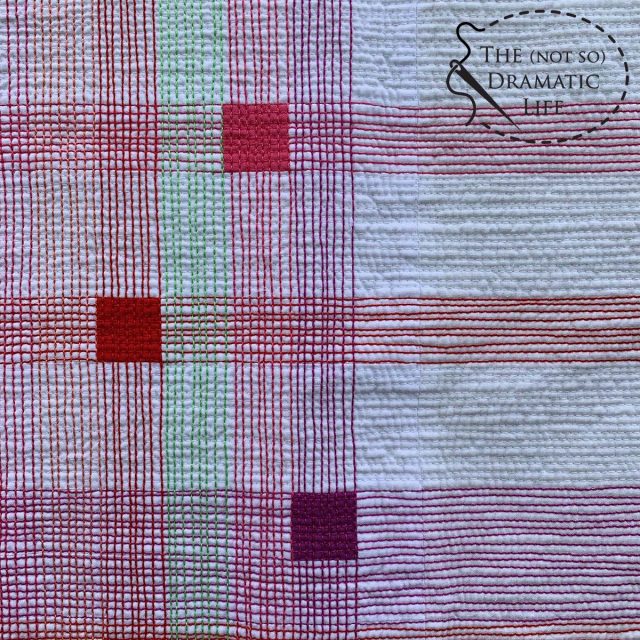 Forward and Back is a mini quilt that I made for a guild challenge earlier this year, and it is entered in the Small Quilts category.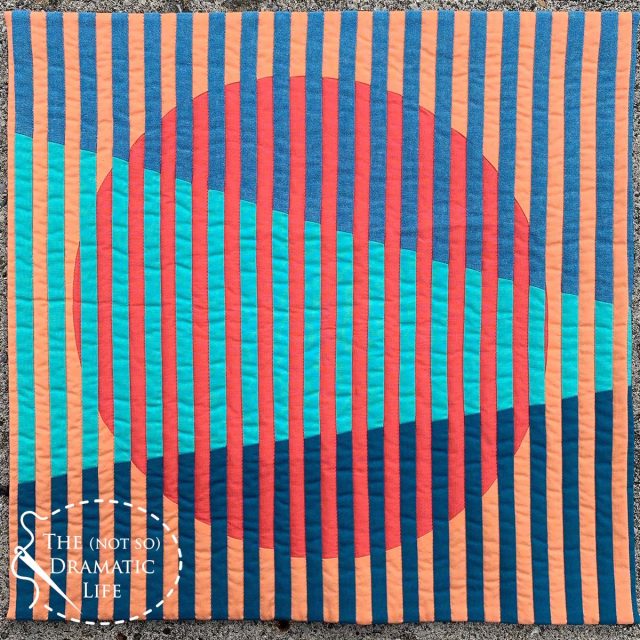 Submitted description:
Two simple blocks are cut into strips and reassembled to form this small quilt.The first block was a simple circle in warm colors. The second block was made of wedges in cool colors.Combined, the two blocks evoke the feeling of a sunset over the sea.
You can read more about Forward and Back here.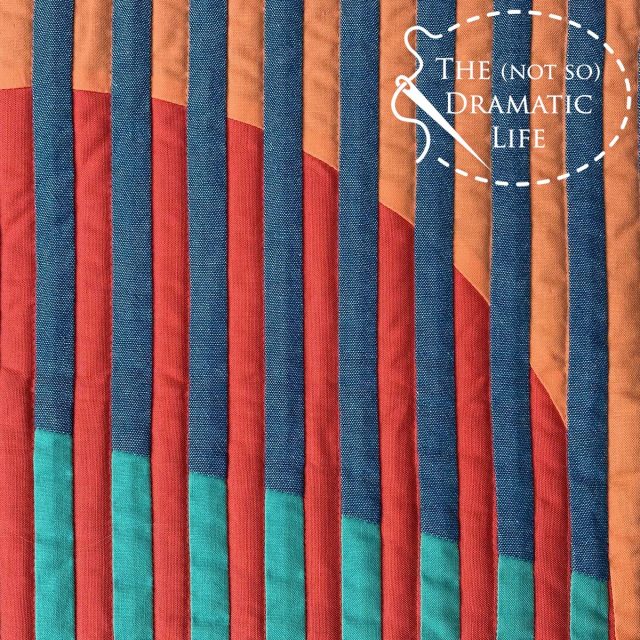 My fifth and final entry for QuiltCon 2020 is Zenith. Zenith has been to several shows in the past year, and I am so excited to enter it in QuiltCon. I submitted it in the Improvisation category. I have never had a quilt accepted to this category, so my fingers are crossed.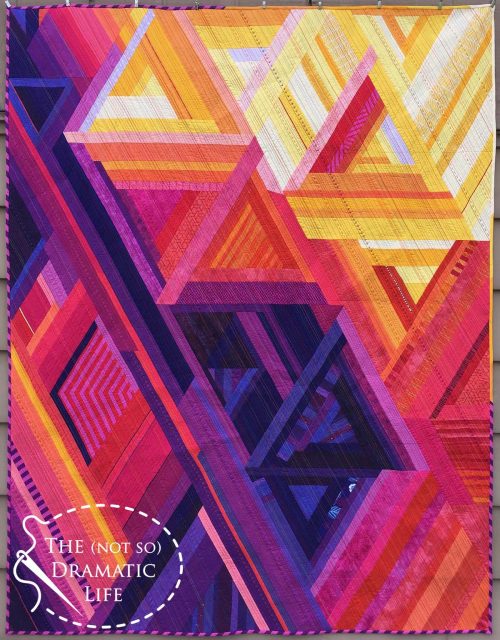 Submitted description:
Using improvisational construction, Zenith combines the 2018 Pantone color of the year, Ultra Violet, with the Kona color of the year, Tiger Lily. With these colors as a starting point, the overall palette was expanded to incorporate the hues found in a vibrant sunset. The inclusion of strong diagonal lines, triangular shapes, and a combination of hand and machine quilting further enhances the energy of the quilt.
You can read more about Zenith here.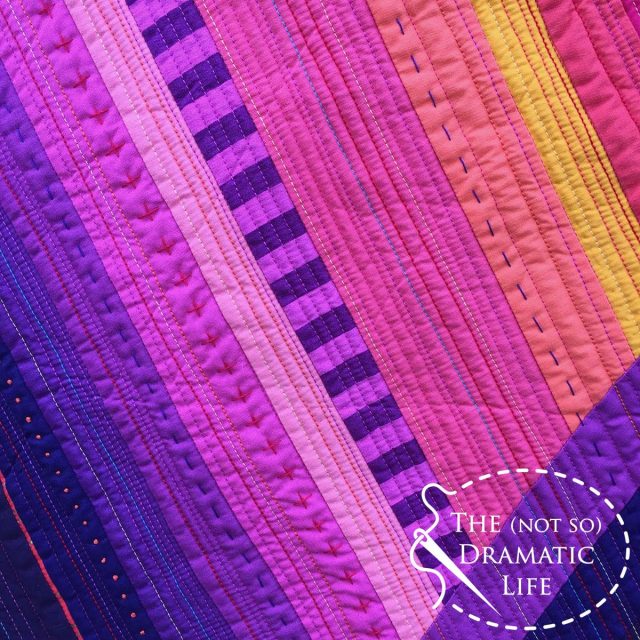 Waiting for the jury results is always hard, but I'm very grateful that QuiltCon has a relatively short turnover time. I will let you know the results in the next few weeks!
I am excited to be participating in this year's 31 Day Blog Writing Challenge hosted by Cheryl Sleboda of Muppin.com, and I hope you will have the chance to check out some of the other awesome blogs that are participating this month.