Its the season of holiday countdowns: You have timed cooking schedules, holiday parties on the calendar, and that quilt you plan to gift in a few weeks? It isn't even started.
Then you realize you have a gift exchange at guild that you haven't even thought about yet. Or your family wants to know what's on your gift list this year. Thats where this list comes in. Every item is under $25 and with prices starting at under $3, there is something for every price point.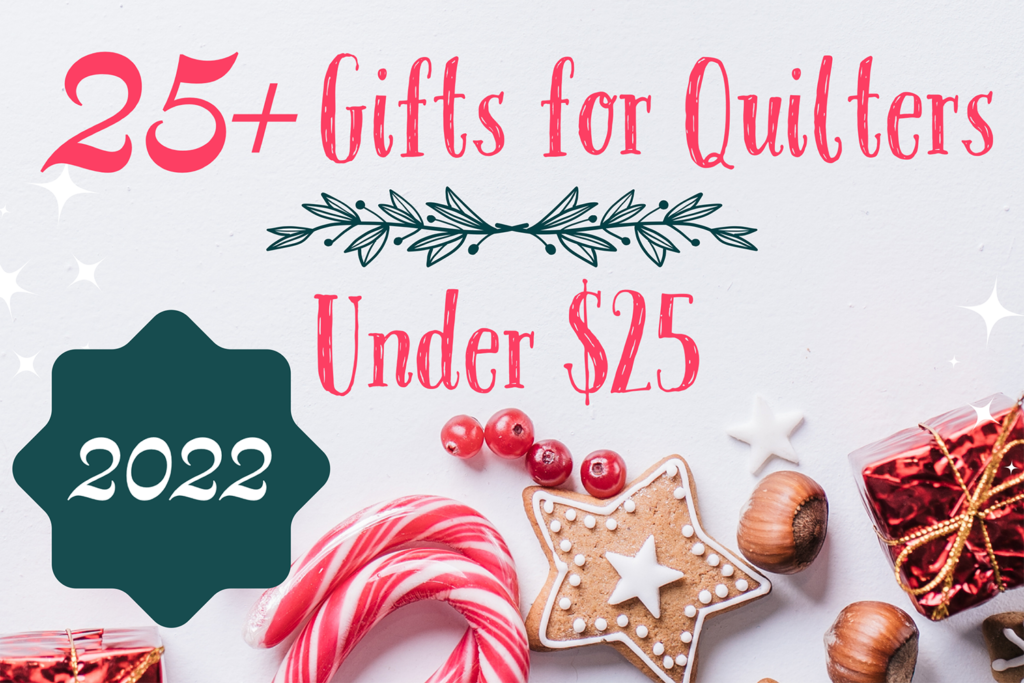 Everything on this list (except some items in the "Just for Fun" section) is something that I use in my sewing room, and would love to receive as a gift or find in my stocking.
This post contains affiliate links. That means if you click on an affiliate link and end up making a purchase at that site, I will receive a small commission that doesn't cost you anything. Funds recieved through affiliate links help pay the costs associated with this website/blog and the weekly newsletter. I use and like all products that are linked, regardless of whether or not they come from an affiliate source.
Making Your Mark
For all those marks that you don't want to see later, Duo Pens are terrific- one pen marks and the other erases with no water needed. An extra eraser pen is always a good choice- the marking pens last longer than the eraser.
Easy Marking of straight lines with nothing to wash out? Yes, please! A Hera Marker is terrific, especially for small projects.
Masking tape is perfect for marking straight lines in specific implements. This masking tape comes in a wide range of widths. My favorite widths are 1/4″, 1/2″, and 1″.
We all know that we should be labeling our quilts (even if we sometimes forget!) I use Micron pens for writing my labels. A set with assorted colors can inspire even more creativity!
Cut-Ups
The 4″ Karen Kay Buckley Scissors are my absolute favorite for cutting/trimming appliqué as I sew. The micro-serrated blades help you make super clean cuts exactly where you want them.
These tiny, inexpensive scissors go everywhere- one pair in my purse, another hooked to the longarm, and yet another next to my sewing machine. They are light enough to wear during a class and surprisingly sharp.
Hold It Together (Temporarily)
The Magna Fingers pick-up and release tool is a recent favorite tool. The magnet lets you pick up pins (or staples from when I block a quilt) and the release lever lets you drop them wherever you want them to land.
Sew Tites are great anytime you can't or don't want to use pins. I use them mostly for foundation paper piecing and bag making.
I have yet to meet the quilter that has too many Wonder Clips, and now you can even mix it up with jumbo clips and mini clips. I use them for binding, bag making, and paper piecing.
Hold It Together (with Needle and Thread)
Pressing Matters
A starch alternative like Flatter or Best Press almost makes pressing your quilt blocks fun. Almost.
A mister bottle is perfect for dispensing water, or Best Press/Flatter/Starch alternatives. It prevents that annoying wet spot that takes forever to press dry.
A wool pressing bar is awesome for pressing seams open
Rulers and Templates and Guides- oh my!
Quilter's Select Rulers have great thin, easy-to-read line markings and a translucent anti-slip backing that gives you a delightfully accurate cutting experience. My favorite options for under $25 are the 6.5″ Square or the 3″x12″ ruler which is one of my most used rulers.
When I bought a set years ago, these circle templates felt like a splurge, but I pull them out several times a year, making them one of my favorite specialty notions. The smaller circles are equally excellent!
For all those times you want to make your own project-specific templates, this clear heat-resistant template plastic is terrific.
Pair this Chalk Pounce Pad with a stencil to mark your next quilting project. I use the grid stencils a lot to subdivide my quilting space prior to stitching free motion designs. Ok with spending a bit more for your pounce and stencil set? This larger grid stencil is terrific!
Fortunately, I have never had to limit myself to one ruler for longarm quilting, but if I had to, I would choose the Straight Line Stitcher. It makes it easy to get straight lines, and you can measure from both sides, making it really easy to hold onto. (As of 2023, it appears this ruler is no longer available)
Piecing Pals
For the Quilter On-the-Go
Project bins are great at home, but even more useful when sewing on the go. Look for bins at big box stores (one friend scored a whole set at Costco a couple of years ago), craft stores, or pick up one of these bins that come in a few different colors. I suggest getting boxes at least 13″ square so they will comfortably fit a 12″ quilt block.
I use my portable cutting mat and ironing surface at home, but it is even better next to my sewing machine at a sew-in.
Gifts from the Hardware Store
6′ Ruler for squaring up quilts
Head Lamp for extra light while sewing or looking at the back of a quilt on the longarm
Interlocking foam tiles– great for blocking a quilt or place in front of an ironing or cutting table to reduce fatigue on hard surfaces.
Bonus: Just for Fun!
Ruby Star Society Socks (As of 2023, it appears this item is no longer available)
Cute notebooks for holding your design ideas and doodling quilting motifs. And maybe a few lists too.
You won't find an adorable hand crafted pin cushion for under $25, but there are some awesome buttons and ornaments from Fish Museum and Circus that hit the mark.
A needle minder in the Happy Sloth or Rainbow varieties (As of 2023, it appears these items are no longer available)
Handmade wooden handled seam ripper and stilletto combo
Curl up with an issue of a really good quilting magazine while you watch it snow (or rain) this season- try Curated Quilts or QuiltFolk for a bit of holiday indulgence.
Do you have ideas for that gift exchange? Now let's get back to that quilt that isn't started yet!