Each year The Modern Quilt Guild includes a style/technique challenge category in QuiltCon, and this year the challenge is a two color quilt. I was excited to approach this project because I had been casually considering what it would take to make a dynamic quilt top that used the same amount of two fabrics.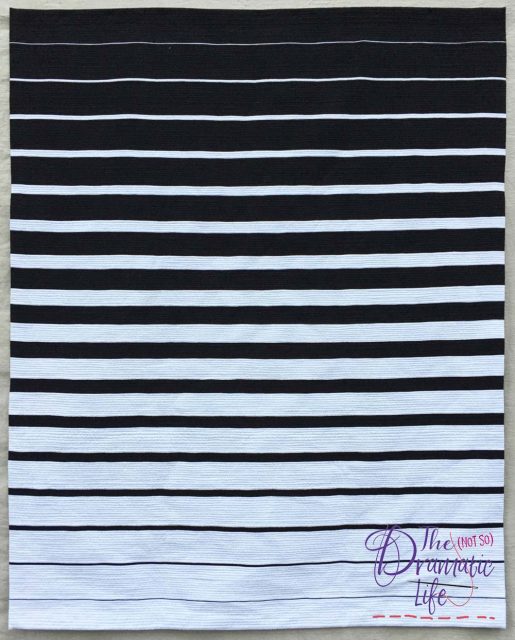 For most quilts, I tend to create a set of parameters for the design. I find that working with some constraints helps me to achieve a more cohesive result. For this project the parameters are:
Two Colors
Use equal amounts of each of the colors
Use the colors in a way that does not equally distribute the colors in each section of the quilt
Make the graphic quality of the design the star (let the quilting take a back seat on this design)
I went through lots of designs before I finally landed on this one. I liked how the visual weight of each color shifts from one end of the quilt to the other. The strips are cut in incremental widths with the narrowest strip finishing at just 1/8″ wide.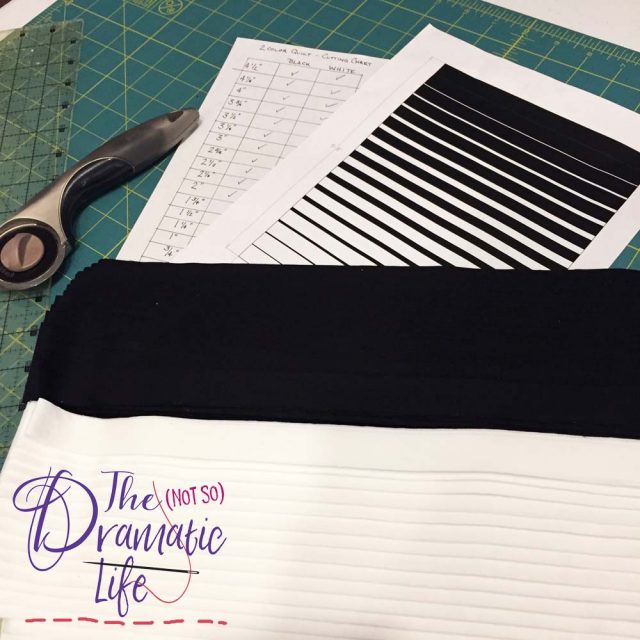 Many of my show quilts evolve organically, and take a fairly long time to construct, so it was a lot of fun to be able to cut and sew a quilt top in a day!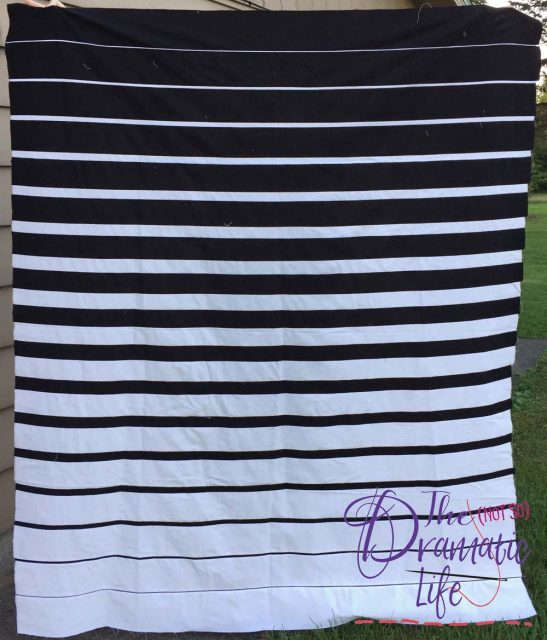 Ebb and Flow was quilted on my domestic sewing machine, but I did the basting on the longarm using a water soluble thread. I also tried using a large scale stippling technique for the basting.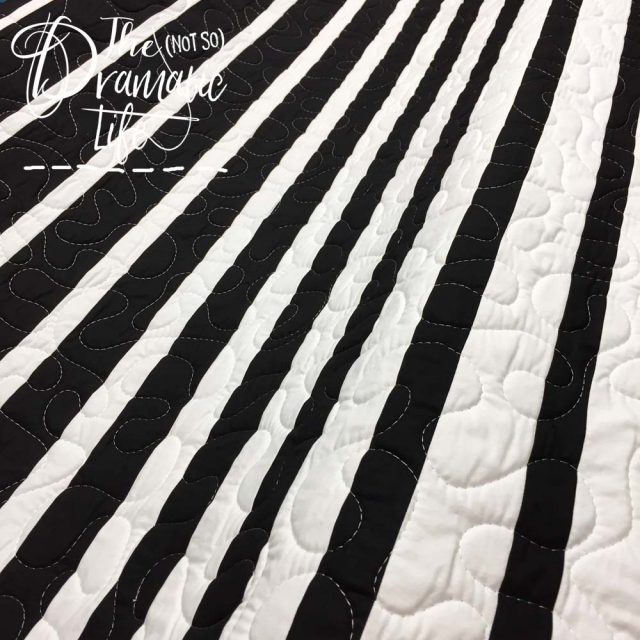 The quilting is simple lines, spaced about 1/4″ apart. I was able to get this quilted while I was a quilting retreat with a group of friends, which was a great way to break up the monotony that comes with stitching hundreds of straight lines.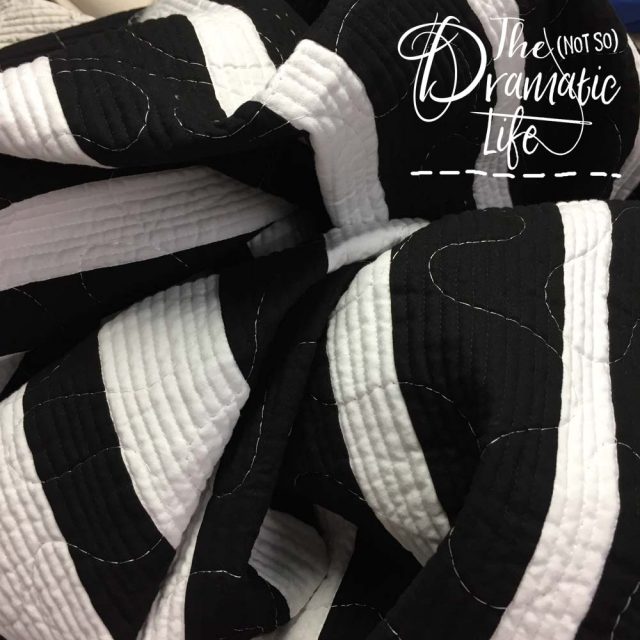 Once the quilting was finished, I soaked the quilt to remove the basting stitches and blocked the quilt on a frame.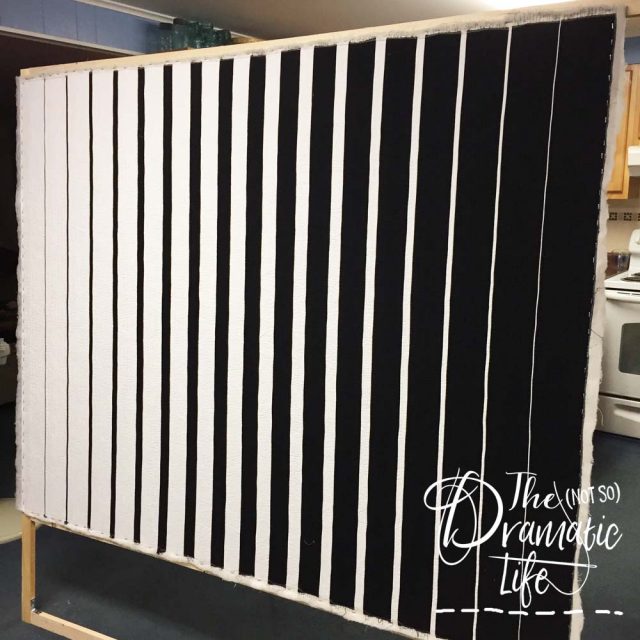 By the time it dried, it was perfectly flat and ready to be trimmed and finished. I decided that a facing would work better with this design than a binding because I wanted to to allow the lines of the piecing to extend all the way across the quilt without the frame that a binding creates.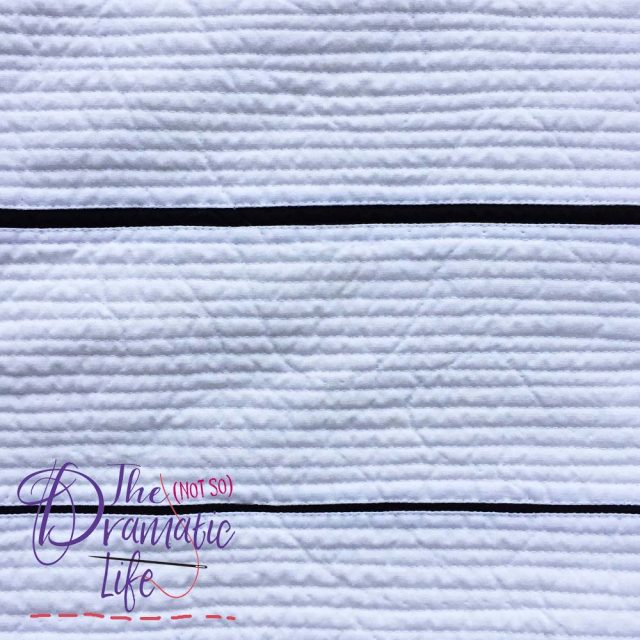 Quilt Stats
Title: Ebb and Flow
Size: 51″ x 64″
Techniques: Machine Piecing
Quilting: Linear machine quilting using a walking foot on a Bernina 1008 domestic
Fabric: Kona Cotton in black and white with a Moda wide back print
Batting: Hobbs Tuscany Wool
Thread: Quilted with Aurifil 50wt in white and black
Binding: Faced with black Kona Cotton