Next week Lovingly Lissa and I are revealing the design for Quilt Concert 2023, but this week we are taking a moment to look back at Quilt Concert 2021 and 2022.
This free annual event takes place each Summer with a portion of the quilt pattern released each Friday. We also include a weekly Friday night Zoom meet-up, and lots of prizes from our amazing sponsors. The patterns for the previous Quilt Concerts are available for sale through Quilt Pattern Mart and on my Etsy Shop, and I hope to see you at Quilt Concert 2023!
Why a Concert?
Concert (verb) Arrange by mutual coordination
Lissa and I work in concert to select traditional blocks and re-mix them using alternative layouts to create, new contemporary versions of sampler quilts.
Who Attends the Quilt Concert?
You! Each year we have had dozens of participants, many of which received fantastic prizes from our many wonderful sponsors.
How does the Quilt Concert work?
Each Friday during the quilt along, Lissa and I released a new set of instructions. Participants had a week to make their block and post on Instagram using that week's hashtag. There was at least one prize for each week, and a grand prize drawn from those people who submitted an image of their finished quilt top. We also held a virtual meet up each Friday night for anyone who wanted to join in!
What were the Quilt Concert Themes?
2021 First Notes
Lissa and I decided start the Quilt Concert Series with traditional blocks using common construction techniques including:
Half Square Triangles
Flying Geese
Stitch and Flip
Strip Piecing
These traditional blocks were made in a range of sizes and set into the quilt using alternative gridwork, a method that is frequently seen in Modern Traditional quilt design.
You can learn more about Quilt Concert 2021: First Notes by reading the announcement post.
The pattern is available on Quilt Pattern Mart and in my Etsy Shop.
2022 Seasons of Love
Holidays and Seasons inspired the color themes for Quilt Concert 2022, and you helped us choose our color palettes! Lissa presented Christmas and Valentine's Day themes, and I offered up Halloween or Modern Americana. Valentine's Day won by a landslide, but Halloween vs. Americana was a real nail-biter. Ultimately Halloween won by just a couple votes.
The main feature of the 2022 design was a medallion layout, and we added one construction technique to the list from 2021- Half Rectangle Triangles.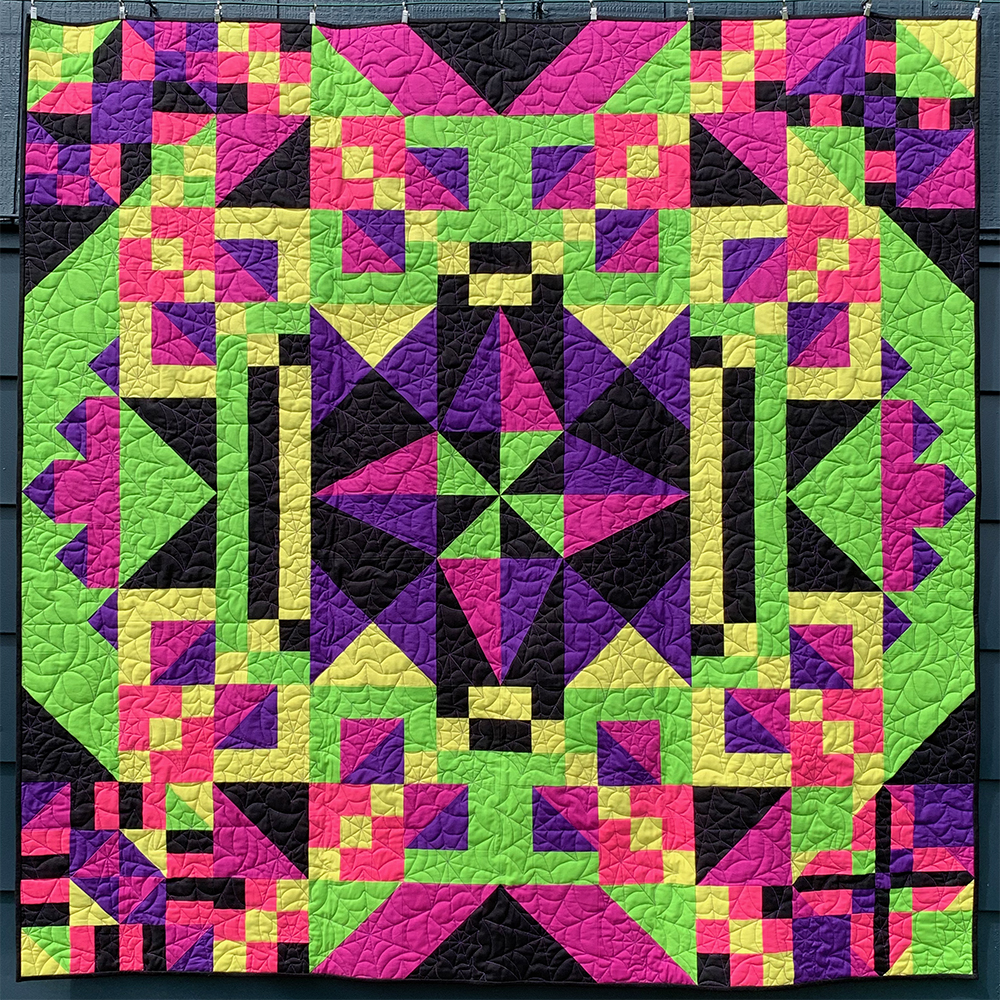 You can learn more about Quilt Concert 2022: Seasons of Love by reading the announcement post.
The pattern is available on Quilt Pattern Mart and in my Etsy Shop.
A Hint for Quilt Concert 2023
We're embracing a different technique this time around- foundation paper piecing. This is one of my favorite piecing methods, and once you learn a few basic techniques, you'll be ready to conquer any FPP pattern!