This Spring I designed a new quilt block. In reality, I probably designed a couple dozen blocks, but this one actually got made up in fabric- not once, but twice!
This is the small version of the block, and it finishes at 6″ square. At QuiltCon, Paintbrush Studio handed out a curated charm pack of eight colors of their Painter's Palette Solids, and asked the recipients to make a quilt block using those fabrics. This star block works particularly well with a light and dark versions of the same colors, and I was excited that there were light and dark versions of both blue and orange in the charm pack. I almost added another yellow to the pack to have the highlight/shadow effect in the central star (we were allowed to add in our own fabrics), but I ultimately thought the block was more dynamic with the green added to the mix.
Right now, all of the submitted blocks are up on the Paintbrush Studio Facebook page, and you can vote for your favorite block there! All you need to do is comment on the photo of your favorite block.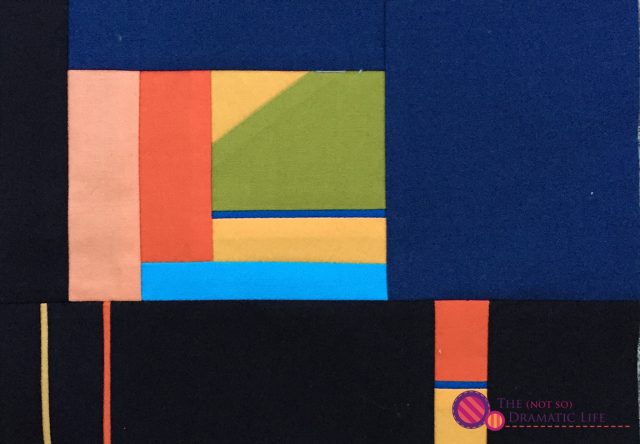 I had a few scraps of the Paintbrush Studio fabrics, so I stitched up this little improv block. It was after the deadline, so I didn't submit it, but it is hanging out on the design wall waiting for me to turn it into something!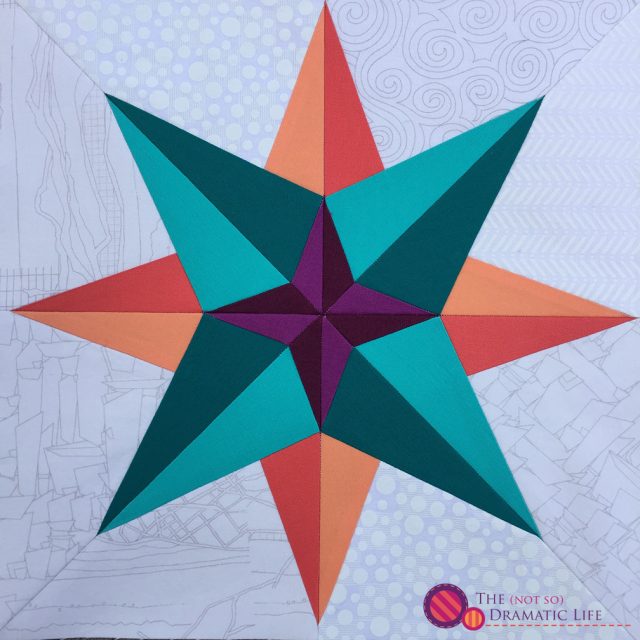 I made the larger, 12″ square, version of the Triple Dimensional Star for a guild color challenge. Every year the Central Ohio Modern Quilt Guild does a challenge combining the Pantone color of the year with the Kona color of the year. The 2019 colors are Living Coral and Splash. What a happy combination! This year, everyone who participated in the challenge made a star block and we had a block raffle with the winner taking home all of the blocks.
Constructing all three of these blocks was a lot of fun. Foundation paper piecing is one of my favorite methods to construct a block, and I find improv piecing a relaxing way to sew after all of the FPP precision!