It's coming…
The dreaded question…
What are your New Year's resolutions?
For me, resolutions feel like the things that I should be doing. More of an external force than something I really desire. I suspect I'm not alone in that since most resolutions vanish well before the first snowman of the year loses its carrot nose to an ambitous squirrel.
Now, goals are something I can get behind- something specific with steps to back them up. Let's take a brief look at 2022 and then look ahead to 2023.
2022 Review
You can see my goals for 2022 here, and I'm thrilled to say that I accomplished most of them! The only real downfall was that I didn't create as many patterns as I had hoped to, and didn't make a shift to wholesaling patterns. Pattern development and writing is my top goal for 2023, but more on that in a minute.
Highlights from the past year
Taught at QuiltCon! This was my first in-person teaching experience at a national show
Several of my quilts were exhibited in eight regional and national quilt shows in 2022, which is a great ramp-up from the pandemic
Attended several quilt shows: QuiltCon, AQS Branson, AQS Paducah, The Great Wisconsin Quilt Show, and Sewing and Quilt Expo in Akron,OH
Two Quilts were included in the Midwest Modern Exhibit at the Iowa Quilt Museum
I'm a BERNINA Ambassador! This was announced recently, and all of the new ambassadors will really get going next year.
Below are the top nine posts from my Instagram in 2022. It looks like you all enjoy stripes in various forms!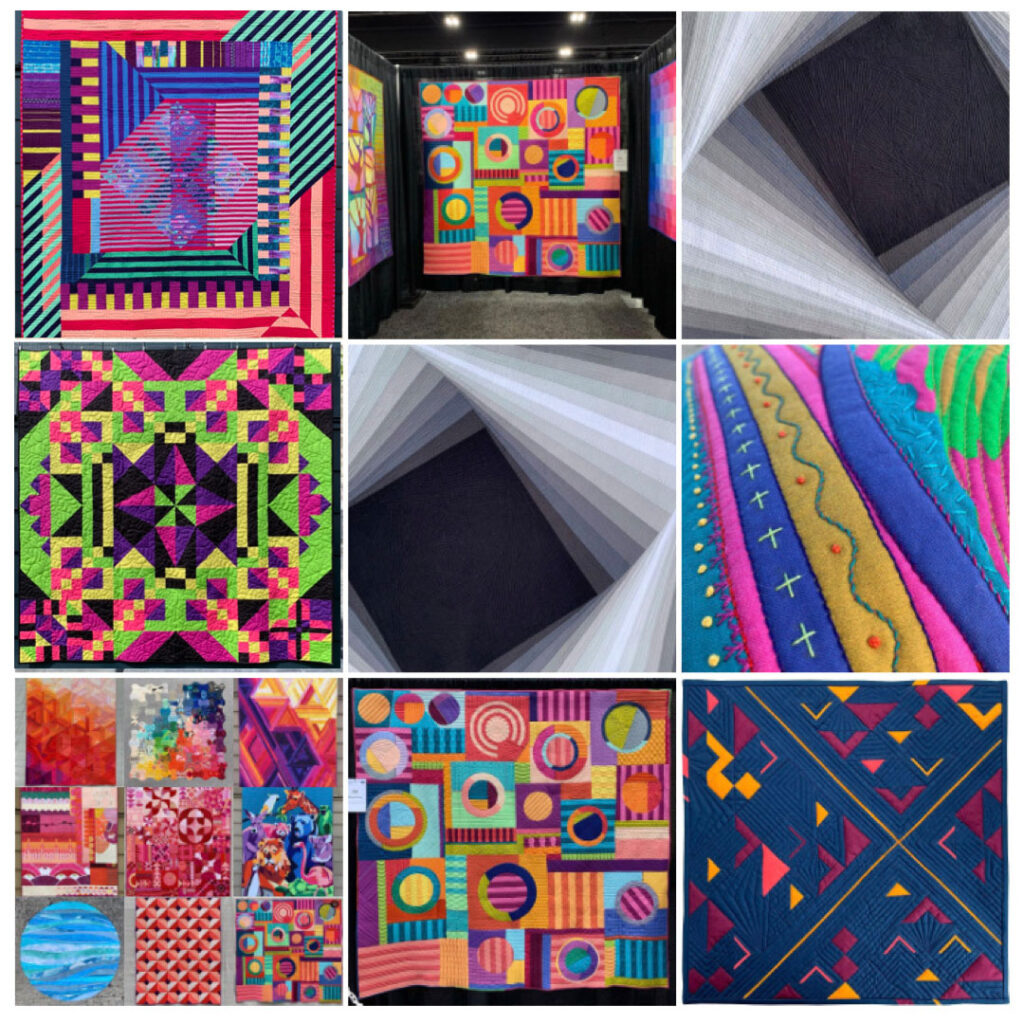 2023 Goals
Patterns, patterns, and patterns will be my primary focus for 2023, with some other goals too- Here they are:
Develop Patterns
Design more patterns with a focus on small to medium scale foundation paper pieced animals. My goal is at least six.
Create a Block of the Month for 2024- My last block of the month was a few years ago with a local shop. This will be the first one that I plan and administer on my own.
Participate in Quilt Block Mania four months during 2023
Write
Blog weekly
This is the first year I have blogged at least once a week for the full year! I plan to continue the trend in 2023
Send a weekly newsletter
This is also the first year that I have sent a newsletter every week. I found that having a weekly newsletter made me a more regular blogger, so these first two things go hand in hand.
Submit articles and guest/sponsored blog posts to magazines and online sites (Goal of 3+ submissions)
Learn more about SEO and start tracking some key website data
Use affiliate links to help make the blog/website financially self-sustaining. Like the one below (clicking these links costs you nothing extra, and it helps support this site)
Teach
Teach at QuiltCon 2023
Apply to teach at more regional and national shows
Teach for guilds virtually and in-person
Explore options for virtual teaching outside of a guild setting
Quilt
Complete a 100 day quilt between January 1 and April 10
This year I am focusing on a projects with lots of hand sewing since I will be traveling for a couple weeks during this time
Work on a new-ish quilting concept that is currently only existing in my head (with a little seeping into my sketchbook)
Make three quilts suitable to enter in quilt shows
Quilt at least two quilt tops from "the stack"
Sell Physical Products
Increase the print patterns I have available
Have a vendor booth to sell those print patterns and supporting products at a quilt show
I've applied to a regional show, so if I'm accepted I'll move heavily into planning mode soon after QuiltCon
Create and sell unique ceramic pin cushions as time allows
What are your goals for 2023?
I'm participating in the 2023 Planning Party hosted by Quilting Jet Girl. I hope to see your post there too!