Congratulations! You have constructed all of the blocks for Quilt Concert 2023: Twinkle Twinkle. Now its time to put it all together!
Are you ready to link up for the Grand Prize Drawing? Make sure to read to the end of the post for all of the important details!
This post is packed full of information, so keep reading for all of the details about the block and how to win this week's giveaway!
(This post may include some affiliate links. If you click on an affiliate link and choose to make a purchase, I receive a small percentage of the sale at no cost to you. These funds help keep this blog running and the Quilt Concert FREE for everyone!)
Assembly Instructions
Below are the suggested assembly instructions for your Quilt Concert Quilt Top. This is the layout that works with the cutting instructions for the background fabric, and it's the layout that Lissa and I used to complete our tops.
The instructions are available to download for free through 11:59 pm Eastern on Thursday, August 24, 2023. If you miss the free download, you can purchase the assembly instructions alone for $2.50 through the end of the quilt-along. The full pattern is available for purchase at any time through my Etsy Shop.
A note on your final quilt top assembly:
All nine blocks of Quilt Concert 2023 must be included in your final quilt top in order to be eligible for the grand prize. If you would like to adjust the layout, make the quilt larger, smaller, put in some additional blocks, et cetera, you can still enter the final link for a chance to win the grand prize as long as all nine blocks are included in the design.
Sponsor and Prize of the Week
Hobbs Bonded Fibers is back as our final weekly sponsor! Hobbs is my go-to batting, and I'm thrilled that we get to share this fantastic product with you.
Hobbs Heirloom® Premium 100% Natural Cotton with Scrim Batting is designed for quilters who enjoy using natural cotton batting and who are seeking extra strength in that batting. Strong, but also soft (and softer after each washing), Hobbs Heirloom® Premium 100% Natural Cotton with Scrim Batting is perfect for quilts where a low loft is desired.
How to Win!
All prizes will be drawn based on Instagram posts, so make sure you have a public account in order for us to see them!
Follow our weekly sponsor on Instagram: Hobbs Batting
Use the primary and weekly hashtags: #quiltconcert2023 and #quiltconcert2023assembly
Tell us in your post if you are a US or international resident. This week's prize is only available to US residents, but we have international prizes coming up in future weeks!
Post a photo of your completed quilt top using a public Instagram account by 11:59 Eastern on Thursday, August 24, 2023 (if you don't want to make your primary account public, you can always create a second, public account to use for this quilt along and other projects like this)
Winners will be selected by random drawing and will be contacted via Instagram direct message by Saturday, August 26, 2023. The winner must claim their prize by responding to the message with their mailing address by 11:59 pm on Monday, August 28, 2023. If the prize is not claimed at that time, we will select an alternate winner. (If you want to know earlier, come by the Quilt Concert PJ Jam party on Friday, and we'll announce the winner!)
(This giveaway is not sponsored, endorsed, administered by, or associated with Instagram.)
Block 8 Winner
The lucky winner of the Block 8 Aurifil Endangered Species Color Builder Box is @victoriacalwellcreative. Congratulations, Victoria, and a big thank you to Aurifil for sponsoring this weekly prize!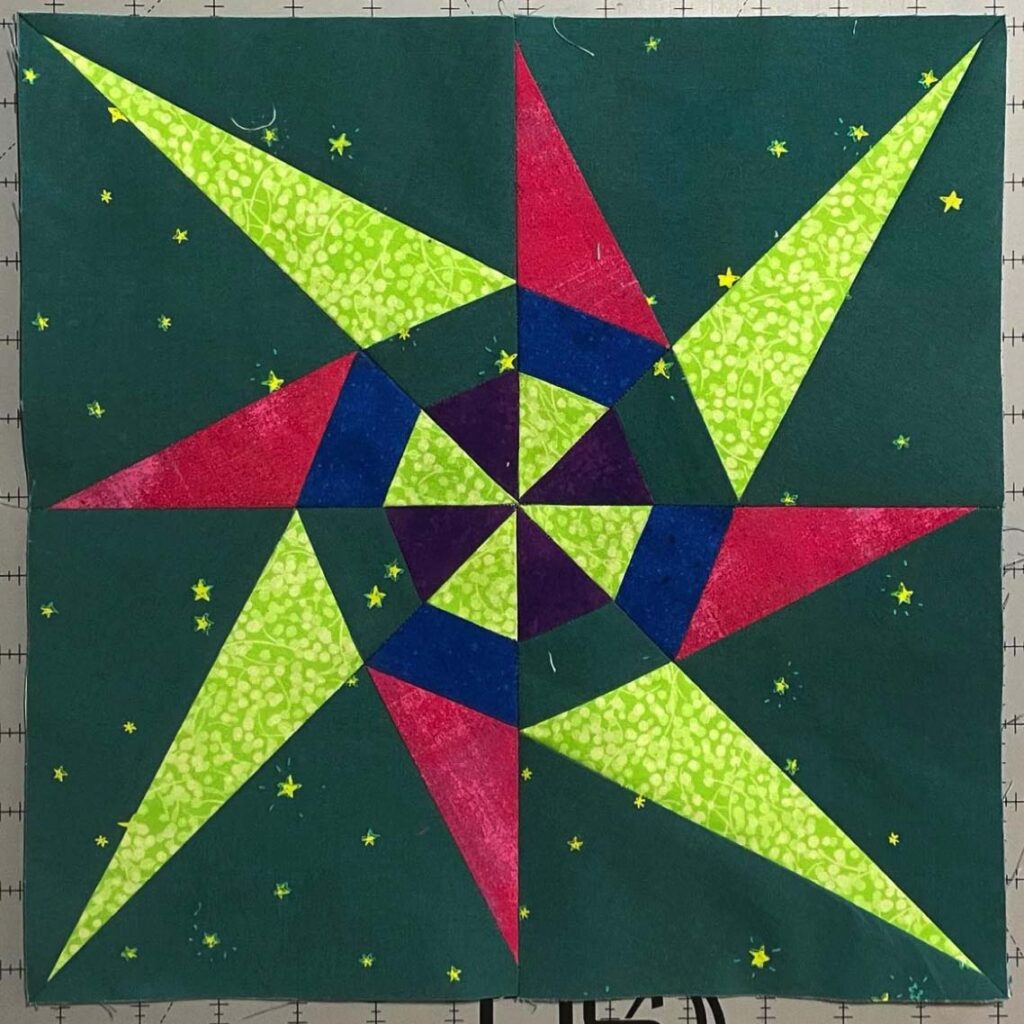 The Grand Prizes!
Thanks to our wonderful sponsors, we are able to offer three grand prizes: an international prize, a US/Canada prize, and a US only prize.
International Grand Prize
Three 2021 Endangered Species Color Builder Boxes of your choice from Aurifil with the accompanying foundation paper piecing animal patterns (designed by me!)
US/Canada Grand Prize
US Grand Prize
How to Win a Grand Prize
What and How to Link-Up
The winners of the grand prizes will be selected from images submitted to the link up below. You can link an Instagram/Blog post or submit a stand-alone image.
Link a photo or IG/blog post showing your finished Quilt Concert 2023 quilt top (just the top, it doesn't need to be quilted!)
Follow the instructions on the link-up to add your image. If you have questions about how to link up, check out this information from InLinkz.
Include the country your potential prize will ship to in the caption of your image.
Add your link on this post OR on the post from Lovingly Lissa. It all goes to the same link-up and will appear on both sites.
Every participant is eligible for the grand prizes, even if you have already received a weekly prize!
Deadline to Link Up
You have until Midnight Pacific on Monday, August 28, 2023 to add your post/image to the link up.
How the Winners are Selected
Three winners will be selected at random from the submitted quilt tops. Those winners will be placed with the appropriate prize based on their location. In the event that none of the three initial winners is a US resident (or a US/Canadian resident), the first name drawn will receive the International prize and the remaining prize(s) will be re-drawn.
Winners will be notified no later than September 1, 2023. Winners will have 48 hours following notification to acknowledge acceptance of their prize and provide a shipping address. If this acknowledgment does not happen within that timeframe, a new winner will be selected.
Link Up Your Quilt Tops to Win
For more information about Quilt Concert 2023, check out the following posts: