I can hardly believe we are entering the second quarter of 2015! This time around I have a unrealistically long list and a mix of goals: a dozen mini quilts, a few larger projects, a couple bags, a some smaller gifts.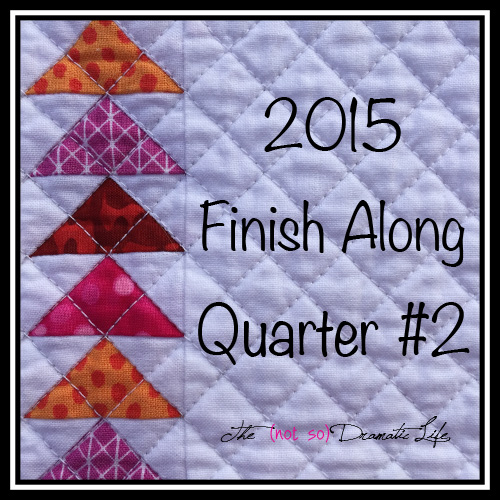 I am excited to once again join in the Finish Along fun with Adrianne at On the Windy Side!
Goals 1-12
In order to keep up with Mini Quilt Mania I am planning to make a dozen more mini quilts for the second quarter of this year. These are in various stages of completion: sketches, patterns drafted, fabrics chosen, and a couple are even being sewn!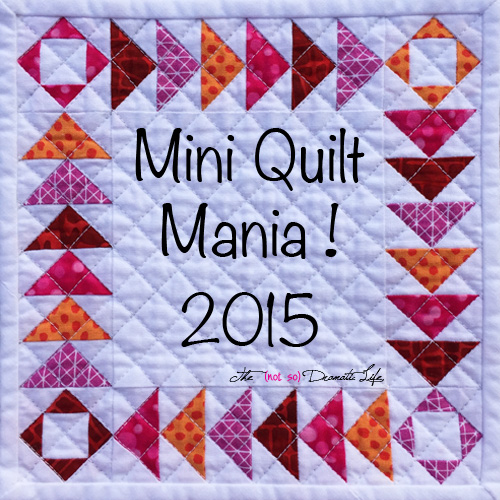 Goal 13
In January I started a starburst quilt based on my Happy New Year! mini quilt, and this project is a rollover from Q1. I have this piece about half quilted right now, and I would really like to get this one finished up this quarter!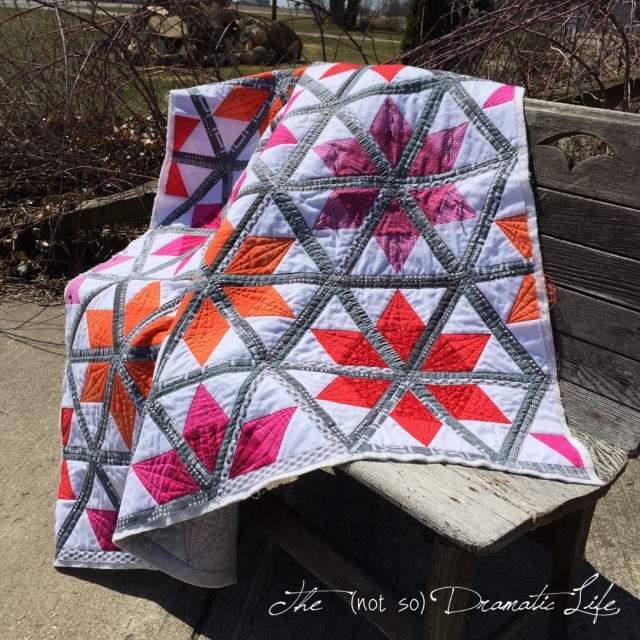 Goal 14
For my Modern Quilt Guild Riley Blake challenge quilt I am making a "potholder" style quilt using hexagonal bound blocks rather than the more traditional squares. This quilt will be completely reversible, with one side being predominantly turquoise with the other side leaning toward the pinks in the collection. Right now the quilt is about halfway pieced.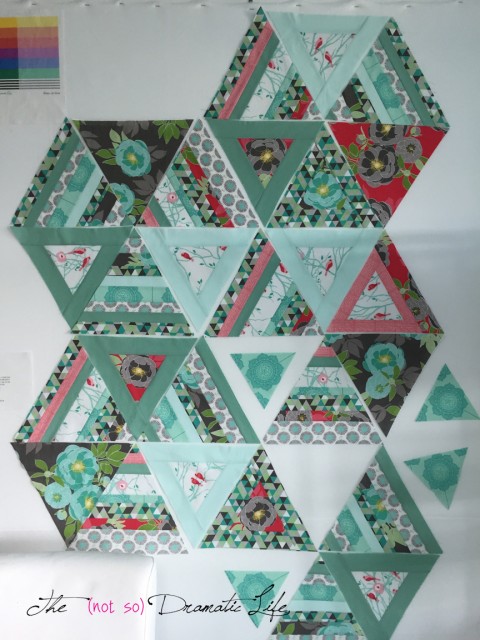 Goal 15
I knew as soon as I saw the Viewfinder fabric in Melody Miller's Playful collection by Cotton and Steel that I wanted a Quilted Purse made with it. I am slightly scaling up the pattern I created for my current purse. I have set the zipper into the top panel, quilted the main fabric, and made the handles.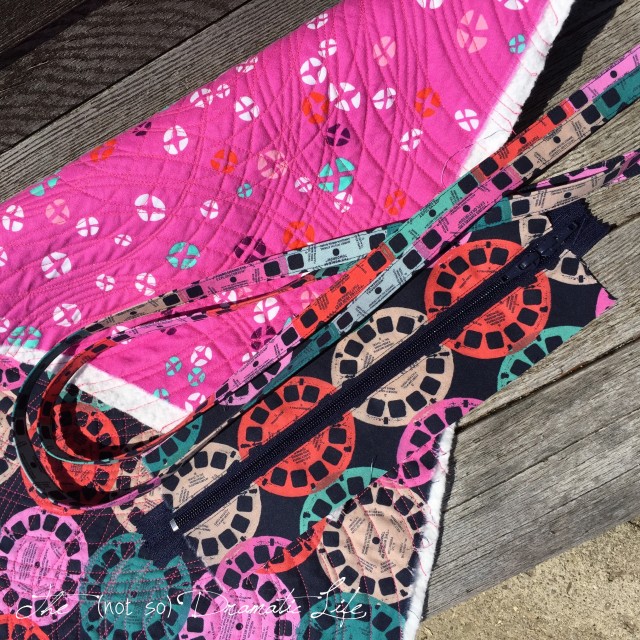 Goal 16
Sometimes I wish I had a Cross-body bag to carry when I need a more hands-free shopping (or quilt show) experience. I have sketched the design, pulled fabrics, and I am looking for a source for a double tab purse zipper that is at least 30″. This shouldn't be so hard to find- I mean- you must be able to buy luggage zippers, right? Any sourcing suggestions?
Goal 17
I designed and made these cute little blocks for my Baubles Quilt months ago. I need to put together a top and get this thing quilted and finished!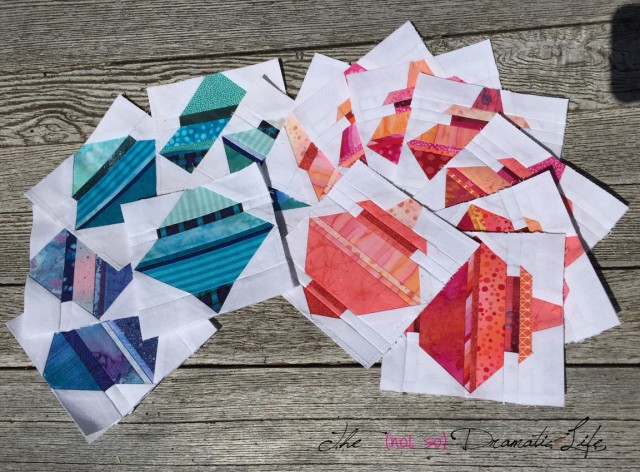 Goal 18
This Secret Project (roll over from Q1) is still quilted, ready for finishing, and needs to stop hanging out under my work table! Here's hoping this quilt makes it into a finished pile this quarter!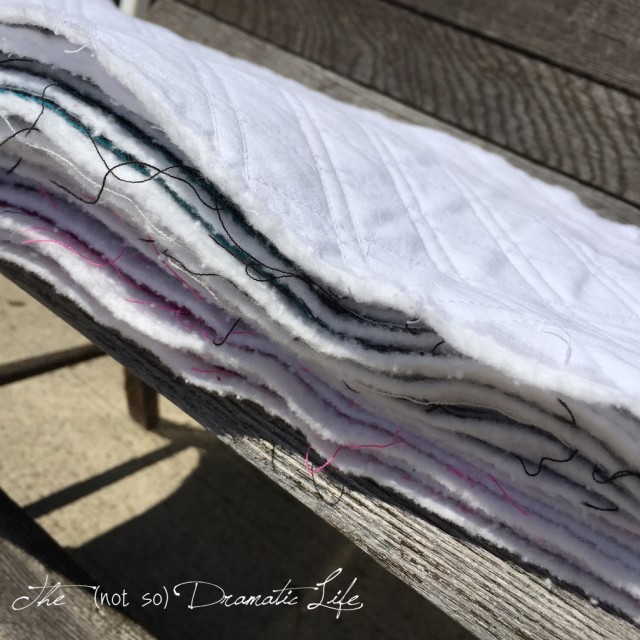 Goal 19
I am going to be needing a few small thank you gifts for this summer, so I am hoping to get six (or more) cord/coin pouches made.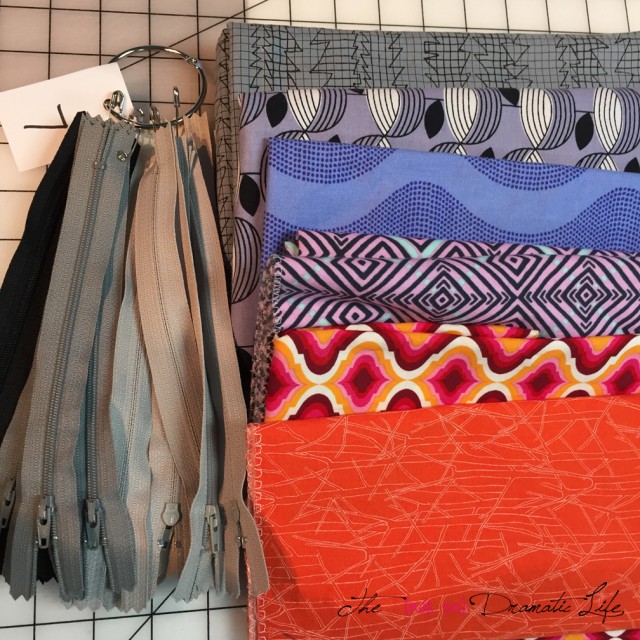 Goal 20
This quilted pillow top needs a zippered back and finishing.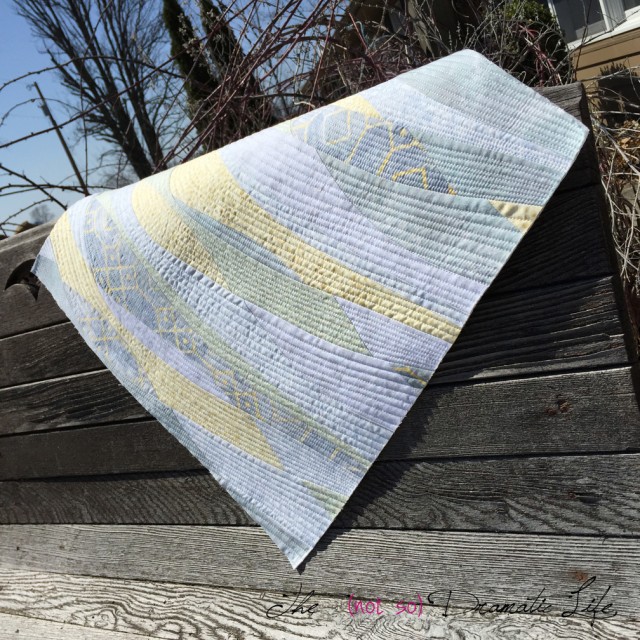 Goal 21
I bought this fabric last summer to make a skirt. Now that it is warming up again I need to get this made up!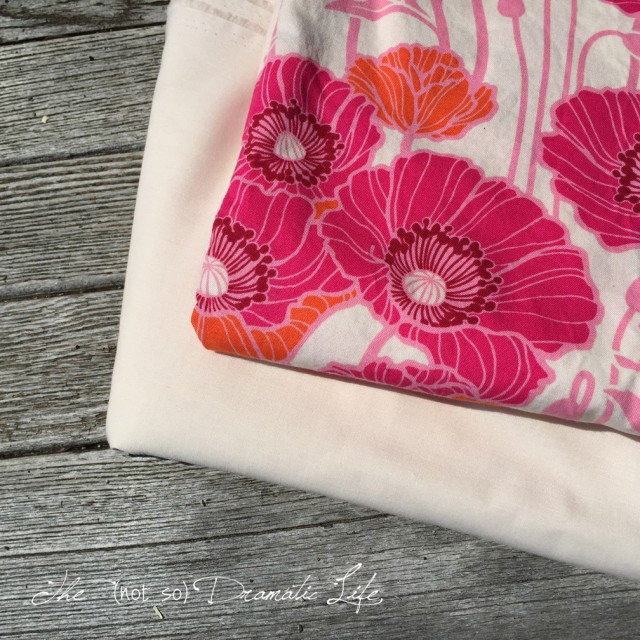 Goal 22
I recently started another Bionic Bag, and I will be finishing it up in Q2. I have all my pieces cut, interfacing fused, zippers installed, sides assembled, and the outer panel quilted.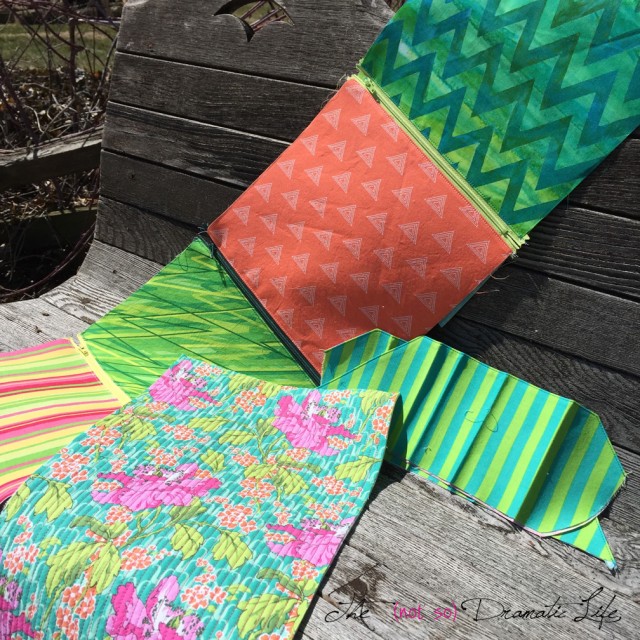 Goal 23
I started a set of placemats last fall. I have a set of four that just need the binding finished.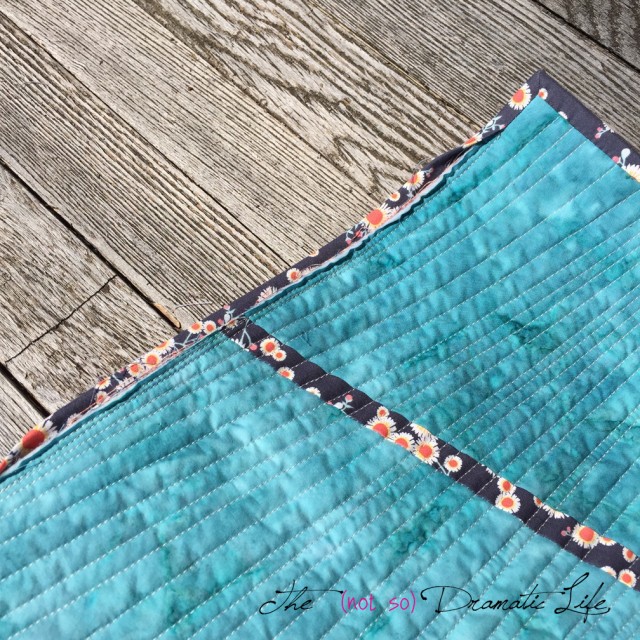 Goal 24
I started sewing this hexagon project when I needed some handwork. I'm not entirely certain how large this is going to get, but I'm hoping to discover what exactly this wants to be.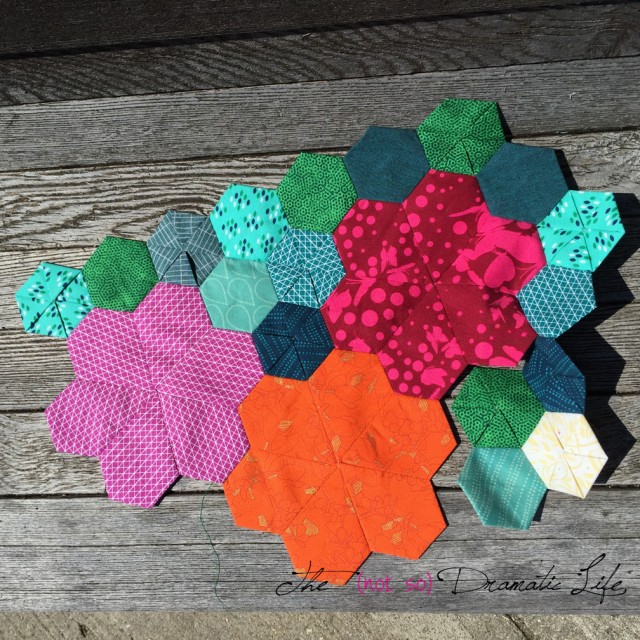 Goal 25
In the first quarter I created a baby quilt sized Sweet and Simple Hashtag Quilt. This quarter I will be making a lap quilt size version of this quilt.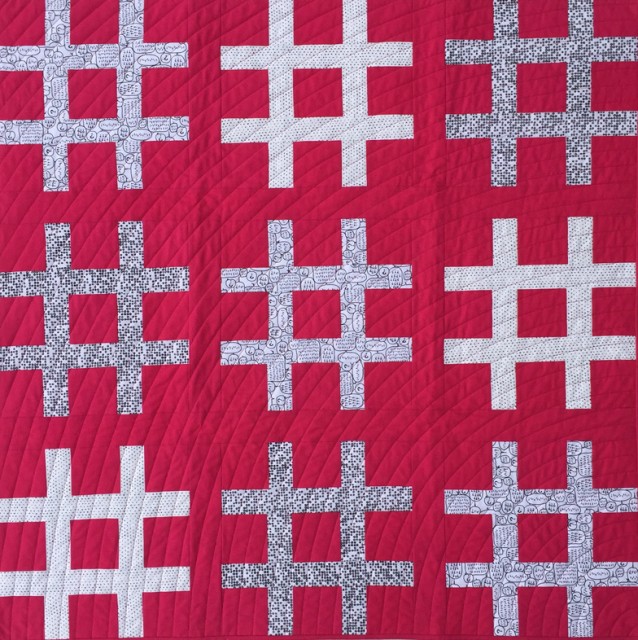 Goal 26
This summer I'll be working as a theatrical cutter/draper. (A draper uses the performer's measurements to create patterns for a costume.) I haven't done this in awhile (I'm pretty excited to return to it!), and when I pulled out my sewing apron it was really worn. I will definitely need to find time to make a replacement before I leave for this job! I have some denim left over from another project, and I am still deciding what fabric to use for the accent. These are my top choices right now.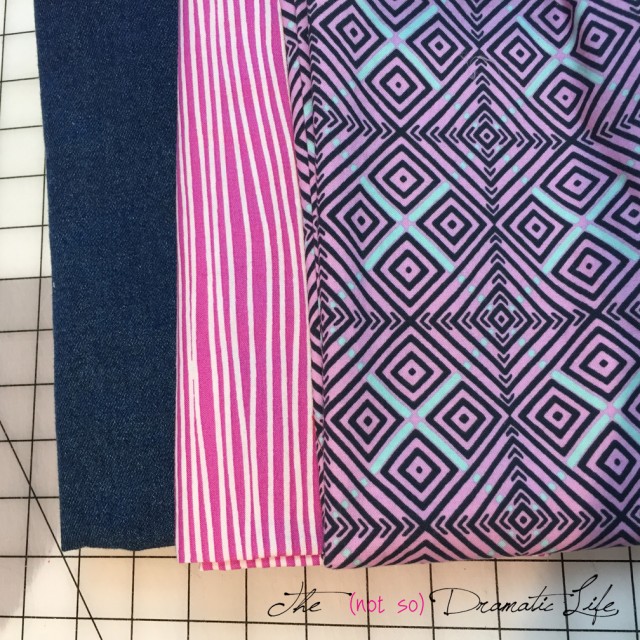 This list is super long, and I recognize that a some of these projects may not get finished (or even touched) this quarter, but a lot of items are pretty far along, so once again I am cautiously optimistic!