Are you ready to get this concert started?!
This post is packed full of information, so make sure to read through the whole thing to get the quilt instructions for the week and get entered to win the first weekly prize!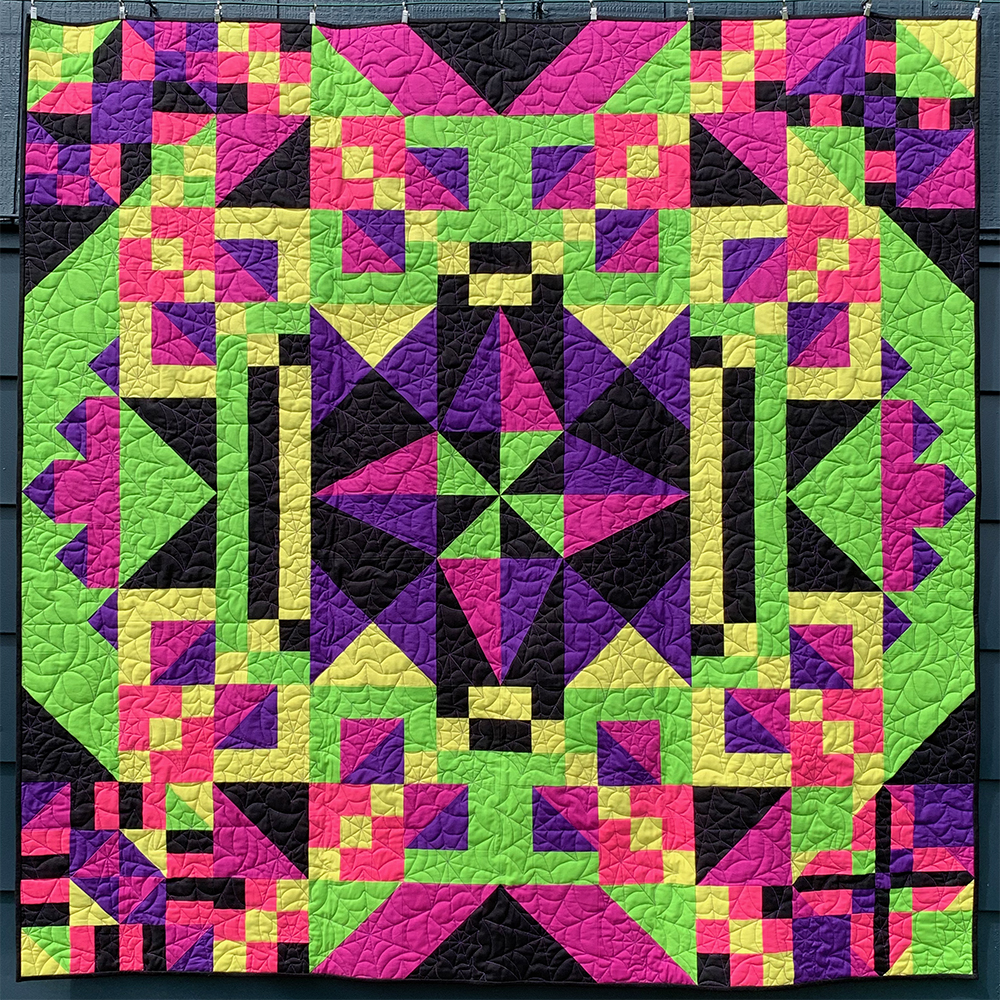 One of our major goals for this design was to create something that quilters of all levels could enjoy regardless of whether it is your second quilt or your seven-hundredth. Traditional blocks made with a blend of classic and modernized construction techniques make this a fun project to come back to week after week.
Week 1 Instructions
The first week is all about getting the pieces all cut out and ready to go. Using these instructions makes the most efficient use of your fabrics and guarantees you will have the pieces you need as you work through the weekly blocks.
The instructions are available to download for free through 11:59pm Eastern on Sunday, June 5, 2022. If you miss the free download, you can purchase the cutting directions alone for $2 through 11:59pm Eastern on Thursday, June 16, 2022. The full pattern is available for purchase at any time.
How do you organize your cut pieces?
When I am cutting a quilt with lots of different size pieces for a wide range of blocks, I create labels with each block number and pin them on a design wall or place them on a table or open area of the floor. As I cut the pieces they go directly into the area around the appropriate number.
This is what my wall looks like when I'm finished cutting. If I plan to work straight through the quilt quickly, these pieces will stay where they are. If the project is more long term (like a quilt along!) the pieces get transferred to plastic baggies, bins, baskets, or trays. Each block goes into its own container, and that container is labeled to keep track of which block is which.
Still Need Fabric?
Fabric bundles are still available for the Halloween, Valentine's, and Americana color ways!
Sponsor and Prize of the Week!
We are excited to announce that Hobbs Bonded Fibers is the first weekly sponsor! Hobbs is my go-to batting, and I'm thrilled that we get to share this fantastic product with you. Hobbs is sponsoring four weekly prizes as well as part of the grand prize, so there is more than one chance to win this awesome quilt batting!
The prize this week is a queen size (90″x 108″) Heirloom 80/20 Cotton/Poly Batting!
Hobbs Heirloom® Premium 80/20 Cotton/Poly Blend Batting is wonderful to quilt by hand or machine. This batting is made with a blend of 80% natural cotton and 20% fine polyester, is needle punched, and has a light resin bonding to provide exceptional strength and durability. Close quilting yields a flat, low-loft appearance, while more space between stitching lines yields a slightly higher loft.

https://www.hobbsbatting.com/products/hobbs-heirloom-batting/hobbs-heirloom-premium-80-20-cotton-poly-blend-batting/
How to Win!
All prizes will be drawn based on Instagram posts, so make sure you have a public account in order for us to see them!
Follow our weekly sponsor on Instagram: Hobbs Batting
Use the primary and weekly hashtags: #quiltconcert2022 and #quiltconcert2022cutting
Tell us in your post if you are a US or international resident. This week's prize is only available to US residents, but we have international prizes coming up in future weeks!
Post a photo of your cut fabric using a public Instagram account by 11:59 Eastern on Thursday, June 9, 2022 (if you don't want to make your primary account public, you can always create a second, public account to use for this quilt along and other projects like this)
Winners will be selected by random drawing and will be contacted via Instagram direct message by Saturday, June 11, 2022. The winner must claim their prize by responding to the message with their mailing address by 11:59pm on Monday, June 13, 2022. If the prize is not claimed at that time, we will select an alternate winner.
(This giveaway is not sponsored, endorsed, administered by, or associated with Instagram.)
For more information about Quilt Concert 2022, check out the following posts: