I recently made my first mini quilt in many years, and I loved it! Mini quilts are awesome because:
You can try a new technique without having to commit to a large quilt
They are a great way to use scraps or make a dent in your stash
It is super rewarding to have a project that you can produce quickly
A mini is like a sketchbook for a quilter!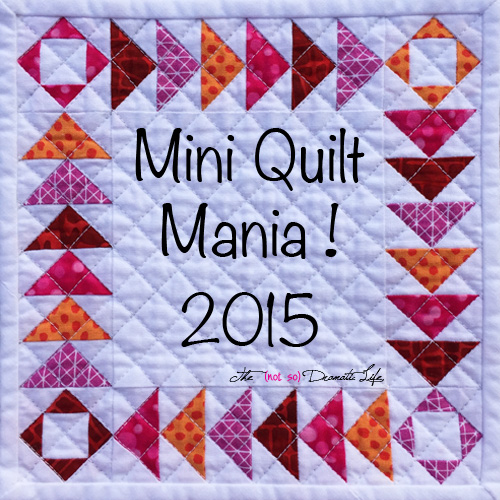 Since we can now agree that mini quilts are marvelous, I am declaring that 2015 will be my year of the mini quilt! This year I am going to attempt to make 50 mini quilts. That means that every week (except for two weeks TBD) I am going to create a new mini quilt. The requirements I am setting for myself are:
The term "quilt" will mean at least two layers of fabric with at least one layer of batting sandwiched between. These layers will be held together using either hand or machine stitches.
A mini will be defined as any quilt which has a perimeter of 80″ or less. (There is no minimum perimeter measurement)
The quilt may be any shape and proportion as long as size requirements are met.
All patterns will be original designs, but may be influenced by traditional blocks/patterns/designs (traditional meaning that these designs are old enough to be in the public domain) or a specific technique.
Provided the definition of a quilt is met, any and all techniques are fair game. This could include, but is not limited to: hand piecing, machine piecing, foundation piecing, needle turn appliqué, machine appliqué, fusible appliqué, hand embroidery, machine embroidery, beadwork, hand quilting, machine quilting (either free motion or with a walking foot), whole cloth quilts, fabric dying and manipulation.
The completion rate for these quilts should average one per week, but quilts may be started at any time. (I don't have to start and finish a quilt in the same week)
What are your thoughts on mini quilts? Do you love them? Hate them? Have you ever given or received a mini as a gift? Do you ever use mini quilts to experiment with a new pattern or technique?
I am linking this post up to the Small Blog Meet at Lily's Quilts. Please stop by to see what everyone is working on!
Mini Quilt Mania! Quilts